American Heart Association's National Wear RED Day

is Friday, February 3, 2017.
Why
Go Red

?

What you don't know about the #1 killer of women can save your life.

Nausea, extreme fatigue, pain between the shoulder blades, aching jaw, or chest pressure, are all symptoms anyone can experience at some point. But for women, if persistent, they can spell life-threatening danger: a heart attack.
"I felt like I had the flu. Nausea, dizzy and cold sweats. But the stabbing pain between my shoulder blades and sudden weight gain was nothing I'd ever experienced. I actually wondered if it could be my heart. The cardiologist found no clear diagnosis and attributed my symptoms to GERD. I guess I didn't fit the profile. Before any other tests could be done, it happened. I had 'The Big One.' It's a miracle my husband found me and did CPR. He's my hero. I want every woman to hear my story and listen to her body. Don't let one opinion be your final answer. I'm lucky to be alive!"
Andrea, Age 50, Survivor
Cardiac events, 6
Heart Attack, February 9, 2016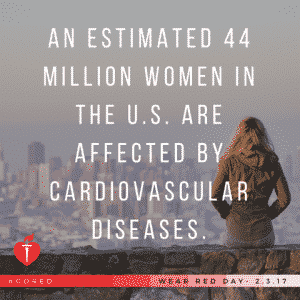 Heart Disease, with its uncommon symptoms in women, was long thought to be an older man's issue. Compounding the problem, women find it far too easy to ignore warning signs. If they do pursue answers, they are often misdiagnosed by a trusted physician.
But thanks to American Heart Association's ongoing decades of research, we now know that heart disease doesn't discriminate gender or age. Cardiovascular Disease is the #1 killer of women. The startling fact is it's killing 1 in 3 of us, more than all cancers combined! But there's very good news; heart disease is mostly preventable and knowledge is key.
AHA's Go Red for Women movement empowers and educates women to work together to wipe out heart disease.
American Heart Association recommends LIFE'S SIMPLE 7 to live a heart healthy life. Plan a well-woman visit and discuss each one with your doctor.
LIFE'S SIMPLE 7
1. DON'T SMOKE
2. EAT A HEALTHY DIET
3. MAINTAIN A HEALTHY WEIGHT
4. ENGAGE IN REGULAR PHYSICAL ACTIVITY
5. MANAGE BLOOD PRESSURE
6. TAKE CHARGE OF CHOLESTEROL
7. KEEP BLOOD SUGAR AT HEALTHY LEVELS
How well do you know your heart?
Do you know your risk?
Go to www.goredforwomen.org and join the movement.
Click on KNOW YOUR RISK.
Arm yourself with the valuable information to begin a conversation with every woman you hold dear.
GO RED to STOP Cardiovascular Disease.
Follow this link for more great ideas on how to GO RED.
This writer will be wearing a red dress on National Wear Red Day, February 3, 2017.
My mom is WHY.