CBD is getting more and more popular among mainstream consumers. As a cannabinoid (like the psychoactive ingredient THC), it comes from the cannabis plant. However, unlike THC, it doesn't cause intoxication, addictive qualities, or similar issues.
Rather than for recreational purposes, CBD is used for a variety of therapeutic reasons. Benefits have been found for anxiety, chronic pain, insomnia, stress, and many other common concerns. These benefits are thought to come from CBD's interaction with the endocannabinoid system, which interacts with other systems in the body to stimulate homeostasis (a balanced state of well-being).
People also commonly use CBD to help manage menopause symptoms. Menopause typically occurs between age 45 and 55 and comes with numerous symptoms, including weight gain and hot flashes. While much scientific evidence claims that CBD can directly impact menopause, it may help mitigate some of the common related symptoms.
What is CBD?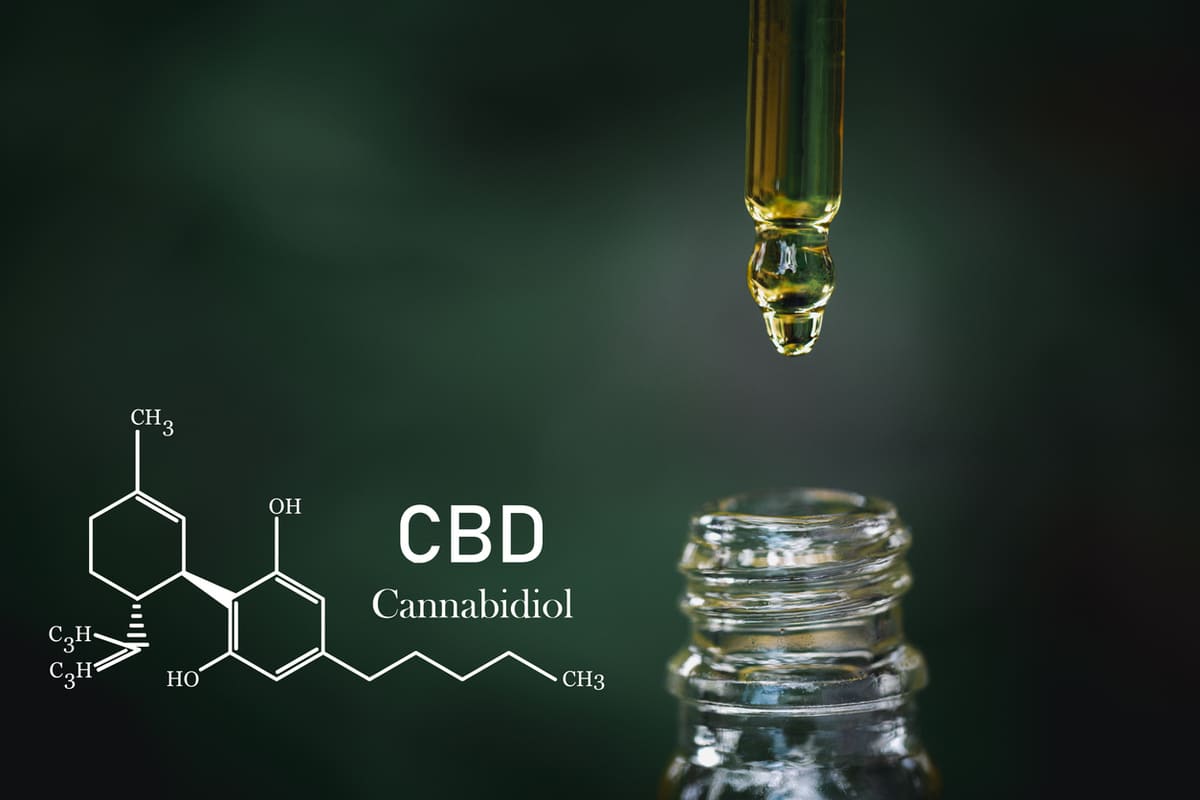 CBD, also known as cannabidiol, is one of over 100 cannabinoids found in the cannabis plant. As mentioned above, it does not include any of the psychoactive effects for which recreational users enjoy THC (another well-known cannabinoid from the hemp plant). While THC is illegal for its potentially addictive and impairing qualities, CBD is both legal for use in the UK and potentially beneficial for numerous health reasons.
CBD isolate is the purest form of CBD. However, this is thought to be the least effective way to ingest CBD for health purposes. This is because the other cannabinoids in the hemp plant have their own effect, which is thought to support and increase the effects of CBD itself. Full spectrum CBD contains all of these cannabinoids and is therefore believed to be much more beneficial. However, full spectrum CBD oil also contains THC in varying quantities. As a result, it is illegal in the UK.
The best option, therefore, is broad spectrum CBD oil, which contains CBD and all of the other beneficial cannabinoids of the hemp plant, minus THC. It allows you to get the best possible results from CBD without any of the potential health risks (or legal risks) of ingesting THC.
Is CBD Legal in the UK?
CBD is legal in the UK as long as it contains less than 0.2% THC content. This means that full spectrum CBD oil is illegal, but CBD isolate is perfectly acceptable – and broad spectrum CBD is also fully legal as long as it doesn't contain significant amounts of THC.
All of the recommended CBD oils for menopause on this list are broad spectrum – as this is what will give you a product that is legal in the UK, a product that is safe to use before driving or operating heavy machinery, and also a product that offers the full benefits of CBD oil and isn't just CBD isolate (which is generally not recommended for people looking to use CBD to manage health complaints).
The 7 Best CBD Oils for Menopause
Here are our picks for the best CBD for menopause in the UK. All of the products here are broad spectrum, but there are many other things to consider as well, which we will detail further below the list.
Evopure is our #1 pick for the best CBD oil for menopause. With high-quality ingredients, independent lab testing, sustainable extraction, and a great environmental policy, the brand ticks all the right boxes.
Their CBD oil is a broad spectrum, allowing you to get all of the naturally beneficial compounds of the hemp plant in their naturally occurring ratios. This is known as the 'entourage effect' and has been found to dramatically increase the health benefits of CBD.
The company also offers more specialized versions of its CBD oil with added products for specific issues. While there isn't a menopause option, their "Flow" product is aimed at helping produce a state of calm, and their "Sleep" product is aimed at helping with insomnia. Both hold the potential to help manage some menopause symptoms and increase general comfort.
Evopure publishes independent lab testing results on its website for each new batch of product, allowing you to see not just what was in one batch but what is in the bottle you purchased. Customer feedback has been very promising, with the popular belief being that the product works as well or better than most other CBD oils. Customer reviews reflect the high standards driven by Evopure (they've been voted the best CBD oil by publications such as Reader's Digest, Natural Health, and NetDoctor)
All of this is enough to land Evopure's CBD oil on our list and make it a top 3 recommendation for the best CBD oil for menopause symptoms – but what pushes it over the edge into 1st place is its exemplary environmental policies.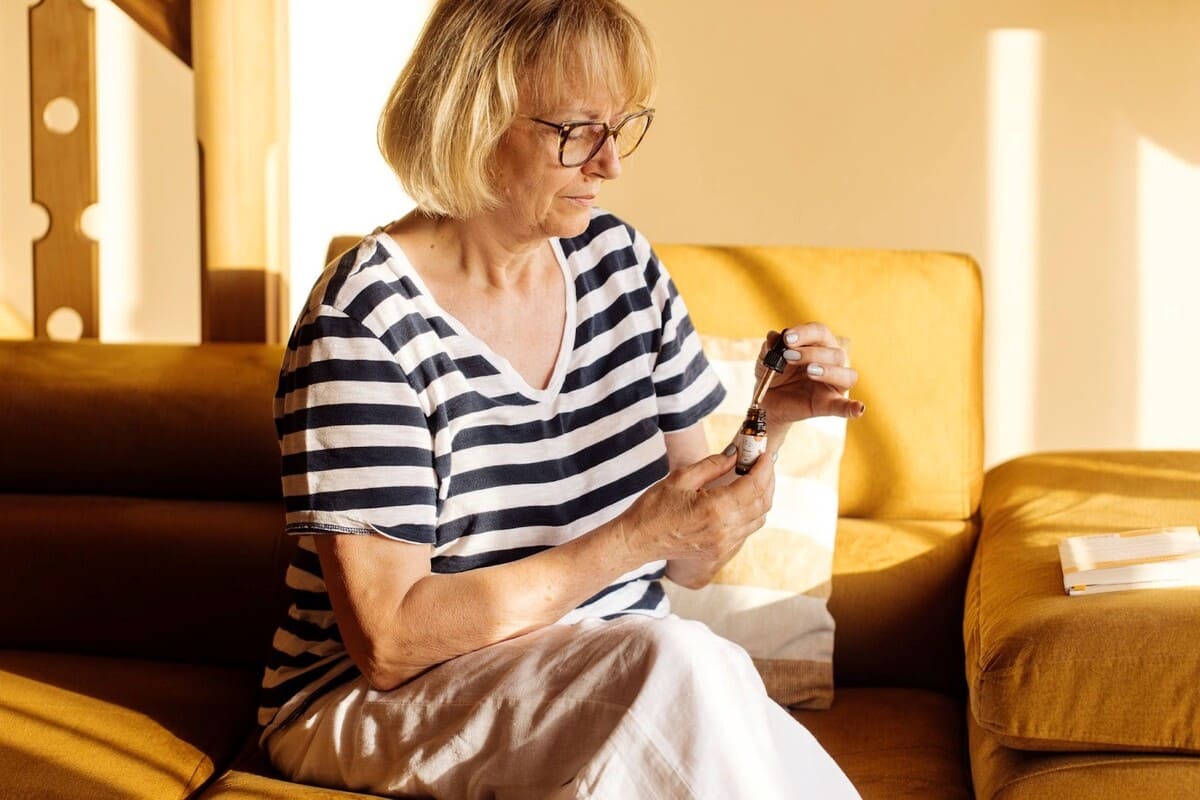 Firstly, Evopure's CBD comes from organic EU hemp, which uses crop rotation techniques to minimize the impact on the land and add nutrients back to the soil. It is also extracted using a sustainable process known as CO2 extraction, which produces less pollution than other techniques. Lastly, the hemp used is non-GMO, and Evopure offsets all carbon emissions, making it a carbon-neutral company.
These facts combine to make the product as green as hemp itself, and with the results being arguably unmatched, this was an easy choice for our #1 spot.
If you're new to CBD, give Evopure's popular CBD Capsules a try as a great introduction to CBD for Menopause.
Holistic Hemp Scotland
Holistic Hemp Scotland is an even smaller company than our #1 pick, being entirely family-run, but this allows them to create a unique handcrafted product that is handpicked and sourced from multiple hemp farms all across Europe. No pesticides or chemicals are used at any point during the process.
With only one CBD oil at one dose, they offer less choice than most other companies on our list – but they also offer a much stronger CBD paste.
Holistic Hemp Scotland also adds a personal touch to their products, as they claim they got into the CBD industry after the compound helped a family member, with the aim being to bring the benefits of CBD to as many people as possible. They also offer an additional range of interesting products, including CBD honey and CBD chocolate, which may make them a top pick for people who dislike the taste of natural CBD oil.
Vibes CBD
Vibes CBD is a small UK-based company that offers very high-quality products. The products are 100% organic, with no added fertilizers, preservatives, or colors. Vibes CBD offers a relatively small range of products, but doses are available from 1000mg to 2000mg, allowing for a wide range of uses for different people and complaints.
They are also the only brand on our list besides Evopure that use the highly environmentally conscious CO2 extraction process.
If there is one potential downside to using Vibes CBD, it is that they are a very small company with high demand, meaning their products are often out of stock. However, the products remain one of the best CBD oils in the UK for menopause and many other complaints.
Bud and Tender
Bud and Tender is a premium CBD oil brand that offers products significantly more expensive than the others on our list. This may immediately rule them out for people who are looking to test the benefits of CBD for menopause without a major investment. However, for those willing to splash out a little, the company offers an extremely high-quality and well-packaged product.
With independent testing, strong reviews, and features in many major publications, Bud and Tender is one of the most popular brands in the UK, and for good reason – with great flavors, a strong CBD dose, and no nasty additives, this is a CBD oil you can rely on to provide results.
Similarly to Evopure, independent lab testing results are available on the company website, allowing you to be sure exactly what goes into the product.
Select CBD
Select CBD is an American CBD product that uses organic CBD oil grown in Colorado. However, they have made a lot of effort to enter the UK market, and their CBD oil contains 0% THC making it fully legal for UK use.
This does come with the one obvious downside of slower shipping times compared to the rest of our list (all of which are UK-made products), but the quality of the product is high enough to make this a very minor issue.
Select CBD offers a range of flavored CBD oils. While this may be a downside for some due to the additional unnecessary ingredients meaning this isn't a quite pure CBD oil – it will also potentially be an upside for people who dislike the earthy taste of pure CBD oil.
The product is organic, independently tested, and very high quality, meaning it's a strong contender for our list and an easy recommendation for looking to try CBD for menopause symptoms or other health issues.
Hempen
Hempen is a CBD oil made with a purpose – the organization is a cooperative community of hemp believers who have collaborated with organic hemp farmers since 2016 to craft premium health and cosmetic products.
This makes them a great choice if you prioritize supporting sustainable growth and transparency.
Products include cold-pressed CBD oil in different doses as well as some more unique options such as CBD coconut oil and even hemp-based notebooks.
All hemp used in the UK is grown and independently lab tested, making for an exceptionally pure and high-quality CBD oil that uses a hemp seed oil as a carrier, offering a range of omega fatty acids.
Charlotte's Web
Charlotte's Web was famously created as one of the first CBD oils for medical use to help a young girl manage her seizures. The company now offers one of the most varied ranges of CBD products, including gummies, sleep gummies, dog chews, arthritis ointment, capsules, cooling gels, and many more.
Their CBD oil remains the best option for health conditions as it provides the purest and highest dose, but the wide range of other products means their CBD can be used by anybody regardless of taste or the health complaint they are trying to help manage.
Our top choice is their 25mg THC-free CBD oil, which provides a broad spectrum of cannabinoids from USA-grown hemp. The oil is so natural and pure that its color can actually vary based on the colors of the hemp plants used. As a CBD product that originated for medical use before many other companies, this is as high quality as you would expect.
Can CBD Help with Menopause?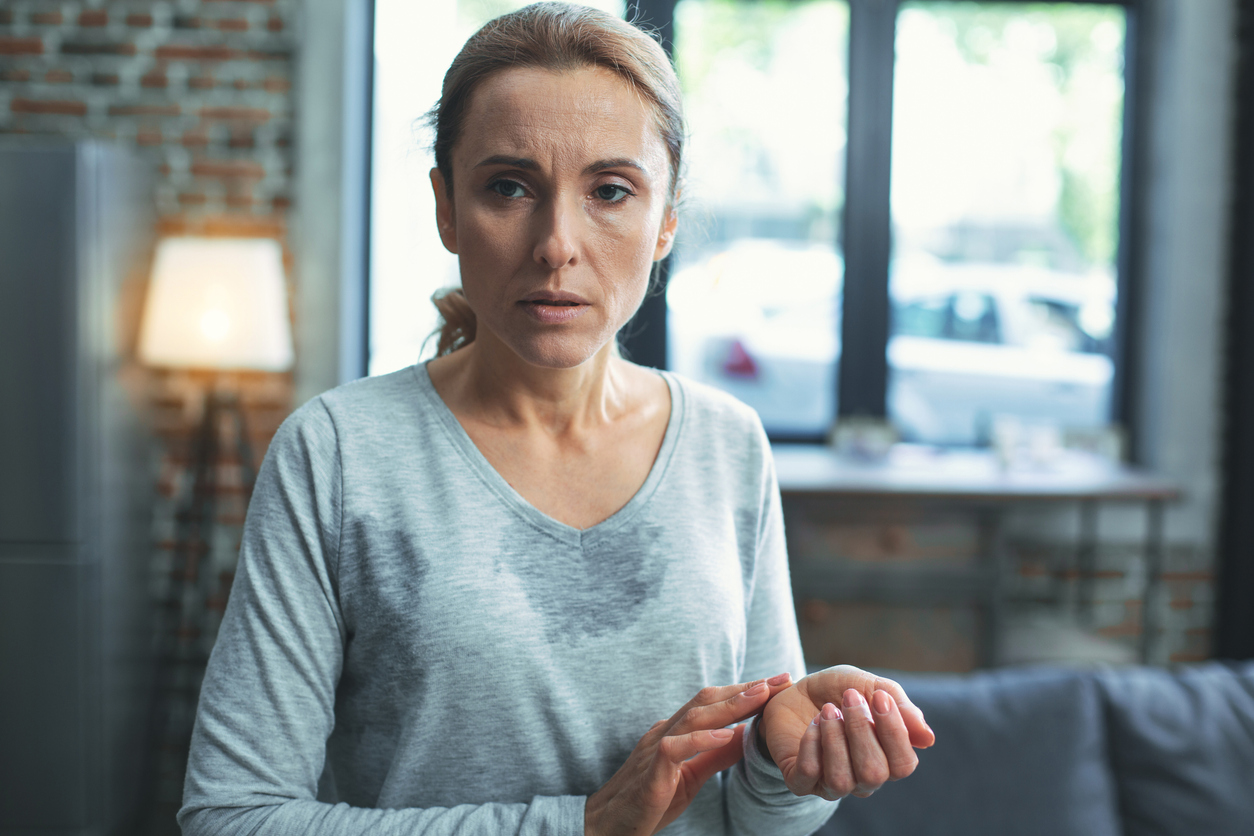 It's important to note that menopause is a natural transition that occurs in a person's life. As a result, there is no herbal medicine that will reduce or reverse this process. There is also no scientific evidence to support CBD interacting directly with this process or having an impact on menopause as a whole.
With that said, CBD may hold benefits for many of the symptoms caused by menopause.
Anxiety
It is common for women going through menopause to experience anxiety or panic attacks due to hormonal imbalances. For many who don't suffer from an anxiety disorder, this may be the first time they suffer from anxiety or panic attacks in their lives, which can be highly distressing. CBD has been found to be beneficial for anxiety symptoms and is thought to potentially hold positive results for hormonal imbalances, meaning there is strong evidence that it may help with these symptoms.
Depression
The hormonal imbalances caused by menopause can often lead to mood swings or depression. CBD is also thought to help increase serotonin production by activating mood-balancing receptors, which can improve mood and happiness, reducing some of the stress and emotional dysregulation that can be experienced during menopause.
Insomnia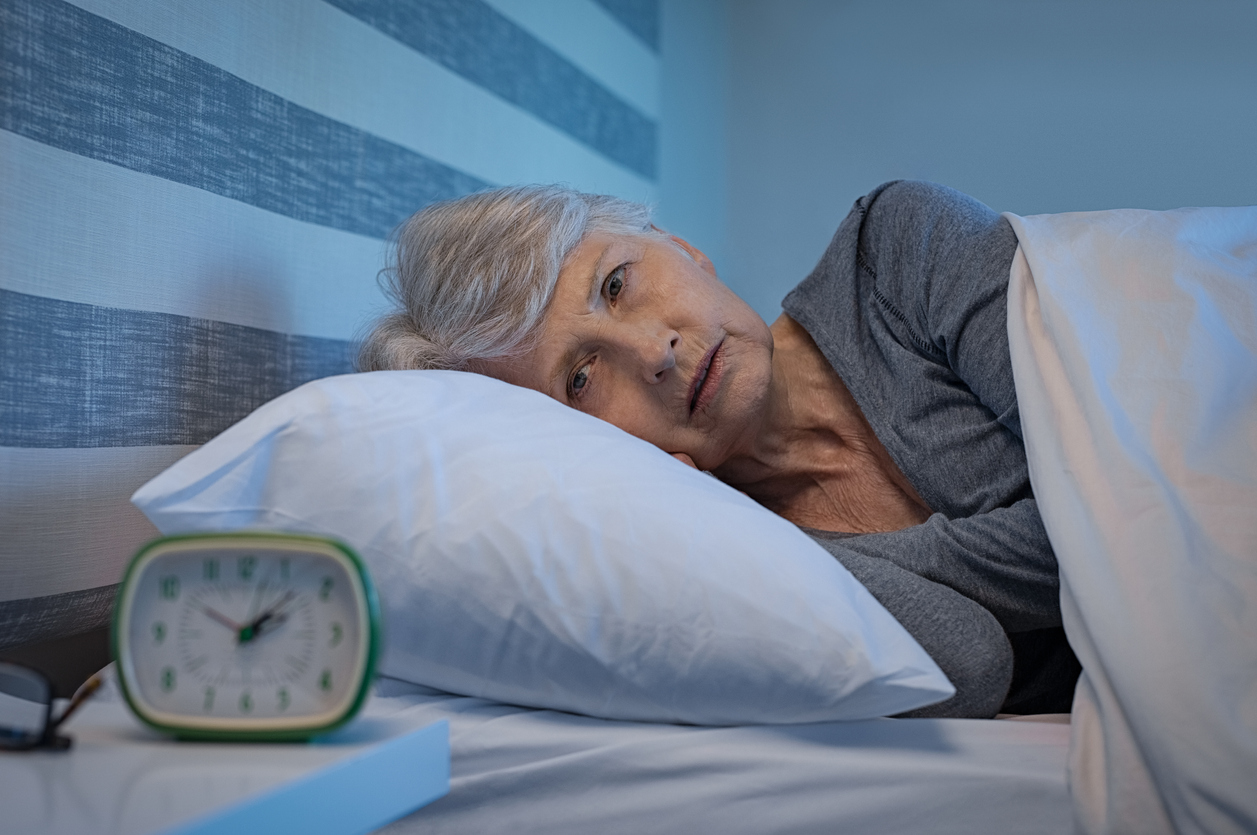 CBD has also been found to improve people's ability to fall asleep and stay asleep
. Insomnia is one of the most common side effects of menopause due to the associated stress and anxiety. This is likely to increase mood swings and other symptoms leading to a stressful cycle of problems. CBD can help you to relax and get a good night's sleep, which goes a long way to mitigate these issues.
Joint Pain
One of the most commonly known health complaints for which CBD provides relief is pain. Breast pain, headaches, joint pain, and other forms of inflammation are all common complaints from those going through menopause. CBD has been found to help reduce pain-related symptoms and inflammation and is likely to give people going through menopause a significant improvement in quality of life.
What is Broad Spectrum CBD Oil?
Most US-based CBD oil products are known as "full-spectrum CBD oil." This means the product contains the full range of over 100 cannabinoids that are naturally found in the cannabis or hemp plant. These cannabinoids are thought to interact with each other and support each other's actions to increase the health benefits seen from taking CBD alone. This effect is known as the "entourage effect" and can be experienced with any high-quality CBD oil that isn't purely made from CBD isolate.
However, THC, one of these cannabinoids, is illegal in the UK. THC is the psychoactive, potentially addictive compound found in cannabis for which recreational smokers use the drug. It can cause side effects, including dizziness and dehydration, and can be very dangerous if used before driving.
Broad spectrum CBD oil has its THC content removed but contains all other cannabinoids in their naturally occurring ratios. This allows you to get the full benefit of the entourage effect without any risk of getting high, getting addicted, or any other negative side effects.
This makes the broad spectrum by far the best option for people looking to use CBD to help manage symptoms related to menopause, as you are maximizing the potential for positive effects while removing the majority of the risk of adverse side effects.
What should I look for when buying CBD?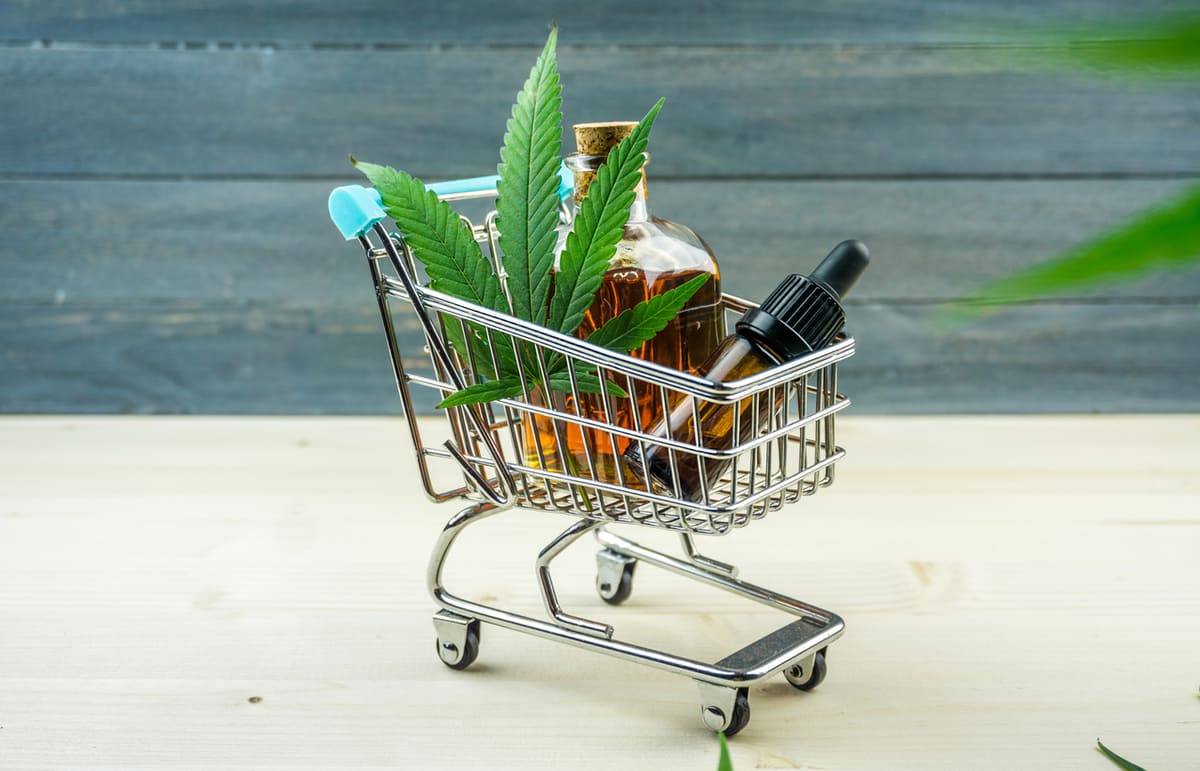 The most important factors have already been discussed in this article. A good quality CBD oil should be broad spectrum so that it can allow you to benefit from the entourage without the risk of psychoactive effects. If it is full spectrum, it should contain less than 0.2% THC content for the same reason. CBD isolate should be avoided for health purposes as it doesn't include any of the additional cannabinoids needed to offer the entourage effect.
It should also be organic, and this is more important than it is with most other products. This is partly because many pesticides have been found to increase anxiety symptoms, meaning non-organic CBD oil holds the risk of actually making some symptoms worse.
CBD oil should be pure and without additives (apart from additional cannabinoids) for the same reason. Preservatives, added flavors, added colors, and other unnecessary ingredients only serve to reduce the amount of usable CBD in each dose, and some may cause side effects of their own.
Any CBD oil product should also be sustainably grown. While this doesn't directly relate to results or managing symptoms, hemp is a rapidly growing industry. It is crucial to support those companies and producers who are doing things in a thoughtful manner and to deliberately avoid supporting those companies who do not – in order to ensure that CBD production remains harmless or even beneficial for the environment for years to come.
If you don't have the time to do your own research, don't worry – this is why we've done it for you! All of the products on this list tick all of the above boxes, making them reliable choices for the best CBD oil in the UK.