Summer days are here, and the cool water of a sunshine-soaked pool is calling your name. While a refreshing dip in the pool is just what the doctor ordered this time of year, think about how you can turn that day out in the sun into a toning workout. No, we're not suggesting you swim 2 miles back and forth. Instead, consider taking on some of these fun and simple-to-do upper arm water exercises. They target that tough spot in the back of the arms that, when toned and tightened, can be a game-changer in how your arms look in both swimsuits and tanktops alike. If you're not a swimmer, don't worry. You don't even have to get your hair wet.
Why are these exercises so much more productive than those done at home or in the gym? Because the water itself offers 12% more resistance to movement than any exercise you'll do on dry land. That is, as long as you put in a fair amount of effort (the water isn't magical, after all).
If you're looking to boost the amount of tone you get, consider adding extra resistance with cool pool toys, including hand paddles, webbed aqua gloves, buoy weights, and pool noodles. If you don't like any of these options, you can ask for additional suggestions on how to bring resistance to your pool workout at your fitness or recreation center pool. Pool noodles are fun, economical, and can be used for a variety of other exercises, too.
Tips to keep in mind when you're doing arm exercises in water:
You want to be between navel and nipple depth water in order to maintain your balance and get adequate resistance—you do not want to go floating away. Once your lungs are entirely submerged, you'll have a harder time getting leverage and resistance.
Upper arm exercises require you to push back, so you'll want to stagger your stance. That simply means placing one foot in front of the other so that you have more leverage.
Swimming is, in itself, a great arm exercise. So if you're inclined, swim a few laps two or three times a week, and you'll love the results that you see. Keep in mind that all strokes offer something unique and a variety is great for a well-rounded tone. Also, don't be afraid to take a lesson. I've had clients who made their splash because of an injury that forced them into the pool to stay active. After the injury, they loved it so much they kept the pool in their routine. Even clients who initially didn't want to put their faces in the water have become regular swimmers for the first time after 50.
Arm Exercises You Can Do In The Pool

To target the upper arms (otherwise known as "bat wings"), start with these three arm exercises:
Triceps press down: With your elbows at your sides, bring your forearm to 90 degrees and press to full extension.
Triceps straight-arm extension: Start with your arms down at your sides. Bring your arms up so your hands reach the surface of the water. Then press down and imagine pushing water behind you.
Combine the first two exercises. Do a triceps press down, then a straight-arm extension, and consider that one repetition.
Do each of the arm exercises 15 times. Experiment with speed. You want to find the Goldilocks speed where you have control and can definitely feel which muscles you're working by the end of the set.
Similar to any other resistance training exercise, take a day of rest between doing these upper arm-toning water exercises. Aim for a frequency of two or three times a week for best results. Alternatively, on a day where you skip the weight room in favor of a dip in the pool, now there's no need to skip your upper body conditioning because water exercise is an excellent substitute for a land workout.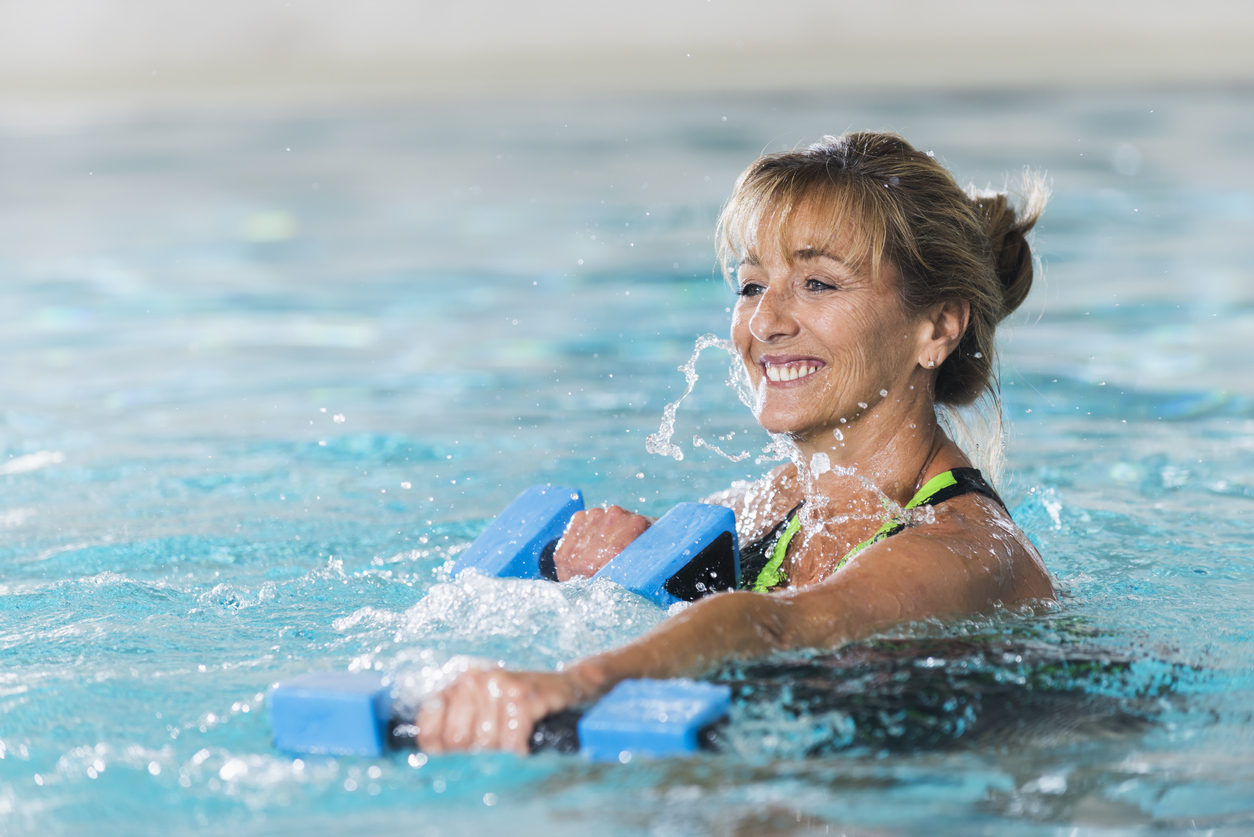 In case you think you want to focus on the front of those upper arms, too, there's a trick to working biceps in the water. If you try to mimic a bicep curl you'd do on land with a buoy weight (dumbbell-shaped styrofoam), you'll get less resistance than you would on land.
You want to position yourself so you're leaning forward with your arms extended behind you, palms down, and pinkies toward your body. Start with your arms parallel to the surface of the water.
Biceps curl: With webbed gloves or "weights," flex at the elbow and bring your hand toward the bottom of the pool.
Biceps straight-arm flexion: From the same starting position, bring your entire arm down so your hands are near your hips.
Combine the bicep curl and straight-arm flexion.
Do each of these exercises 15 times. Be cautious with the straight-arm flexion because there is more potential for shoulder stress. To avoid aggravating your shoulders, keep the resistance on the lighter side by slowing your speed slightly or using your flat palms before you try the gloves or weights. Do these on the same day as the triceps set, and then rest at least a day before repeating or hitting the weight room.
You're now officially ready to join the armed and dangerously toned club.
Read Next:
Exercise for Depression: Swimming in Open Water