While every other article this month is addressing how to avoid weight gain during the holidays, let's talk about LOSING weight during the holidays. The reality is, some of the very things you fear about this time of year can actually lead to weight loss.
Your first step is to breakdown the overwhelming obstacles you perceive one at a time.
The Problem: Less Time
Having less time to exercise thanks to a longer to-do list is a blessing in disguise. A 10 or 20 minute exercise session of higher intensity can have a much more positive effect on your hormones. Your stress hormone, cortisol, may indeed be elevated a bit right now.
The Solution: Shorter Workouts
The best way to pamper that cortisol hormone is a shorter exercise session of higher intensity. Short spurts of exercise within 30 minutes of a meal result in better choices at that meal. All it takes is six one-minute intervals and you'll choose more green beans than stuffing at dinner. If you work out longer, you may just increase your appetite with too much endurance exercise. If you do less, you may find yourself easily losing weight during the holidays.
As a rule, if you can exercise early in the morning, you'll be doing your cortisol the best favor and boosting your ability to sleep better each night – even while sugar plumbs dance in your head.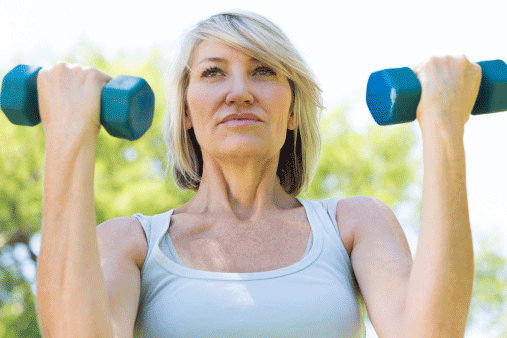 >READ: SPRINT INTERVAL TRAINING
The Problem: No Equipment
You're traveling more or you can't get to the gym because you're entertaining. What's a girl to do who is used to heavy weights or access to a gym full of options? Variety this month may be an amazing plateau-buster for you. Periodically, athletes have entire recovery weeks when they are active but doing something different and unique. It's during this recovery period they reap the benefit of prior weeks and prepare for even better results in weeks to come. Use your last week of November and December when you're busier as your recovery weeks to boost your chances of losing weight during the holidays.
The Solution: Body Weight Workouts
If you're used to relying on the elliptical or the treadmill or jumping into the pool, try shadow boxing with yourself. You can do a boxing workout in a small area without disturbing anyone else in the house. It's a simple way to engage your core, tone and tighten your arms, and do high-intensity intervals without any equipment (or a single burpee).
>READ: ONE PERFECT CORE EXERCISE SIX WAYS
The Problem: Guests or Hosts that Don't Partake
You have a houseful of guests and don't want to sneak out of the house because you need to make them breakfast? If you have guests that truly know and love you, this is a mindset of expectations you're putting on yourself that could just be irrational.
The Solution: Not Your Monkeys, Not Your Zoo
Invite your guests to come along. Let them know where to find things if they choose not to join you. You're a host, or possibly a guest, but your self-care is still your responsibility. If you know what you need, get it. Decide what you need to feel your best and get it.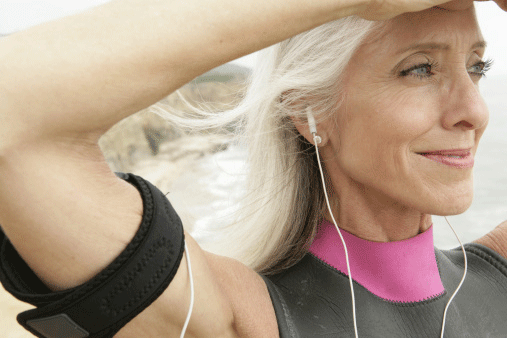 >READ: QUICK, EFFECTIVE WORKOUTS FOR WOMEN
The Problem: Rich Meals and Cocktails
The holiday traditions indeed set us up to think about the abundance of foods we don't normally indulge in. You know there will be rich dips, gooey desserts, sparkling drinks, and a festive atmosphere that will potentially rock your willpower to the core.
The Solution: Focus on One Meal at a Time
Losing weight during the holidays gets easier one meal at a time. Looking at the month like a live-streaming video of never-ending overeating opportunities can sabotage you from now until the New Year. Take one meal at a time. If you're going to a cocktail party and there won't actually be a meal served. Pre-party load. Have a high protein snack or mini-meal before you go. Decide what you're going to drink and stick to it. Have you ever been to a buffet without crudités? Be the one who brings them if you're worried. Indulge in the shrimp cocktail or higher in protein items. Then focus on why you're there. Enjoy the people, the experience, and you may just find you're even lighter than usual.
>READ: THE ANTIDOTE TO OVEREATING
The Problem: Emotional Eating
Childhood expectations and unresolved relationships can make emotions bubble up during the holidays. If you're a highly sensitive person, you're more subject to emotional eating as a coping mechanism. You know this about yourself already. So prepare.
The Solution: Find the Root Cause
Before you get to the situations that are most likely to throw you into a food-frenzy, plan to exercise briefly. A little purge of adrenalin might help offset old habits of seeking comfort in food.
Make a plan with a spouse or friend to be the interference between you and any individuals who are triggers for you.
If avoiding the trigger doesn't work, be sure you've kept foods you don't want to eat out of your environment. It's one thing to go to a party and be exposed for a few hours. It's entirely another thing to have them at home waiting for you.
>READ: SURVIVING THE HOLIDAYS WITH GRACE: 3 STRATEGIES TO DISARM YOUR EMOTIONAL TRIGGERS
Remember, set realistic expectations. Find healthy ways to deal with stress. But most importantly, be with family and friends you love and who love you.
>READ: THE ONE THING YOU NEED FOR FAST FITNESS
>READ: TRICK YOUR BODY INTO BETTER RESULTS WITH BLOOD FLOW RESTRICTION TRAINING