There are many reasons that you may want to work out at home rather than in the gym. The gym may not feel comfortable to you, or you may not have one that's close to home. Depending on work and family, you just might not have the time in the day to get to and from the gym, but you know that consistent workouts are important. Fortunately, there are many excellent trainer-led, at-home workouts that can keep you motivated. With so many options and variations, you'll have no trouble finding something that appeals to your style, whether it's short and intense or longer-duration workouts that challenge your strength and stamina.
Workouts On Amazon Prime
If you're already a subscriber to Amazon Prime, you may not know that you already have access to both free and low-cost workouts through Prime Video. Even if you have a gym membership, you'll find that a home workout is exactly what you need some days. There's no reason to compromise a quality workout simply because you're doing it from home.
While there are lots of choices, I've narrowed it down to my favorite Amazon Prime at-home workouts from a variety of trainers, styles, and that rank high in user ratings.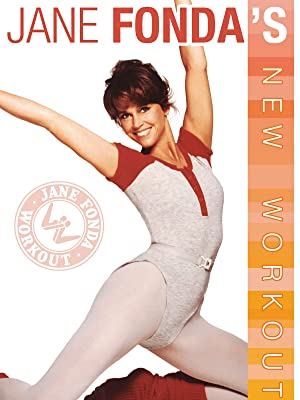 Cost: Free with Prime Video (includes commercials)
Trainer: Jane Fonda as a group fitness instructor
Workout Length: Varies
Type of Workout: fully body, fat burning, core, HIIT, strength & sculpt
Also Included: A follow-up to the original Workout, this offers a variety of new movements. Includes a 35-minute beginner's and a 55-minute advanced program
Let's start with a bit of nostalgia! On April 24, 1982, Jane Fonda extended her reach into the home-video market with the release of "Workout," the first of her many best-selling aerobics tapes. You may have even had one of her workouts on VHS in the '80s and '90s. Jane offered a spirited, interactive, cardio-filled resistance training session, whether you threw on your leotards, body suits, and leg warmers or not.
In her newly produced introduction to this bundled series of '80s fitness videos, Jane mentions that at that time in the '80s, unbelievably, most gyms were designed for and opened to men only. It was Jane's video that created a brand-new industry. Jane Fonda made an indelible imprint not only in the fitness industry but personally for millions of women who had access to her workouts through home video. Now these treasures are available on Amazon Prime as a bundle, and to this day, each session she produced is still an incredible workout!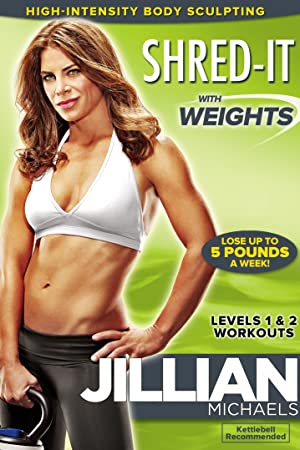 Cost: $5.99
Trainer: Jillian Michaels
Workout Length: 30-Minutes
Workout Description: Get ready for a fresh, dynamic way to work out! Jillian Michaels adds extra weight to her hard-core circuit training techniques for a total-body workout designed to burn maximum fat. Using a kettlebell or a single hand weight, SHRED-IT WITH WEIGHTS helps you build lean muscle and burn mega calories with two 30-minute boot camp workouts. Begin with LEVEL 1 and progress to LEVEL 2 for maximum body-shredding results. Stick with Jillian's program, and you could see a lean, shredded body.
I have a special fondness for this specific at-home workout because it's the first workout I attempted after losing 30 pounds in 2009. I knew that weight loss wasn't the end goal, and that even though I met and exceeded my weight loss goal, I was ready for a complete healthy journey. Although, I was not ready to head straight to the gym. I still had a lot of insecurities and didn't know my way around a gym, but I knew I wanted to work on strength and conditioning. That's when I discovered Jillian Michaels' Shred-It With Weights. I devoted 6 solid weeks to this workout, including before and after pictures, and it was the first time in my life that I could see the results of a workout. I saw muscle development in my back, arms, and abs which was exciting and, ultimately, spurred me on to more. Jillian Michaels' Shred-It With Weights workout is effective, and if you stick with it for 6 weeks in a row, you will see and feel a difference in your physique.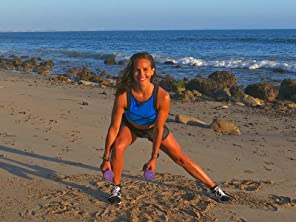 Cost: Free with Prime Video (includes commercials)
Trainers: Josephine Rene, Alice Maples
Workout Length: ranges from 15-Minutes to 37-Minutes
Description: This full-body workout series is about good form and great results, not intensity! Use 60-70% of your maximum effort and do the routines 5 times a week to see maximum results. This series includes total body toning, sculpting, and fat burning, as well as targeting the abs and core, and lower or upper body.
The Full Body Every Day Workout Series includes 9 episodes that have a variety of exercises. This series includes a 15-minute Fast and Easy Full Body Workout that can be performed as a complete workout every day. The longest workout in this series is a 37-minute lower-body workout with no equipment necessary. For added fun, you can create a Watch Party to watch and chat with others to help keep you motivated!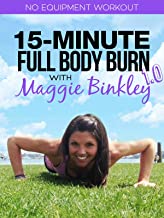 Cost: Free with Prime Video (includes commercials)
Trainer: Maggie Binkley
Workout Length: 15-Minutes
Type of Workout: fully body, fat burning, core, HIIT, strength & sculpt, Yoga
Trainer Maggie Binkley offers a range of free workout videos (with a Prime membership), from cardio HIIT routines to full body burn and Yoga flow. These 15-minute comprehensive workouts will keep you focused for weeks. In Maggie's first Full Body Burn 1.0 Workout, there's no equipment necessary, and she suggests beginning here and doing the first in this series for 4+ weeks before moving on to Series 2.0. These are 15-minute weekly workouts designed to work every major muscle group efficiently while also optimizing calorie burn.
The Takeaway: No Gym. No Excuse.
There are both free and affordable options on Amazon Prime for every variety of workout you can imagine. At-home workouts can be a great place to begin, a way to change things up from your ordinary gym routine, or an extra challenge for yourself on the weekend! The addition of the Amazon Watch Party, which works on your TV or mobile device, makes this extra fun and motivating and adds an interactive experience that you can enjoy in the comfort of your home or personal space.
Read Next:
A Half-Hour Workout Your Whole Body Won't Forget