There are many "coming-of-age" stories that generally depict a crucial change that marks a character forever during the transition from childhood to young adult. Films like The Graduate and Almost Famous are classic examples. Perhaps the most revered book in this genre is centered on Holden Caulfield of The Catcher in the Rye, but I'm stuck on the fact that he is only 16 in the novel. While there are certainly important and pivotal moments in youth, I don't know any sixteen-year-olds who abruptly stop changing, in fact, they have barely started. A teenager is not fully ripened and it makes me wonder, "Coming of which age?"
For many of us, life will be long. A friend, who was 80 at the time, once said, "I thought that reaching the golden years would be like crossing a finish line—my children would be successful, independent adults who didn't need me anymore. And work? I thought I'd be done with all that, but the truth is personal growth never stops and relationships still need to be nurtured." That was a conversation that stuck with me.
According to the Social Security Administration's website, if we're well enough to live to age 65, a man can expect to keep going until about 84 and a woman 86. "And those are just averages. About one out of every four 65-year-olds today will live past age 90, and one out of 10 will live past age 95." So if life is roughly divided into youth, middle, and old age, being out to pasture for thirty or so years is going to get a tad boring. At 60, most of us are reaching the golden years, vastly enriched by our experiences and, therefore, nearly ripe— why let it go to waste?
I'm in my early sixties, many of my friends are ten, even twenty years older, and we are having a great time. Instead of buying into the notion that the golden years are kind of a dead zone, we are busy trying to construct a Grand Finale and do the things we always wanted to do.
Not that it's easy. We arrived at this point with intention and having chosen to take some chances. I believe that asking, "What do I want and what am I willing to risk to get there?" is an act of courage. An alternative choice is to do nothing; to live as you always have and let the days become weeks and the weeks become years. Quite frankly, my gang doesn't like that option very much.
Diving In
My family discovered a sleepy little island in the Caribbean where my husband and sons scuba dive and where I write particularly well. After five years of vacationing on Grand Turk Island, we stumbled on a little house that we could actually afford to buy. My oldest son and I took charge and, while he figured out all the paper work, I started fixing the place up. Just so you understand how much work needed to be done, I want you to know that I began by installing a water pump so we could have running water.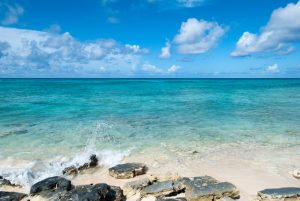 The purchase of the home cost a good part of my life savings. In a brief amount of time, we started to make friends and became part of the Expat community. My dream for my own Grand Finale was to get out of our harsh Vermont winters and head to Grand Turk to write books. Little did I know that it was a dream that would require more backbone than I ever could have anticipated.
A short time ago, the eye of Category Five Hurricane Irma passed right over my neighborhood, sending the island into a state of emergency. A photograph somehow made it's way out showing that while we lost a good part of our roof—the walls were still standing. As we clung to hope, Hurricane Maria then made a direct hit and demolished our little post and beam home. We were fortunate to have insurance, as we know many who did not, but now face the additional hurdle of rebuilding. Our new structure will have to be built to hurricane specifications too, and that is more expensive. But whatever it takes, I intend to make it happen because I accept that a truly grand, Grand Finale is hard won.
Doing Extraordinary Things in the Golden Years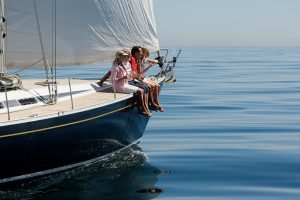 For me, the most fascinating stories of mature adults entering the golden years are those who are not wealthy, but manage to do extraordinary things through perseverance and focus. I know a grandfather who planned for a few years and took his three children, their spouses and his grandchildren on a chartered sailboat live-aboard around the British Virgin Islands. As they embarked on their adventure, the kind that some would argue should be reserved for the young, his intentions were realized. With each passing day their travel bonded the three generations and they came away from the trip an even closer family.
My best friend Carol always wanted to live in Montana, and she was determined to make her living doing something she loved, which in her case is cooking. After years of talking it over, she and her husband sold their house in New Jersey, hopped in their camper and made their way across the country. Today, they run "The Bear Trap Grille" in Ennis working side by side in a building that they renovated together. It's a labor of love in more ways than one. Judging by the reviews that I see online, it's also a great success.
Another of my dear childhood friends, Joe, floored me one day when he sent a message. He has always written music and performed in theater productions, even though he had a very successful day job that paid his bills and provided for his family. Once his kids were done with college and fully launched, I got this note from him with an attached video, "Hi Kathy. I wanted you to have a copy of my new musical Pentejoy, about Peter the believer—Thomas the doubter—and all the rest of us in between. I hope you like it because you were part of the life that helped me write it. Wishing you peace, hope and love always." He had written, produced and even toured a full cast original musical. Joey literally created his own Grand Finale—talk about being perfectly ripe!
Enjoy your Grande Finale, whatever it is, and make it your own!