We all want the best possible rest we can get when turning in for the night, but often it's what we're sleeping on that's a big deterrent for rest. The Enter Cloud Bed. Touted as an ideal way to get your zzz's, it's trending in popularity for not only its comfort but for its aesthetic as well. Here's everything you need to know about Cloud Beds and if you need to upgrade your mattress.
Disclosure: This post on Cloud Beds is for informative purposes. It's not meant to force you to get a new mattress or even change how your bedroom looks but to provide you with plenty of details on the trend. Alright, on with the show!
As we age, falling asleep, and staying asleep, become more difficult. Or there are those of us that have never slept well and are searching for the holy grail of beds to give us a full night's rest. There's a slight decrease in the number of hours we need for healthy sleep (6.5 to 7 hours a night usually does the trick), and the growth hormone that's naturally higher in our youth begins to dwindle, causing a decrease in our deep sleep patterns.
So, with all the facts above not in our sleep favor, finding the perfect mattress can be the key to great sleep. And according to many folks online, a Cloud Bed is just how to get it.
First, What's a Cloud Bed?
In a nutshell, a Cloud Bed is the term given for a super plush mattress. Given the term "sleeping on a cloud," they offer the ability to not feel your partner's movements when they roll or move, which is nice for light sleepers.
And to give the true look of a cloud bed, both its frame, cloth platform support, and bedding are pure white and fluffy, adding to the cloudlike texture and appeal for the all-too-trendy "aesthetic" terminology. And if you like sleeping low to the ground, you'll definitely like frames that don't have legs or feet.
The ultimate goal is having an all-over soft look that seems like it took zero effort but makes you want to climb right back into bed as soon as you make it up for the day. So, think minimally.
Who a Cloud Bed Is Right for
Cloud Bed mattresses feel like a nice, gentle hug when you lie on them. If you enjoy a soft, supportive sleep, you may want to consider upgrading the one you have if it's wearing out. On the other hand, if you need a firm mattress due to muscle, vein, or artery issues, you'll probably want to skip the cloud sleeping and stick to what benefits your body best.
Personally, I really enjoy a mattress that's got a "sink-in" feeling, so I'm all in for sleeping on a cloud. But if you have knee or back issues, stick with a firmer mattress.
There are other things to consider as well before purchasing a Cloud Bed. First, if you have mobility issues, a super soft mattress may just add to them. If you're a "tripper," meaning if you stumble while getting in and out of bed, think twice about one.
And lastly, having a fabric frame will require additional cleaning (especially if it's white) instead of a light, occasional scrub that a metal frame would need. If you have pets that like to jump into bed with dirty paws, it's another reason to double-think about a mattress and bed change.
How Much Does a Cloud Bed Cost?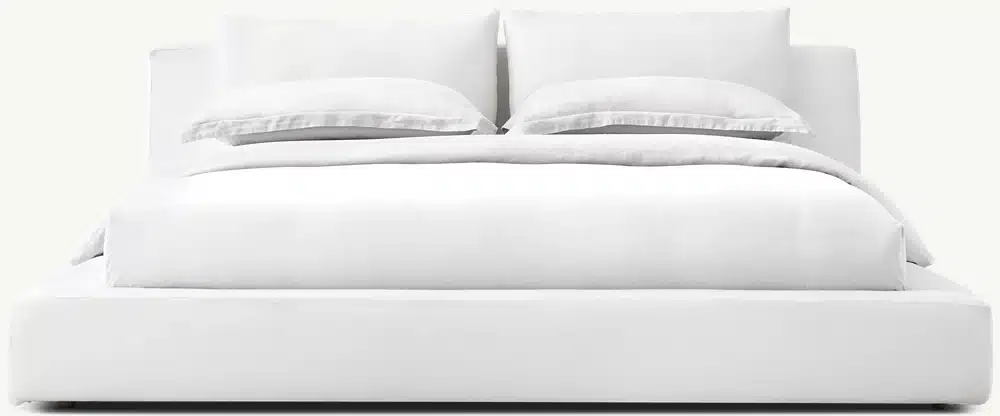 Of course, you're going to find a price range for cloud mattresses, and that's dependent on style and brand. But, in general, you're looking at anywhere from $2,000 up to $8,000.
The original Cloud Bed from the World of RH runs just about right in the middle at $4,075.
Cloud Bed Dupes
If you want the look and feel but don't want to pay the steep price of a cloud mattress, there are some dupes out there that may work for you. First, look for a softer memory foam mattress with a pillowy top that's a few inches thick. And if you can't find one that's combined, feel free to purchase them individually.
The thicker the memory foam, the better, too. I personally have a Nectar mattress that has a pillow top, and I absolutely adore it. If I'm being truthful, I compare it to every hotel mattress that I lie on and still can't wait to get home to my own bed. Remember to read plenty of reviews before you commit, or make sure the company you go with offers a money-back guarantee.
As for bases, a low profile one that's a white or neutral color will work with the aesthetic. If you need more storage space, there are mattress bases that have hidden storage compartments for keeping sheets, blankets, and extra pillows.
Read Next:
5 Ways To Burn Fat While You Sleep
Are Your Sleep Habits Killing You?