Cornwall lies on the southwestern tip of England and is regarded by many as the quintessential seaside paradise. Not only is it one of the sunniest spots in the UK, but it also has the longest stretch of unbroken coastline. It's dotted with sweeping beaches, jagged granite cliffs, and quaint quayside pubs. What makes Cornwall truly fascinating are its beautiful contrasts – bustling surfing spots juxtaposed against blissfully empty coves, ancient mining sites against space-age biodomes, and traditional fishing villages against artsy towns rife with avant-garde galleries.We haven't even started with the cuisine. You can enjoy a luxury escape in Cornwall that's lavish but lowkey and undeniably unforgettable.
How to Get to Cornwall
Traveling to Cornwall is straightforward. Depending on where you're coming from, you can get there via one of these means:
Flying
Flying is the quickest and most convenient way to get to Cornwall. The Cornwall Airport Newquay serves up to ten airlines with flights arriving at all times of the day from 22 locations within the UK, Ireland, Spain, Portugal, Switzerland, and Germany. There are also year-round onward connecting flights from the US to Newquay with British Airways and Aer Lingus via Manchester or Dublin.
Driving
Driving to Cornwall is a fantastic way to see gorgeous landscapes. That is, if you are already in England or Wales. The roads are easy to navigate, well-maintained, and often have low traffic. London to Cornwall takes five hours, while Cardiff to Cornwall takes a little over three hours. If you're coming from Scotland, it will take at least eight hours to reach Cornwall, so driving is not the best option for those who don't like long road trips.
Cornwall by Train
Getting on a train is regarded by many as the most convenient and efficient means of traveling to Cornwall. Trains in Cornwall are run by Great Western Railway and CrossCountry, and there's also a sleeper train (the night Riviera) which runs most days from London Paddington.
Coaches and Buses
One of the most affordable ways to get to Cornwall is to travel by bus or coach. However, it takes longer, typically about eight hours. Some companies don't have direct routes to specific parts of Cornwall, so you'll have to take a local coach to get to less-populated and more rural areas. National Express is the primary service provider and runs daily from London to key locations in the region.
Best Luxury Stays in Cornwall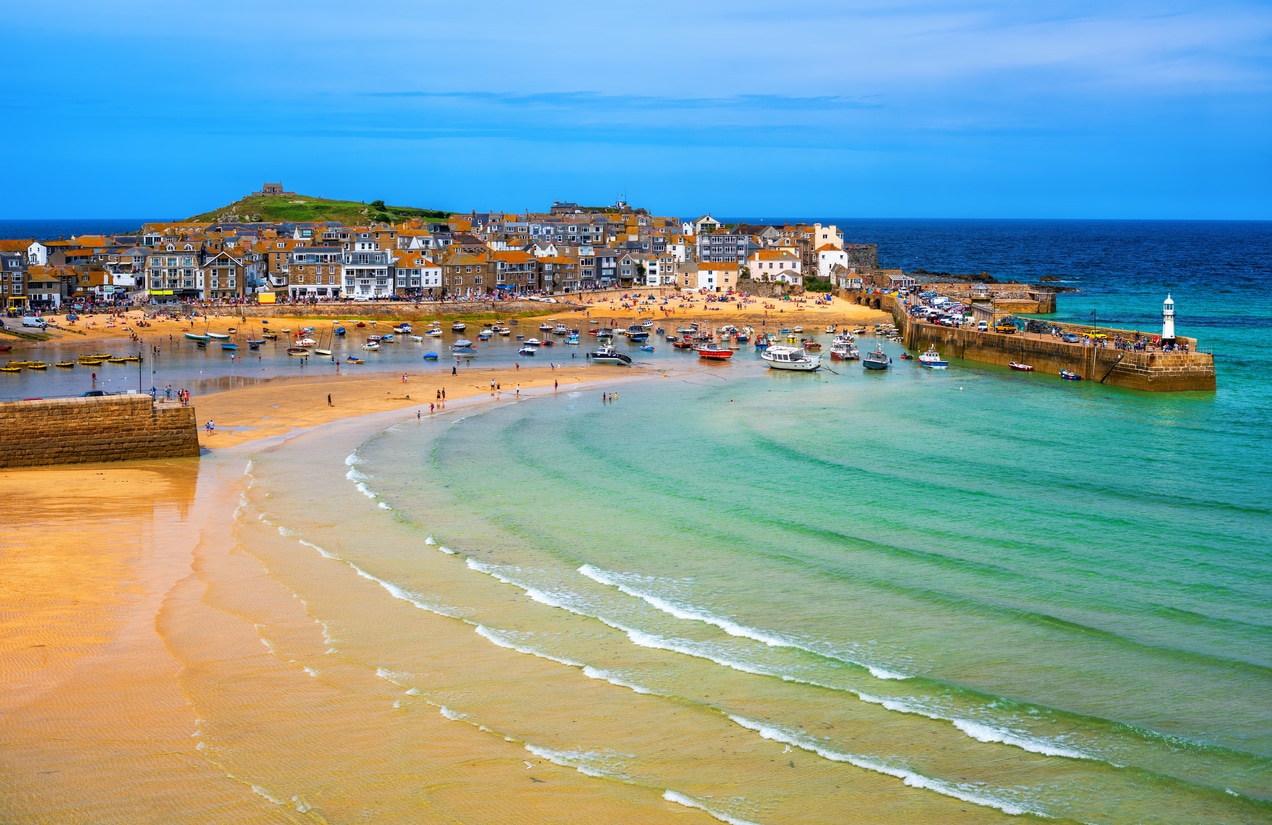 The accommodations could make or break your luxury escape in Cornwall. Fortunately, the county has many incredible places to stay, from chic boutique hotels to relaxing spa resorts. If you're looking for hotels in Cornwall with a pool, check out these top recommendations. Here are some more amazing luxury hotels in Cornwall:
This Edwardian boutique hotel sits on the quayside and offers excellent sea views. It features 18 bright and spacious modern rooms with ensuite bathrooms, underfloor heating, comfortable beds, Egyptian cotton sheets, led TVs, and coffee-making facilities. In the hotel, you'll find an award-winning restaurant that serves hearty dishes made of locally sourced ingredients, the freshest catch of the day, and seasonal produce. If you fancy sightseeing, the famous Trelissick Gardens and the towns of St Austell and Truro are just a 30-minute-drive away.
This 40-bedroom, privately owned country house by the sea lies within an area of outstanding natural beauty on a secluded bay on the Roseland Peninsula in South Cornwall. Soak up the spectacular sea views and pristine rolling countryside. Just a mile up from the hotel is the picturesque village of Veryan. Veryan is famous for its roundhouse cottages and 13th-century church. After a satisfying excursion, you can relax in your beautifully-furnished, spacious suite or dine at the sea-view restaurant. The Nare also has an in-house spa, swimming pools, hot tubs, and two hotel boats exclusively for the guests.
Located in the heart of Chapel Street, this refurbished Georgian inn stands out with its eclectic but rustic style. Its bedrooms are set across three floors, only accessible by stairs. They boast quirky art deco, limited-edition art prints, and vintage furniture. Some even come with statement bathtubs and log burners. Downstairs is the lively neighborhood hangout, the Clubhouse, an all-day restaurant, café, and bar. The bar serves everything from coffee to cocktails to smoked meats and seafood. Artist Residence makes a perfect base for trips to local beaches or the Isles of Scilly. Penzance's historic seafront is a five-minute stroll away, lined with pubs, restaurants, and galleries. Don't forget to drop by the Jubilee Pool. It's a massive art deco, geothermally heated outdoor public pool with a café and massage services.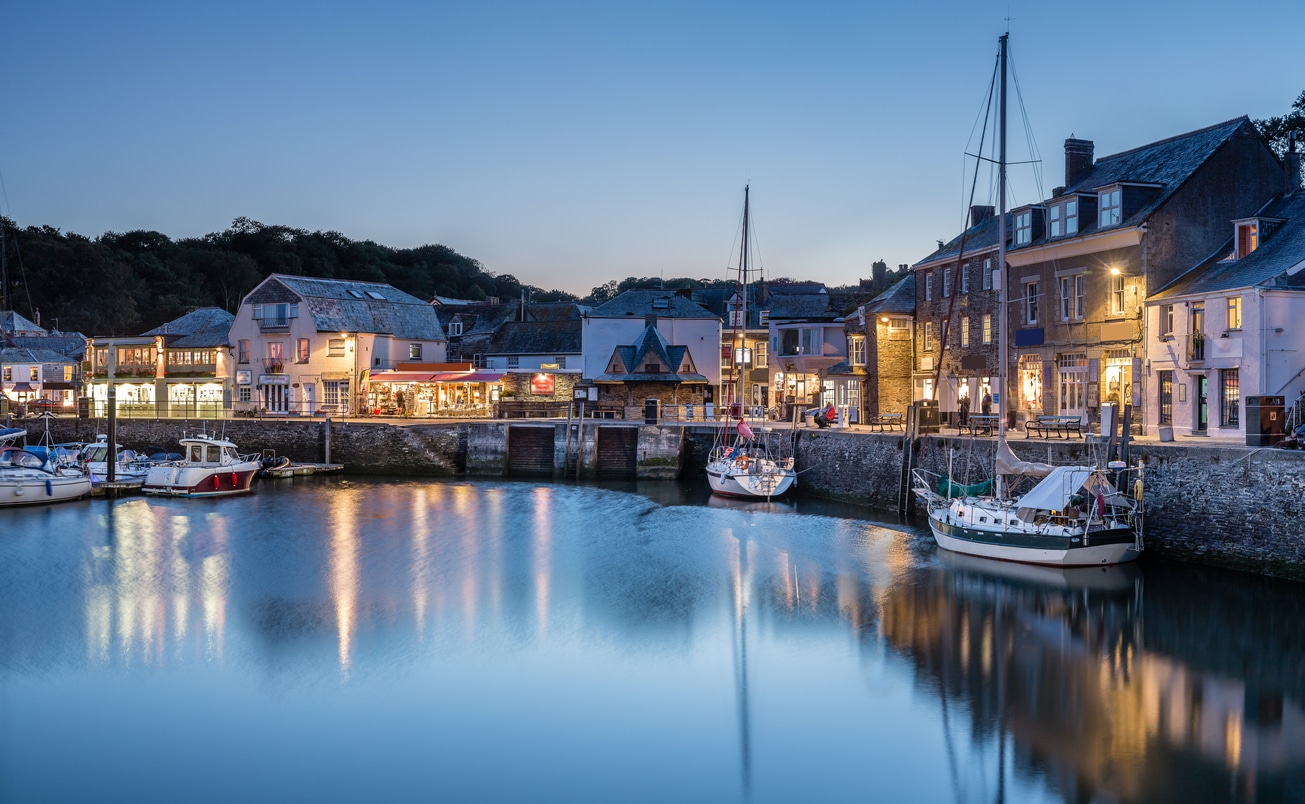 Perched atop a rise overlooking Padstow Harbor, this revamped Victorian hotel offers incredible views of the Camel Estuary. The hotel has all-day gourmet dining by the water and easy access to the town center. It features 58 newly-refurbished and individually-styled rooms with ensuite bathrooms, screen TVs, Egyptian cotton sheets, and complimentary gin and sherry. Some rooms have balconies with lovely views of the harbor or the estuary. If you are in Padstow for the culinary experience, the Harbour Hotel is a short distance from the town's most famous restaurants, including those of celebrity chef Rick Stein.
A five-star Victorian hotel set atop a cliff towering over Fistral Beach, Headland Hotel and Spa is the exact definition of elegance and luxury. All its spacious, stylish rooms come with free WiFi and satellite TVs. They also feature cozy seating areas, work desks, and ensuite modern bathrooms with complimentary toiletries. Get ready to be pampered at The Aqua Club. This spa and recreation facility has outdoor and indoor pools, a Swedish sauna, a Cornish salt steam room, and a gym. Pick from one of its three restaurants! You can enjoy a fancy gourmet meal or a more casual dinner on an outdoor veranda. The hotel is a five-minute stroll from the Newquay Golf Club and a ten-minute walk from the town center.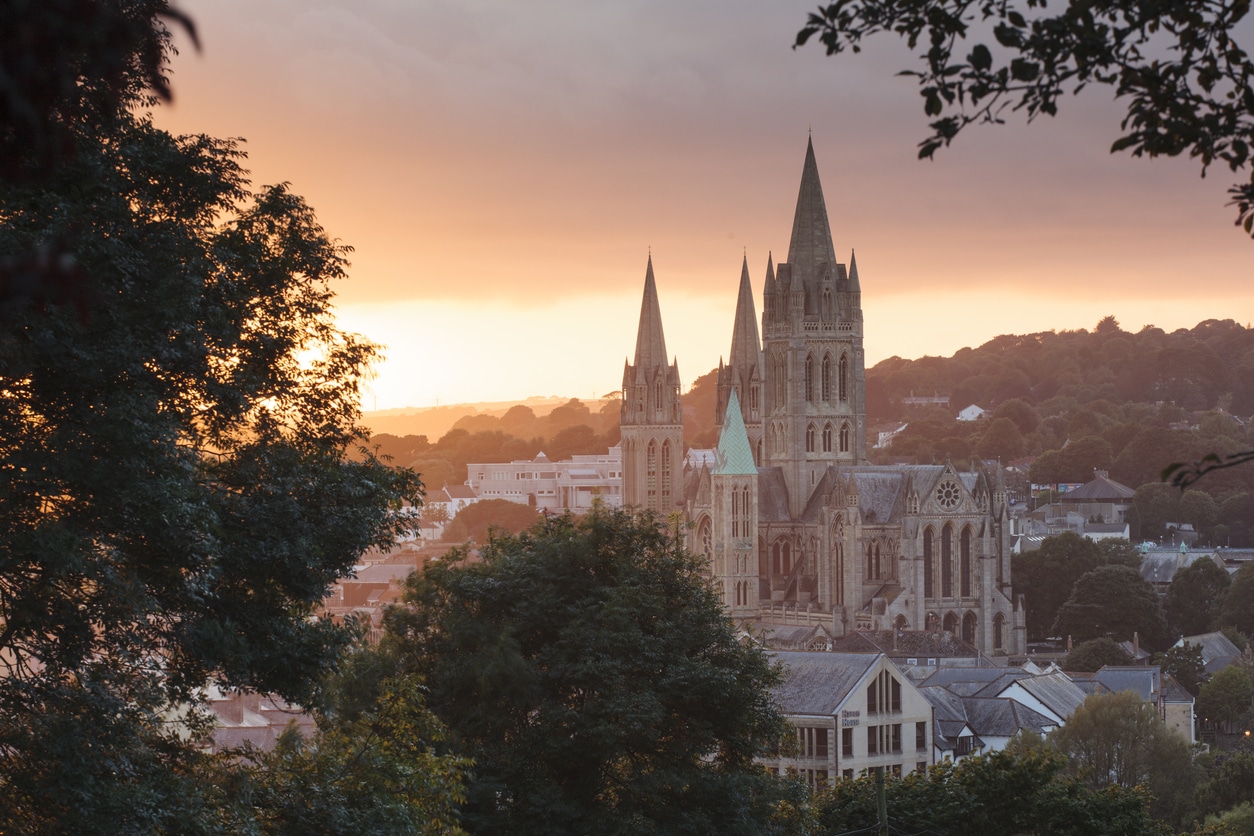 Formerly a convent, the Alverton oozes 19th-century romance and old-world charm with its manicured gardens, stunning architecture, arched mullioned windows, and ivy-clad walls. All its 51 bedrooms, 36 in the main house and 15 in The Courtyard, have ensuite bathrooms, smart TVs, plushy beds, and tea and coffee-making facilities. If you love good food, the Alverton is home to a two-AA-rosette-award-winning restaurant serving sumptuous meals made only of the freshest, locally sourced ingredients. The hotel is only a 10-minute walk from the Truro center, where you'll find boutiques, markets, galleries, pubs, and the iconic Truro Cathedral.
Twenty-five acres of untouched beach await you at this luxurious retreat, as well as extraordinary service, tropical gardens, and breathtaking panoramas of one of the world's most beautiful bays. The hotel boasts bright and spacious rooms with a cozy seating area, comfortable beds, modern bathrooms, smart TVs, and free WiFi. Relax at the outdoor swimming pool, get a massage at the spa, or watch live entertainment at the bar. Sands Restaurant is the hotel's in-house eatery, known for its creative menu of fresh seafood and homegrown ingredients. If you crave something more casual, order some Cornish beer and tapas. Scenic walks surround Carbis Bay Hotel so that you can enjoy a quick stroll anytime. Other nearby attractions are the West Cornwall Golf Club and the Tate St Ives.
Set against a backdrop of balmy turquoise waters, powdery golden sands, and palm tree-lined paths, you'd be forgiven for thinking you're in a tropical hideaway. The hotel overlooks Porthminster Beach and provides guests with striking views across St Ives Bay and the Godrevy Lighthouse. You have 50 rooms and suites to choose from, all featuring unique art deco, plush bedding, private bathrooms, free in-room WiFi, flat-screen TVs, and complimentary gin and sherry. If you're an art lover, the Barbara Hepworth Museum and Sculpture Garden is a mere five-minute walk from the hotel. Additionally, there's the iconic Tate St Ives, a modern art gallery and undoubtedly one of the top attractions in town. End your day with a relaxing session at the hotel's world-class spa, which features a heated pool, a sauna, a crystal steam room, and holistic treatments.
A room in The Watergate Bay HotelBuilt in 1904, this sprawling property exudes a "mountain ski resort by the sea" vibe. Accommodations range from standard bedrooms to beach lofts to village apartments, all furnished in a contemporary beach house-inspired style. All lodgings include free WiFi, flat-screen TVs, iPod docks, and modern bathrooms stocked with the hotel's own Land and Water products. The hotel has three restaurants, offering a wide range of menu options – burgers and sharing plates at the Living Space, chargrilled seafood at Zacry's, and a mixture of Asian, Mexican, and Italian dishes at The Beach Hut. Four miles south of Watergate Bay is the Newquay town center.
Things Not to Miss in Cornwall
From beaches to gardens to the most beautiful villages in the UK, a luxury escape in Cornwall will never be complete without experiencing these things:
The Stunning Beaches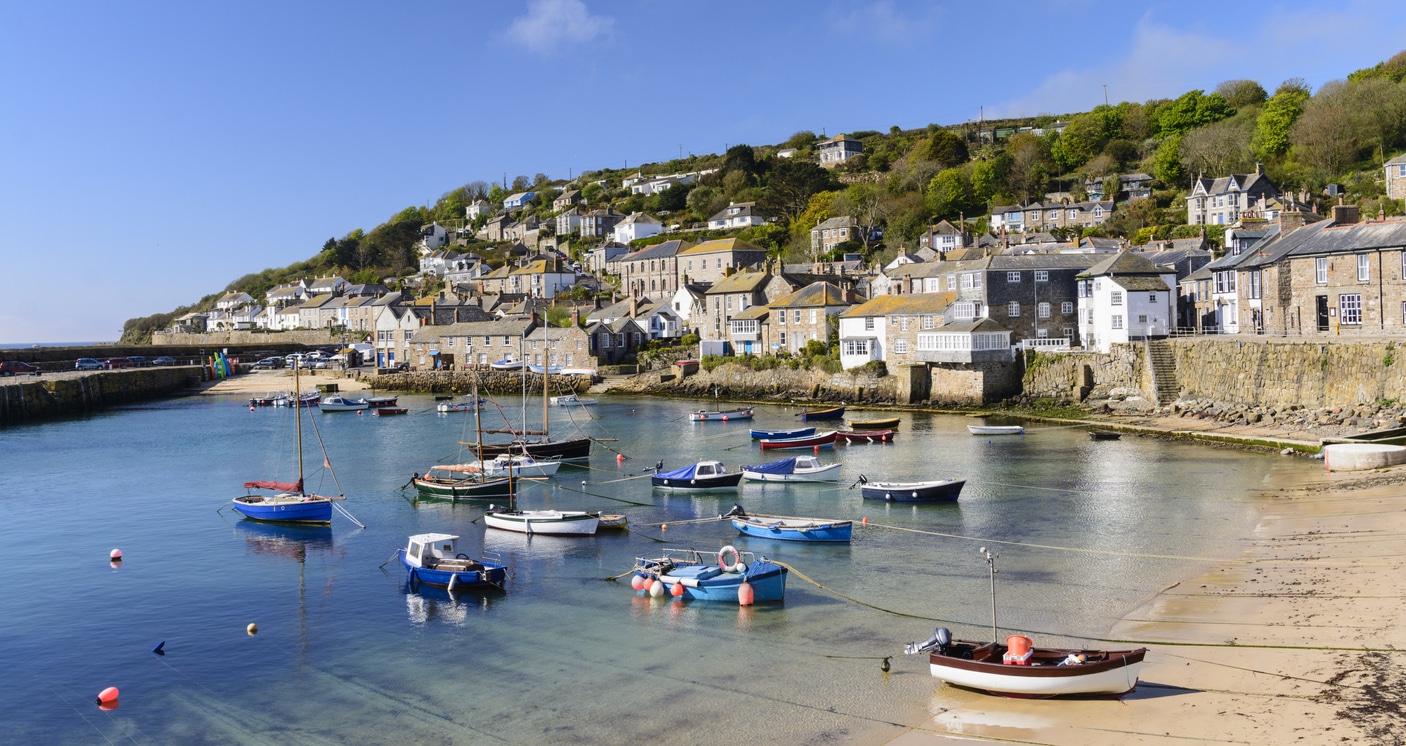 With over 422 miles of coastline, Cornwall has a variety of beaches to fit everyone's mood and interest. There are secluded coves perfect for a solitary stroll, lively resorts buzzing with swimmers and surfers, and out-of-this-world bays that make you think you've traveled to the Caribbean. Check out Porthcurno for its tropical beach charm, Gwinthian for its dramatic stretch of golden dunes, and Porthmeor for its mishmash of pubs, shops, and eateries on the waterfront.
The Cornish Cuisine
The land of pasties and clotted cream, Cornwall is one of the UK's most sought-after food destinations. What is its secret? It has a rich assortment of top-quality local produce from land and sea. It's not afraid to tweak traditional culinary favorites to add a bit of a modern, unique twist. Sample the iconic Cornish party, cream tea, and saffron bun. Because you're in Cornwall, it will be a shame not to try the seafood, whether grilled, boiled, fried, or covered in a pastry crust and baked in stargazy pie fashion.
Cornwall's Gardens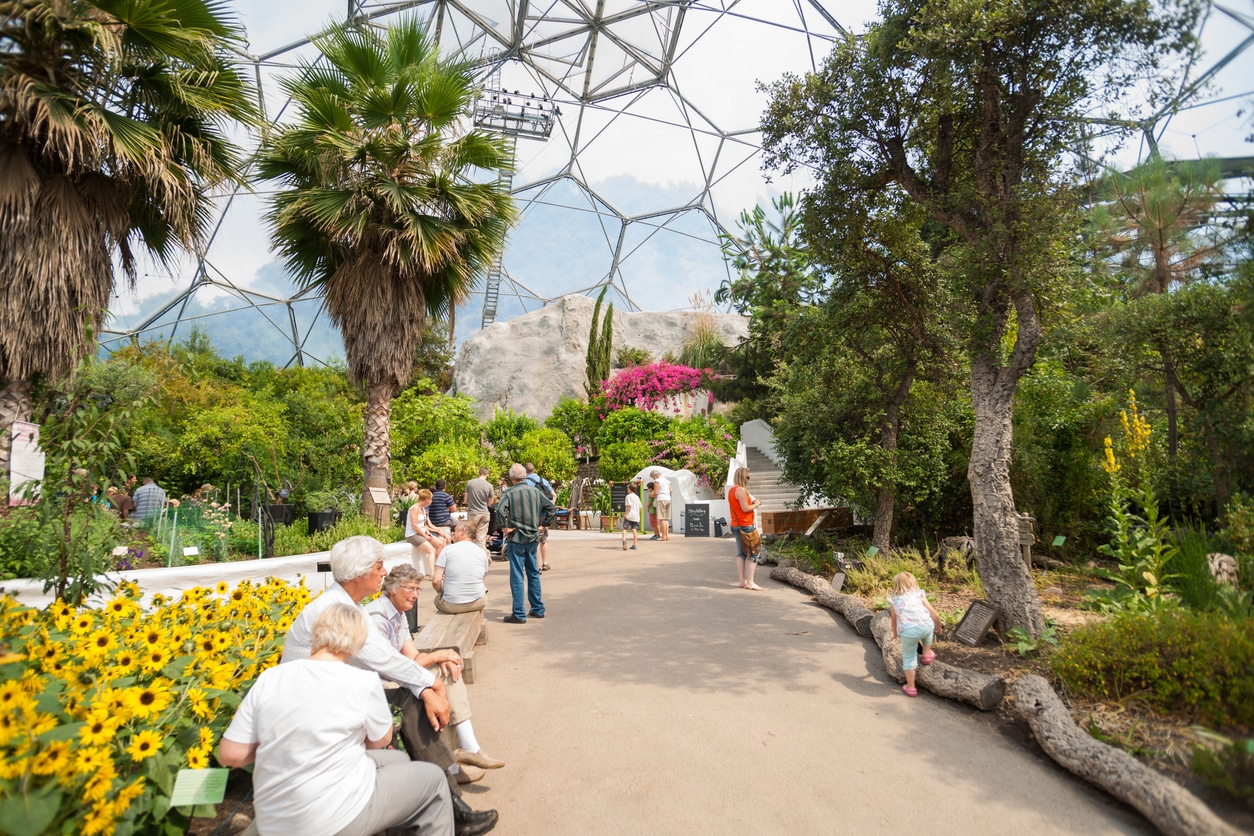 It's safe to say that the Cornish people love their gardens. Thanks to its mild coastal climate, Cornwall is home to some of Britain's most gorgeous gardens, some dating back to the Victorian period. Check out the Lost Gardens of Heligan, the real-life secret garden. The Trewithen (house of trees in the local language) will impress you with its 30 acres of woodland, while Trebah amazes with its subtropical plants and bamboo maze paths. Don't forget the Eden Project, which shelters the world's largest indoor rainforest.
The Thriving Art Scene
Cornwall's lovely scenery has long drawn artists, from writers to painters to musicians to sculptors. St Ives is the art mecca of the county and the center of the British Modernist movement, with prominent galleries such as the Tate St Ives and Barbara Hepworth Museum. If you love literature, Fowey is Cornwall's literary corner, often associated with Sir Arthur Quiller-Couch and Daphne du Maurier. Additionally, you get all sorts of music festivals. These include the boisterous Newquay Boardmasters, the famous Falmouth Sea Shanty Festival, and the funky Bude Jazz Festival.
Beautiful Towns and Villages
What's the prettiest place in Cornwall? That's impossible to answer. You have the idyllic Cornish fishing village of Mousehole and the quaint and charming Port Isaac. There is also the affluent coastal resort of Rock, dubbed Britain's Saint-Tropez. The best thing is every town and village has something different to offer, so you always have something new to discover.
Cornwall is the Perfect Destination for a Luxury Escape
Whether you're an art lover, a foodie, or a history buff, a luxury escape in Cornwall is one of the best gifts you can treat yourself to. The atmosphere is exciting but relaxed, and the beaches are stunning and endless. You'll want to keep coming back for more, especially the culinary experience.Kids to Cornwall is a family travel blog that helps people plan the perfect trip to Cornwall, UK, with kids, whether it's finding the perfect area to stay in or discovering the best day trips and itineraries.Read More:Travel Ideas for SeniorsEuropean Summer Trips Post-CovidThe Ultimate Guide to Beach Dresses