The holidays can be wonderful opportunities for seasonal creativity. Catalogs, magazines, books, and the Internet are great resources for ideas. As a chef, this time of year brings a lot of stress and pressures, and I learned early on that instead of this being something negative it can be a pilot light of sorts to ignite inspiration. I would love to share some of those holiday ideas that have helped me during this busy time.
Trees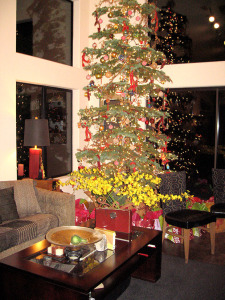 I have lived in small spaces, such as a trailer, and slightly larger spaces that a conventional size tree would eat up too much space, and now a larger home with tall ceilings. In the trailer, I picked up a rosemary plant in the shape of a small Christmas tree about 1½ feet tall. It smelled great by putting a bow on top tied with cinnamon sticks. After the holiday season it was planted in the ground and became a great big plant giving me a constant supply of fresh herbs for cooking.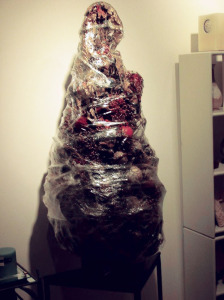 When I had the slightly larger place I had a 3 feet tall twig tree, very natural and I decorated it with all natural types of ornaments. Twenty years later, it still looks great and, to save time, it is left decorated and wrapped in plastic wrap to hold everything in place (get the large commercial plastic wrap). To cover the base, the tree pinecones work well. Some of the pinecones have been spray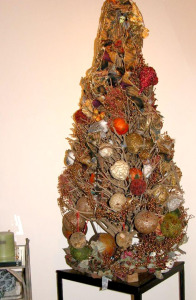 painted over the years in silver and gold, some left natural. They last many years and set the mood indoors and outdoors with very little cost.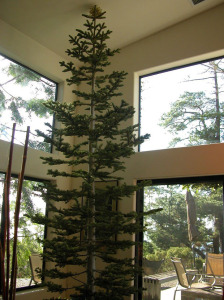 Our largest has been a 16-foot tree; silver tip has been my preference since the trunk is so exposed. I decorated that separately by wrapping colored blinking lights and garlands making the trunk a light show different from the rest of the tree. That size tree is expensive. We had a wood stump side table that didn't have a space with the tree, so we discovered by putting the tree on the stump it saved several dollars by being able to order a 10 to 12 foot tree.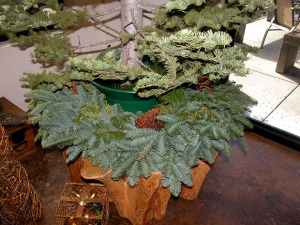 To hide the tree base, we put a wreath around the base, continuing the natural look and when you have to refill with water you don't have to worry about getting a tree skirt wet. To disguise the water part of the base, additional pine or cypress boughs are added.I have noticed in the last few years' fresh tree rentals, how great way it is to have a living tree. Additionally, there are so many choices for pre-lighted artificial trees that look and feel real.
Table Centerpieces
For easy, fast, and low use the pinecones colored or natural with pine boughs or natural garlands, perhaps holly and mistletoe, ornaments can be added as well. For tall and fast use, clear glass cylinders filled with ornaments and or pinecones natural or painted.
Ambiance/Lighting
Over the years, we have seen lights adorn the outside of home and the landscaping. Every year, a different fashion and style comes out. What have been intriguing for me are the newer LED projection lights and light stencils. This year, I indulged and bought white, multi-color and red and green combinations. These outdoor or indoor spherical kaleidoscope lights are like a moving show for house, trees, or shrubs. Each individual light covers at least a room and costs about $20. It makes the house or yard feel alive and yet relaxing at the same time.
Candles are out in full force with artificial flames that can be remotely controlled, which for safety is wonderful as much as I like real flames I am very impressed. There are very small lights that work well in centerpieces and in water as well.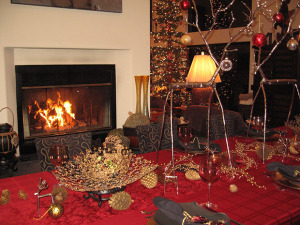 Traditional poinsettias always are welcoming and each season a new color or variety appears.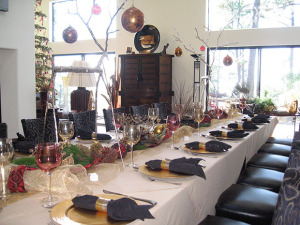 As much pressure as there can be, if you create your own escape in the magic of the season it does add a new energy to enjoy, even if someone else does it for you.Happy holidays!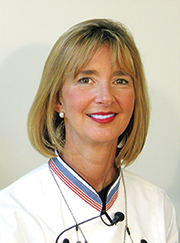 Wendy J. Brodie, HAAC, Executive Chef
Celebrated California Artist/Chef Wendy Brodie is known for her creative style with food, presentation and table decor. In fact, she is often described as an artist whose medium is food.
With her husband, Robert Bussinger, CHA, Brodie was co-owner of Lincoln Court Restaurant in Carmel, which had become a very popular local restaurant, and generated outstanding, reviews (see press page on www.wendybrodie.com).
She, for many years, has her own weekly television show, "Art of Food with Wendy Brodie" broadcast weekly on Public Television stations nationwide in the United States and throughout Canada.