As a cycle and fitness instructor, I see it at the start of every new year: gyms and studios overflowing with new, eager faces ready to embark on their fitness journeys. They're confident that this will be the year they reach their goals. Unfortunately, within a couple of months, I see the crowds thin out as many of those same new faces go from eager to frustrated or discouraged.
Trust me, I get it. Being a beginner at the gym can be intimidating. It seems like everywhere you look there are tight, toned tushes wrapped in the latest Lululemon, squatting, cycling, or running like they've been doing it for years — and maybe they have. But even the most devoted fitness fanatics once walked into a gym for the first time with no idea what to do. So how do you get past that "beginner at the gym" stage and reach your fitness goals without getting discouraged? Here are a few suggestions that can help you gain confidence.
1. Request an Introduction
Gyms know that a new year equals new members, so many of them will offer extra incentives like a free fitness evaluation or introductory session with a trainer to get you on track. Take advantage of that to learn your way around the equipment. This is also a great time to save on memberships as many gyms offer specials and discounts in January.
2. Try a Group Fitness Class
Sure walking into a group class can be intimidating. But once you're there you'll realize that people are so focused on themselves that they aren't watching anyone else. Plus, many classes (like spin) keep the lights low or even off. That affords you even more privacy and allows you to focus on yourself and what you are doing.
>READ: WHY ZUMBA? DANCING YOUR WAY HEALTHY
3. Pair Up
Ever wonder why women go to the bathroom in pairs? Because they've got each other's backs! The same is true at the gym. Having a good workout buddy beside you can do wonders for your comfort level and alleviate that, "everyone is watching me" feeling. Bonus: it offers you time to connect with your friend in a way that is healthier than a happy hour!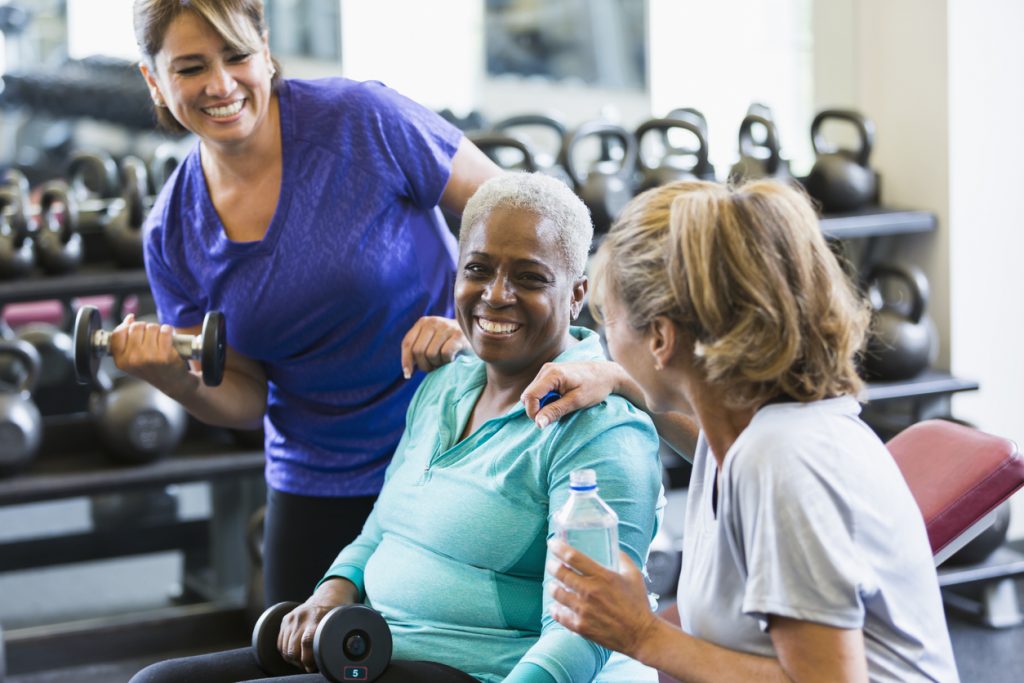 4. Hire a Personal Trainer
Yes, this can be an investment. But it's worth it in the long run for several reasons. First, a trainer can supervise you, correct your form, and prevent you from injuring yourself. Next, a skilled trainer can work with any physical limitations you may have and show you modifications that are suited to your specific needs. Finally, knowing you have an appointment with a trainer makes you more accountable. You are less likely to skip the gym if you've paid for a session.
>READ: HOW TO CHOOSE A PERSONAL TRAINER
5. Ask For Help
There's no shame in asking for help. Most gyms have trainers walking around specifically to answer questions or offer guidance. If you're taking a group class, arrive a little early, introduce yourself, and tell the instructor if it is your first time. That way he or she help you get set up if necessary, explain the format, pair you with someone at your fitness level if applicable, and offer encouragement.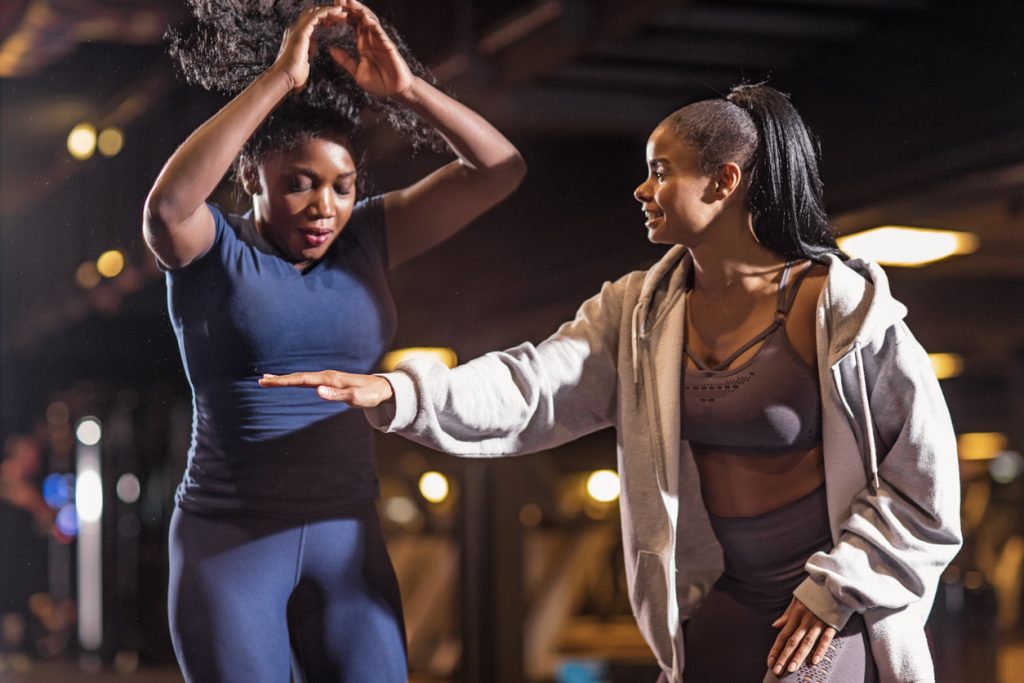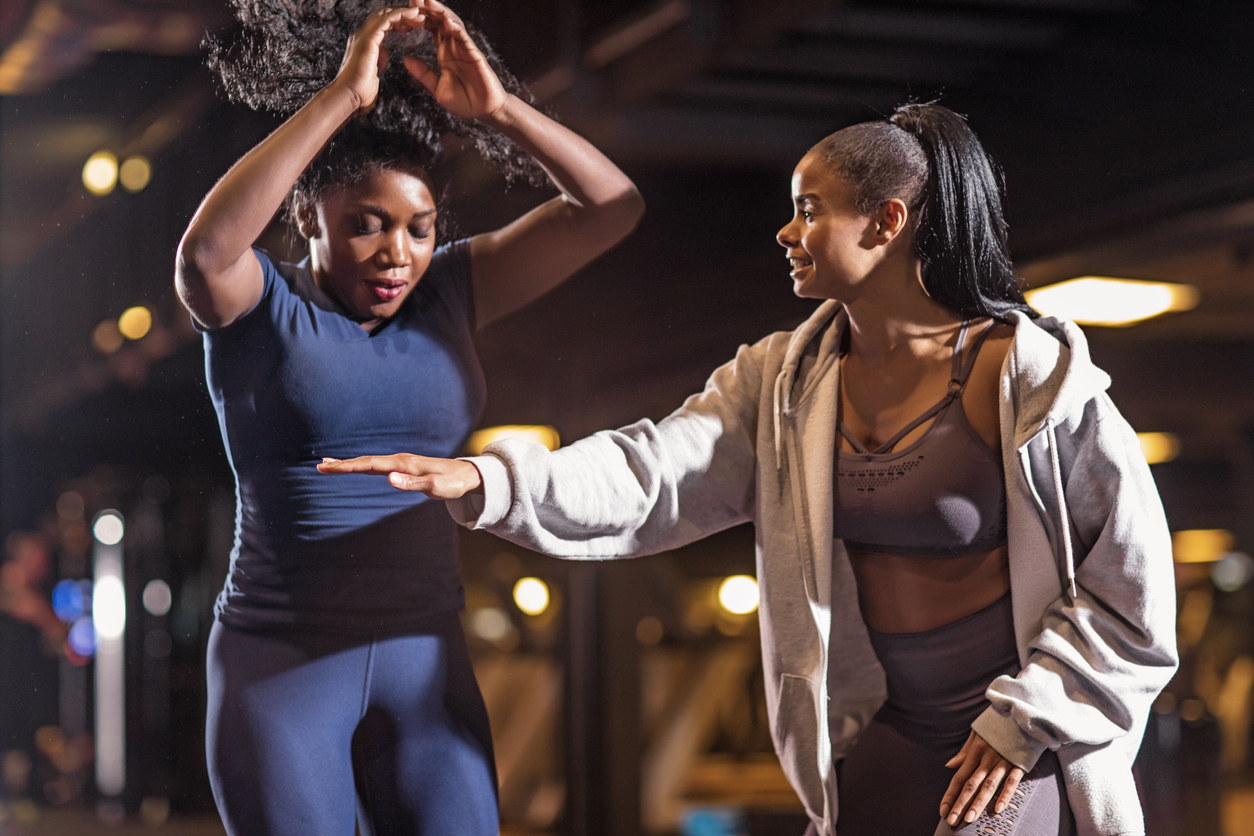 6. Look the Part
Never underestimate the power of cute exercise clothes when it comes to boosting your confidence level. If you go in looking sloppy in oversized tees or baggy sweats, you aren't going to feel your best. Treat yourself to some new leggings, tops, or shorts in fun colors, tighten your ponytail, and walk in with your head held high! I like Sweaty Betty, Lululemon, and Athleta for clothing that puts the "fun" in functional!
>READ: ATHLEISURE WEAR FOR WOMEN OVER 50
7. Turn up and Tune Out
Load up a killer playlist filled with your favorite tunes. Positive songs with a motivating message can help fuel your workout — and your spirit. Some of my favorites include "Woman," by Kesha, "Stronger," by Britney Spears, and "Whatever It Takes," by Imagine Dragons. But find what gets you moving and then crank it up!
>READ: HOW MUSIC AFFECTS THE BODY AND INCREASES YOUR ENDURANCE
8. Find a Female Facility
Some fitness studios and gyms cater specifically to women, creating spaces designed to make women feel more comfortable. There are many smaller studios (usually Pilates or barre) that are female-only. Check out your city's offerings.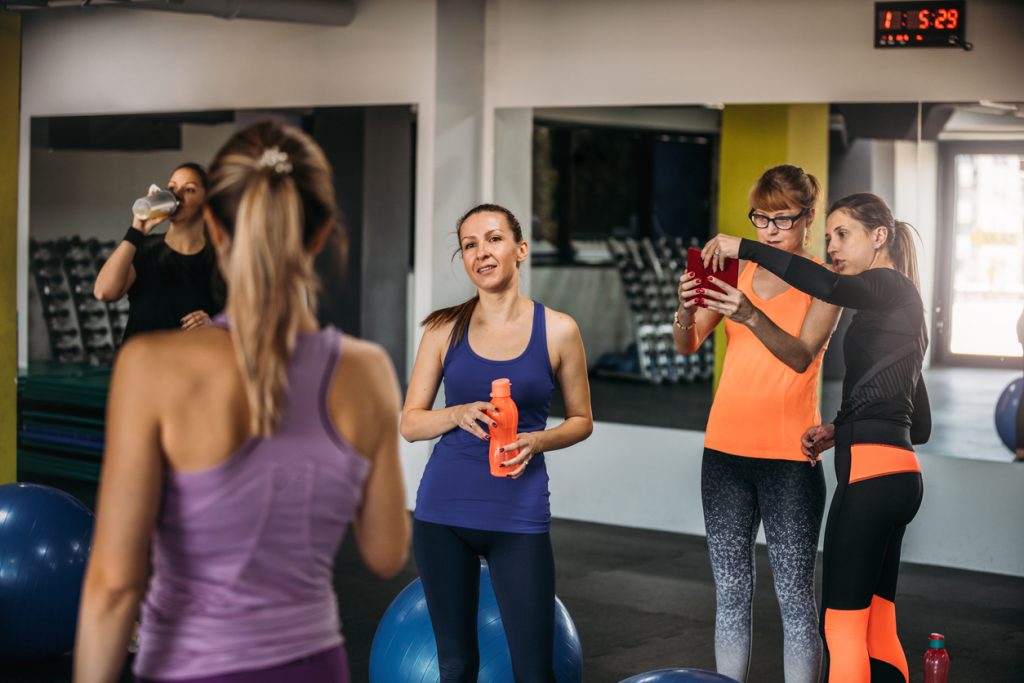 9. Be Your Biggest Cheerleader
It may sound silly, but the things that you say to yourself during your workout matter. If you are constantly putting yourself down or comparing yourself to others you will never feel good about yourself. You would never tell your best friend that she isn't good enough, fit enough, or strong enough would you? Of course not! Be your own best friend — not your own worst enemy. Find a quote that inspires you, or develop a mantra or self-affirmation and repeat it to yourself on those days when you want to give up.
>READ: SQUASH YOUR SELF-CRITIC WITH MEDITATION.
10. Have Patience
Last but not least, give yourself some time. The more you go, the easier it will become. Until, before you know it, you've formed a healthy habit.
>READ: WOMEN EVERYWHERE ARE FINDING TIME FOR A DAILY WORKOUT ROUTINE
>READ: SECRETS OF OLDER ATHLETES ANYONE CAN ADOPT FOR A HEALTHIER LIFE