March 26, 2015
With Music Director James Levine at the podium, a cast of several outstanding singers brought Giuseppe Verdi's "Ernani" to its full glory this past Thursday evening.
First in the role of Ernani, whose character is actually that of Don Juan of Aragon, is sung by Italian tenor Francesco Meli. Meli delivers the character of the disenfranchised nobleman in the sweet round tones of a tenor very comfortable with both his voice and stage presence. He filled the Metropolitan Opera House easily with his beautiful, vibrant singing. He carries the "secret nobility" of the role quite well and convinces the audience of his affection for Elvira.
American, Angela Meade gave the audience a very credible Elvira. Elvira, a Spanish noblewoman, is the object of all three of the male leads' affections. Each wants to marry her or at least have her as a mistress, as is the case with the monarch, but her heart belongs only to Ernani. While she is officially betrothed to her uncle, Don De Silva, that does not stop either Ernani or the King of Spain, Carlo V, from also pursuing her.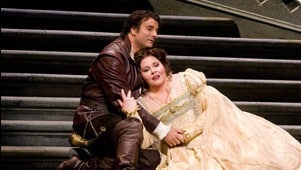 Angela Meade is an extraordinarily gifted soprano. New York City and world audiences love her. She delivers both passion and tenderness with her performance.
Her uncle, Don Ruy Gomez de Silva, is not only her intended husband, but he is also the cousin to the king. Silva is much older than Elvira and is determined to have her as an antidote to advanced age. At the beginning of the opera, he walks in on the king in disguise in a secret meeting with Elvira and Silva accuses her of perfidy. It is when a servant of the king bows to the ruler that Silva calms down and sinks to his knees in obeisance. Silva is very ably sung by Ukrainian bass, Dmitry Belosselskiy. This is a young performer who bears watching. He has a bright future as do all of the above performers.
Lastly, we come to the role of Carlo V, sung by Placido Domingo, probably the greatest opera star of the 20th century and perhaps this one as well. He has been described as the "iron man of opera." He has been a singer for 46 years but also a conductor and a music director, having headed the Washington National Opera. He is still the General Director of the Los Angeles Opera.
Domingo began his career as a tenor. He reigned supreme over all other tenors of the last century moving from roles in the Italian canon to those in the German/Wagnerian ones; He was advised against this.
At 74 years of age, Domingo now sings baritone roles, and to very mix reviews. Music critics from the New York City press have been unanimous in condemning Domingo's performance as Don Carlo V. His other parts as a baritone such as Germont, the father figure in "La Traviata," and his role in "Simon Boccanegra" were more character pieces. The thinking is that his terrific stage presence helped make them successful. Having heard the Vermont role, I thought he did an excellent job, but I am not a musicologist, and I could not tell you if he at times strayed over into "tenor territory." I can tell you that he sang beautifully.
During Thursday evening's program, it seemed that he stayed firmly in the baritone's position. Anthony Tommasini in his NY Times March 22, 2015 review, stated that it is time that Domingo retired from singing. However, a full Metropolitan Opera House this past Thursday evening disagreed with Mr. Tommasini's verdict. The audience loved Domingo and his performance. Perhaps that was loyalty and a memory of days past, but the enthusiasm seemed very fresh to me.
The chorus, the orchestra, the sets, and costumes were all up to their usual world class standards. It was a real treat to hear this early Verdi work that unlike many of his later efforts is a true bel canto opera.
This work can be seen at the Metropolitan Opera in New York City until April 11, 2015. Visit www.metopera.org for ticket details.
Happy viewing. If you do attend a performance of this opera or any cultural event in your area, please send me a photo of yourself in attendance. Send to [email protected]. I will see that it is posted on our Facebook, Instagram and Pinterest sites.