A delicious dinner-at-home as a Valentine's gift for the love in your life is always appreciated. But why not make this entire romantic evening with dinner and cocktails from a menu of libido booster ingredients? It could be titillating to prepare a menu featuring healthy, aphrodisiac foods– oysters, ginger, figs, fennel, mustard, bison, raspberries, and dark chocolate.
I have paired each stimulating course with a complementary cocktail. Here is my ideal menu with some recipes to guide you to preparing a special gift for your Valentine's date. You can find some recipes below!
The Ultimate Aphrodisiac Valentine's Day Menu
Appetizers:
Grilled Oysters on the Half Shell paired with a "Between the Sheets," a Cognac/Rum cocktail
Salad Course: Arugula Salad with Figs, Fennel and Oranges paired with a Gingered Peach Margarita Cocktail
Main Course: Herb and Dijon-crusted Bison Fillet and Wild Rice paired with a Spiced Manhattan Cocktail
Dessert: Chocolate Decadence with Raspberry Sauce paired with a Brandy Alexander
What are Aphrodisiacs?
Adapted from the name Aphrodite, the Greek goddess of love, aphrodisiacs are believed to contribute to three categories of sexual stimulation: libido, sexual pleasure, and potency. Of course the FDA will not allow such labels on food or herbs. Still, many people experience the tingly sensations that come from eating these foods. The keys are the neurotransmitters and hormones emanating from certain foods. Dopamine, Testosterone, and Phenethylamine are just a few examples of these potent natural human chemicals.
See the Dictionary of Aphrodisiacs by Harry Wedeck for more insight.
It's worth noting that Indian author Vatsyayana devotes two chapters of his Kama Sutra to aphrodisiacs.
Setting the Stage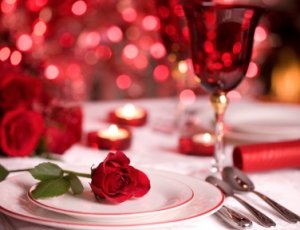 Be sure to set a sensual dining experience for your Valentine's date. Candlelight, music, a cozy table, and your finest dishes set the stage. Interruptions of dogs, kids, and parents are not needed. Set the mood and bring on the food!
Libido Booster Foods
The Oyster Appetizer and "Between the Sheets" Cocktail
Let's start with an Oyster appetizer – this may seem like a stereotypical aphrodisiac choice, but oysters are loaded with zinc, which ratchets up testosterone and increases sex drive. Oysters may have gained their reputation as an aphrodisiac when it was discovered that oysters are high in zinc, which is important in sexual organ development. Diets low in zinc and Vitamin D were associated with testosterone deficiencies.
Emil Lagasse's Grilled Oysters recipe is paired with a Cognac/Rum "Between the Sheets" cocktail (See recipe at the end). You may have heard this cocktail called "a Maiden's Prayer." The cocktail was said to have been created in the 1920's at Harry's New York Bar in Paris. This provocatively named classic from the Prohibition era refers to the drink's potency and potential for a risqué end to the evening.
Arugula Salad with Figs, Fennel and Orange and the Gingered Peach Margarita
Our salad course is packed with seasonal winter ingredients to make this Arugula Salad with Figs, Fennel and Orange recipe from the Food Network delicious and healthy. These ingredients add antioxidants and Vitamin C.
The ancient Egyptians touted fennel as a mega libido enhancer. The ancient Greeks valued figs more precious than gold. Figs were Cleopatra's favorite fruit and it's no coincidence that many think they resemble the female sex organs. The salad is paired with a Gingered Peach Margarita cocktail. Much like chili, ginger has been known to increase the heat in the body, as well as heighten heart rate. Plus, the potent aromas of ginger are said to stimulate arousal, guaranteeing a promising night in the bedroom.
Main Course: Herb and Dijon-Crusted Bison with a Spiced Manhattan Cocktail
Our main course is Herb and Dijon-Crusted Bison Filet with wild rice. Bison is a heart-smart choice as it contains less saturated fat than the typical beef filet (see recipe below.) However, testosterone is literally made out of cholesterol and monounsaturated fats so healthy fats are good for your hormones. Mustard is considered a prominent aphrodisiac in the European culture. Its ability to increase blood circulation has also made it popular in China, where once notably monks were not allowed to consume it. Wild rice is known as a "grain for the libido." And you wonder why they throw rice at weddings? I have paired the bison with a Spiced Manhattan cocktail featuring cinnamon, a savory spice bursting with antioxidants that kick up the body's heat and blood flow, thus facilitating sexual arousal.
Chocolate Decadence Cake and a Brandy Alexander
Our dessert is Chocolate Decadence with Raspberry sauce; Pastry Chef Janet Feuer was the original inventor of this famous dessert. I enjoy the Williams Sonoma recipe rendition. Last year I recommended this dessert in my Prime Women article: "Food and Wine Pairings: The Ultimate Aphrodisiac Valentine's Day Menu."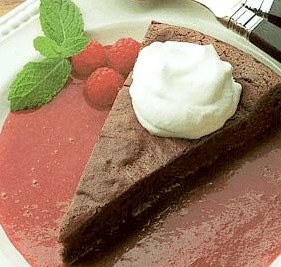 I am pairing the Chocolate Decadence cake with a Brandy Alexander. The chocolate in the dessert contains the organic compound, phenylethylamine, well known for its psychoactive and stimulant effect. Montezuma supposedly drank up to 50 cups of chocolate drink before heading to his harem. Phenylethylamine induces the feelings of well-being and excitement, which makes sex seem like a great idea.
The Journal of Sexual Medicine published a study that found women who enjoyed a piece of chocolate every day had a more active sex life than those who did not. The nutmeg in the Brandy Alexander was used in India as a treatment for a low libido diagnosis in men. This sexy spice raises body heat, sweetens breath, and acts as an all around stimulant. Sip this cocktail to add some sweet spiciness to your evening.
Enjoy the dinner and savor some sure-fire foods to spice up your love life. Just remember to select healthy food choices that will not only stimulate your body but enhance your brain function, too. Rest assured: What you eat can affect your sex drive. Treating your body and brain right is the equivalent of loving yourself, and that's absolutely sexy.
Recipes
"Between the Sheets" Cocktail Recipe from Liquor.com
1 oz. Cognac
1 oz. Triple sec
1 oz. Light Rum
¼ oz. Fresh lemon juice
Garnish: 1 flamed orange peel
Directions: Add all the ingredients to a shaker and fill with ice. Shake, and strain into a chilled cocktail glass. Flame an orange peel over the glass and discard before serving.
Herb and Dijon-Crusted Bison from the Food Network
1 (1-1/4 pound) bison tenderloin, trimmed (can substitute beef)
2 tablespoons Dijon mustard
2 tablespoons fresh rosemary, chopped
2 tablespoons fresh thyme, chopped
2 tablespoons fresh oregano, chopped
3 garlic cloves, minced
Salt and pepper, to taste
Directions: Preheat the oven to 400°F. Place beef on a broiler pan or in a baking dish and season with salt and pepper. Spread the mustard evenly over beef. Combine the herbs and coat the beef evenly with the mixture.
Bake at 400°F for 30 minutes or until an inserted meat thermometer registers at 145°F (this is medium-rare) or your desired degree of doneness.
Transfer the beef to a cutting board. Cover with foil and let rest for 10 minutes before slicing.
Chocolate Decadence Cake from Williams Sonoma
Ingredients:
For the raspberry sauce:
2 1/2 cups fresh raspberries or thawed frozen unsweetened raspberries
1/2 cup superfine sugar
1/4 cup framboise or other raspberry-flavored liqueur (optional)
For the cake:
1 lb. semisweet or bittersweet chocolate, chopped
10 Tbs. (1 1/4 sticks) unsalted butter, at room temperature
4 extra-large eggs, at room temperature
1 Tbs. sugar
1 Tbs. all-purpose flour
1 cup heavy cream, whipped
Directions: To make the raspberry sauce, place the raspberries, sugar and Framboise liqueur, if using, in a blender or in a food processor fitted with the metal blade. Puree until smooth. If you prefer a seedless sauce, pass the puree through a sieve.
To make the cake, position a rack in the middle of an oven and preheat to 425ºF. Butter an 8 or 9-inch springform pan or a layer cake pan. Line the bottom with a circle of parchment paper or waxed paper cut to fit precisely. Butter the paper and dust with flour; tap out any excess.
Place the chocolate and butter in a large heatproof bowl or the top pan of a double boiler. Set over a pan of gently simmering water but not touching the water. Stir occasionally until melted and combined completely. Remove from the heat and let cool slightly.
Place the eggs and sugar in a bowl. Using an electric mixer set on high speed, beat until light, fluffy and tripled in volume, 5 to 10 minutes. Reduce the speed to low and beat in the flour. Using a rubber spatula, fold one-third of the egg mixture into the chocolate to lighten it, then fold in the remaining egg mixture, taking care not to deflate the batter. Pour and scrape the batter into the prepared pan and smooth the top.
Bake for exactly 15 minutes. Let cool completely to room temperature. Do not refrigerate or the cake will stick to the pan. Invert the cake onto a flat serving plate and peel off the paper.
Cut into small wedges and serve each wedge atop some of the raspberry sauce. Top with whipped cream.