I just love salads like this … root vegetables thinly sliced and layered with shavings of cheese and then drizzled with olive oil and lemon juice. Salads like these are wonderful accompaniments to grilled and roasted meats and can also be served as a first course. And they pair nicely with wines because lemon juice is not as acidic as vinegar.
I have chosen a mellow cheese laced with rosemary that we make from cow's milk, but you could easily substitute Parmigiano Reggiano or an aged Gouda in the recipe. It actually could be any cheese that you can shave using a vegetable peeler.
Fennel Salad with Rosemary Montasio
2 lemons
4 large fennel bulbs
1/2 teaspoon kosher salt
One 4- to 6- ounce piece Montasio
1/2 cup fresh Italian parsley leaves
6 to 8 tablespoons extra-virgin olive oil
Serves 4 to 6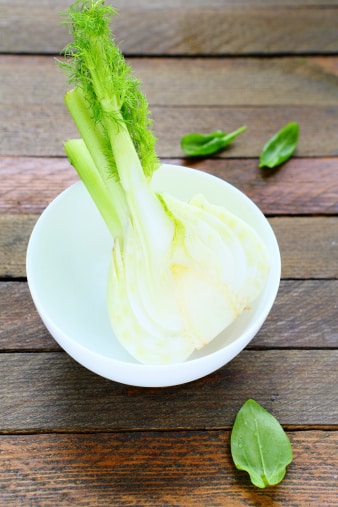 Cut 1 lemon into 4 to 6 wedges and squeeze the juice of the other lemon. Set aside.
Cut off the feathery leaves and fibrous stalks of the fennel. Set aside the feathery fronds. (You can also chop the leaves and use them as a fresh herb. The stalks are not tender enough to eat, but they will add a delicate flavor and fragrance to a homemade chicken stock.) Trim the root ends of the fennel and discard. With a sharp knife or a madoline, cut the fennel vertically into paper-thin slices.
Distribute half of the fennel on a large platter (or individual salad plates), sprinkle with a little salt, cover with a layer of Montasio shaved directly over the salad with a vegetable peeler, and then garnish with half of the parsley leaves.
Repeat with the remaining fennel, salt and Parmigiano, and parsley.
Drizzle the salad with the olive oil and fresh lemon juice.
Serve garnished with the lemon wedges and fennel fronds.