Whose that lady behind the face mask? As we navigate through this current COVID-19 pandemic, face coverings have become a necessary accessory. The goal is to stay safe and healthy by any means necessary. Some people don't mind wearing masks but many women do. It messes with our makeup, our hair and often leaves a mark on our face when we remove them.The feelings associated with a face covering can make us feel odd, unattractive, or even moody. Considering that face masks are the new norm, try being creative with your face covering so that you feel attractive. In other words, make the mask work for you! There are several ways to accentuate your facial features or outfit while wearing the face-covering. We highlight the best ways to make face masks fashionable.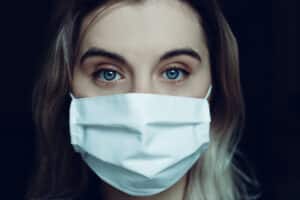 The Eyes
Now is the time to doll up those eyes and go big! If you love eye shadows, eyeliner pencils, and crayons then grab those tools and make your eyes the canvas.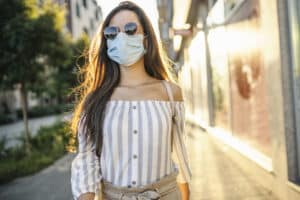 Eye Glasses
Update your eye wear or sunglasses to playful, fun, or sophisticated frames. There are many styles on the market. Eyeglasses are a nice addition to adorn your face covering. They will draw attention to your eyes and away from the mask. Here we have the most trendy sunglasses at every budget.
Hair
Get sexy with the mask by styling your hair in one of those up-dos. This style paired with enhanced eye makeup can be a show stopper.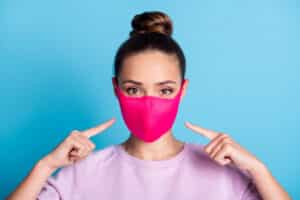 Hats and Scarves
Wear a face-covering mask that matches your hat or scarf. This look is an inspiring chic appearance. These are some of the most stylish hats for summer.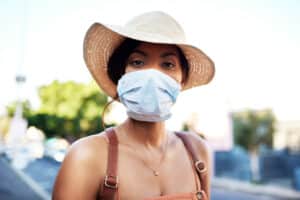 Design Your Own Mask
Customize the mask to fit your style. Add an assortment of solid color masks to your collection to compliment your change of wardrobe. If you love animals, wear an animal print face-covering mask. If you are not creative, no worries purchase a mask from an online vendor. Here are some suggestions:
Glam out your mask with rhinestones or studs

Stencil words on your mask to stand out

Display your favorite sports team or company logo
The Voice Behind the Mask
Did you know your voice can be an attraction or a distraction? Since your mouth is hidden behind the mask, you will need to speak louder and more distinctly. Women, in particular, have a hard time being understood.There are many ways you can be attractive in a mask, you just have to be open-minded. Just don't leave home without a mask or you may be denied entrance. Let's face it, everyone is not a fan of the face-covering masks, but if it makes family, friends and loved ones feel safer, then I for one, am willing to wear one!