Prime Women was thrilled to be able to partner with guest fashion editor Barbara Warren, founder of Perennial Project to bring you this special post on the beautiful clothes from Lafayette 148.
When I want to look and feel my best, there are a number of things I need to do. My routine isn't terribly complicated, yet it does take some effort. I'm resigned to the fact that I cannot just walk out of the house without wearing makeup and can't be throwing on any old thing in my closet anymore. I'm too old to be that spontaneous, plus I'm also a realist about the effects mother nature has had over the years!
I believe we all want to present ourselves in the best possible way to the world. The right clothes are essential to looking good, in addition to concealer, mascara, lipstick, fresh hair color, and did I mention concealer?! Clothes need to feel light against my skin, hence high-quality fabrics that breathe and wear well over time. They need to fit comfortably, allowing movement, yet not overwhelm my frame. I am a modernist when it comes to style, preferring clean shapes that stand out on their own and are not too tricky. It's important that the person wears the clothes and not the other way around.
Lafayette 148 is a brand that has been lauded for its contemporary designs with a tailored fit for over twenty years. Their clothes are understated and sophisticated and can be worn all day whether for lunch, work, or out to dinner. Styles can be mixed and matched, which is a blessing in the mornings when you are rushing and don't want to think about whether or not pieces can be worn together. Below I am wearing selected looks from their current season, and I absolutely love how they look and feel. Lafayette 148 has genuinely mastered the art of knowing what women want and delivering consistently gorgeous clothing.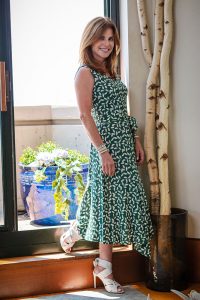 Telson Mini Inspired Laurel Dress, $798
I love this deep green leaf print dress which is made in a scrumptious crepe fabric. The cut is gorgeous with a flattering v-neck that hits in just the right place to look sexy, yet not plunging. The body drapes perfectly with lots of movement from the hips down to the asymmetrical hem.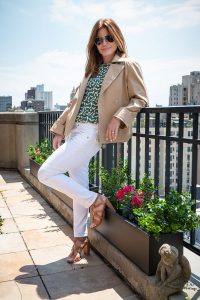 Asher Double Breasted Jacket, $598
Leaf-Print Bell-Sleeve Blouse, $398
The same deep green leaf print used in the dress above was also made into a beautiful blouse. It features a crew neck and flared sleeve which looks great whether tucked in or worn out. The tan jacket is made from 100% Italian cotton and has gorgeous top-stitching details. It's a perfect proportion to wear over jeans, pants, or slim pencil skirt. (The white jeans are a different brand)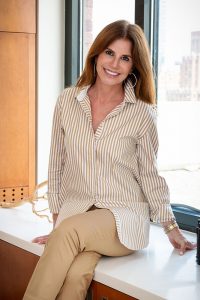 A menswear shirt is a wardrobe staple. This one is long and versatile, which looks great with the matching pants as well as white jeans, or black pants. It can also be worn open with a white camisole underneath for more of a shirt-jacket effect.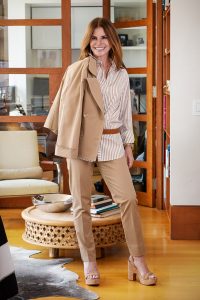 Asher Double Breasted Jacket, $598
This is a great three-piece ensemble which is like a casual suit, only better, because each piece can be worn separately. The tan pant is a perfect three season neutral and the shirt can be worn belted or long. I could go on for hours about these pants as they fit like a dream and are incredibly comfortable since they're made from a stretch cotton. The matching jacket is double-breasted with a turned back cuff, and rest assured, it will be in constant rotation this fall.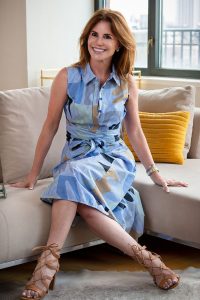 Cordelia Printed Midi Shirt Dress, $358.80
I adore this sleeve-less shirt dress and print! It's a combination of a shirting stripe which I always love, combined with an abstract print reminiscent of Mid-Century art. It's a modern take on a shirt dress with a wide wrap belt and slightly uneven hem.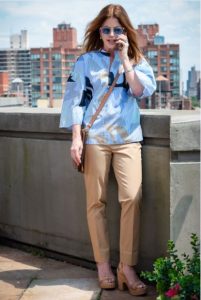 Once again, Lafayette 148 makes use of their magnificent print in a shirt in addition to a dress. Here, the mandarin neck looks great with the slit front and is balanced by a flared sleeve at a ¾ length. This top is perfect with my favorite tan pants, but would also look equally good with navy or white.
These Lafayette 148 fashions will take you well into fall. Happy shopping!