Sponsored post. You're in the car on the way to work or on an amazing vacay getting dolled up for dinner, and you see it: the unwanted errant gray hair (or hairs) that you didn't notice before. They are sneaky and like to wreak havoc on our lives! You shouldn't pluck them, yet we all do, and sometimes they just gang up on us and take over! While juggling our hectic schedules, it can be extremely tough to get into the salon sometimes… but I have found a fantastic product that helps lengthen the time between salon trips and even save you a little money in the process. The Style Edit Brand has been setting the scene ablaze for a few years now. They have been featured on multiple celebrity "favorite products" lists and in many magazines such as Vogue and In Style. They have even won multiple awards, including "Best Root Touchup Powder" from Newbeauty and "Best Root Spray" from Beauty Launchpad! As a professional hair and makeup artist, I work with everything from Mothers-of-the-brides to celebrity clients, and when I need something quick and easy, this is the product I reach for in my kit. Style Edit's sticks, sprays, and powders are the best way to camouflage those gray hairs and even fill in thinning hair and part lines. I have also used these products on clients who suffer from alopecia and Trichotillomania.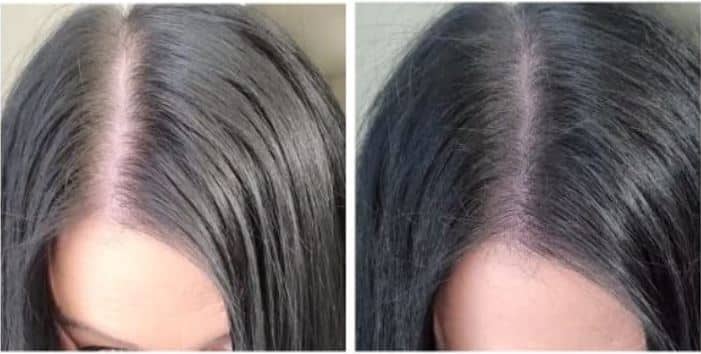 Before I break down each of these magical babies, I want to let you know that they all have incredible staying power. They will not transfer onto your pillowcase or clothing. Also, if you're going to hop into the gym or get caught in a rainstorm, relax; you are all systems go! They only come out when it is time to shampoo. The Style Edit brand does not contain any nasty sulfates, silicones, or parabens and is ethically sourced while being made in the USA! Let's chat about all the amazing root-eradicating products Style Edit makes and get the scoop on how they are used so you can find the one best suited for you.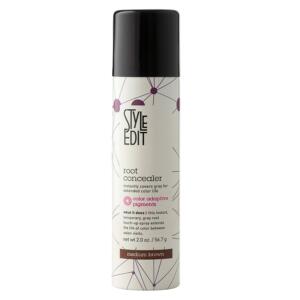 Style Edit Spray is recommended for when you want to cover a larger area. It is really easy to use; start with dry hair and just shake, spritz the necessary areas, and wait a few minutes to let the product completely dry. It also has a small nozzle, so you will have amazing control over the product. (PRO TIP – When using the product the first few times, if you are worried about spraying your temples or hairline and getting product on your face, simply fold a kleenex or paper towel on your hairline and spray away. Then you won't have to worry about getting product on your face before heading out the door).
This amazing spray is not opaque or matte, so it leaves your hair shiny and natural-looking while having wonderful pigmentation and blending in with your hair color. They have a great assortment of colors from black to light blonde, and there is even a color option for you gorgeous redheads out there. I know with other root coverage brands that is an issue…but not with Style Edit! I also love that you can buy a larger can or a travel size so you can take it anywhere you go.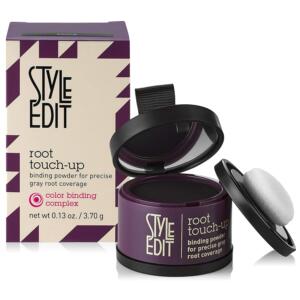 This little baddie comes in the cutest little container and is very mess-free! I suggest using this powder if you have a controlled area you want to cover, such as your temples, or a bit of gray in your part lines. The powder puff sponge is hidden in the bottom of the container, so when you detach it, you only hold the plastic part and don't have to hold the puff. The lid pops open and even has a mirror so you can be anywhere when applying. After your hair has been dried and styled, load up the puff, pull the product from the scalp, and work toward the ends.
This product also has an amazing array of colors to choose from, just like the spray. One thing I love about this product is that it works as a kind of dry shampoo, so not only are you getting the color, but you are also getting a little texture and volume!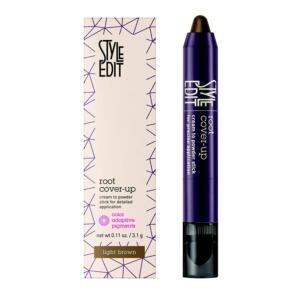 The Style Edit Stick is a game changer! It is perfect for smaller sections where you just want to target a few grays in your temples, hairline, or even your eyebrows. The stick is also waxless, so it won't feel greasy and is a cream-to-powder formula. Also, because it is quite small, it can fit anywhere. It is a double-ended pencil, so you can apply the color with one end and then uses the soft sponge on the other to buff and blend the color out.
With such a fantastic array of products and colors, it would be difficult not to find exactly what you need. Style Edit has done so much great research and has gone the extra mile for us, so it is easy peasy lemon squeezy! Check out some of the 5-star reviews on their products too. It is always great to hear from users and professionals in the salon industry as to why they love this product so much. Your salon might miss your frequent visits, but your schedule and pocketbook won't! What will you do with your extra time and money?
Read Next: