People do not care about perfection as much as they care about honesty. It is our flaws that define us more than you think. With that said, so called "perfection," will vary from person to person because we are all uniquely different. In order to feel perfect, you need to establish that perfectionism should be determined by your own individuality. We need to be honest with ourselves about what our personal definition of perfection is before we aim to be perfect.
The idea of perfection can get distorted within today's society Many times, women our age can get caught up in the myth that we need to always look younger. Scrolling through social media, it appears that it's essential to have the approval of others in our lives.
However, I'm finding women within our age group are now taking a stance to define themselves for who they are and not who society thinks they should be.
Looking younger isn't important to this unique sisterhood of women I follow on Instagram.
Accomplishments are! On my Instagram feed, a.two.drink.minimum, I have friended women all around the world that are battling cancer, supporting each other in times of grief, encouraging women as athletes and advising each other in businesses. This bold community provides mutual support to each other every day. They stand together embracing midlife along with all the flaws that come with it.
Together we have fun with fashion, we learn each other's cultures, and share personal stories. Instagram can be much more positive than competitive. This secret society aims to inspire and learn from one another with their daily posts.
>READ: WOMEN INSPIRING WOMEN OVER 50
To live a fulfilled life:
We need to love and be loved
We need to bring joy to each other
We need to comfort and be comforted by others
We need to teach and be learn from others.
All the support and encouragement I have seen on Instagram has me thinking.
As we age our definition of perfection changes. We should adjust to that.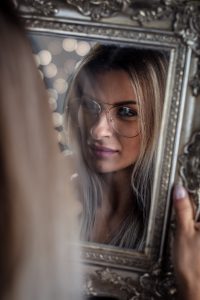 With aging we are not going to have the stamina that we once had. Our bones are more frail, it's harder to lose weight, and our skin sags. We need to remember to be kind to ourselves, stop judging, looking in mirrors and critiquing what we see. Accept who we have become in this phase of life and seek a better self-image.
Sometimes it's hard to see the positive in ourselves, but what makes us uncomfortable is also what will help us to grow. If we don't overcome our personal negativity, we will never grow in emotional strength. Allow yourself the opportunity to learn from life's tribulations.
>READ: WHAT IS SELF CARE? (A NOT-SO-RADICAL ACT OF FEMINISM)
Doing your best is always better than being the best!
Our lives are shaped by many decisive moments. Make conscious choices. Figure out who you are really are first before you search to find your definition of perfection.
Each of us has a gift. Use this gift to determine your best asset.
If you are a teacher, then get out there and be an instructor
If it's to encourage, then nurture and find a way to help someone
If it's to give, then be generous find a cause you can volunteer at
If it's to lead, then do it diligently and become a motivator to others
Once you determine your gift then start to be an inspiration to others.
Very often we perceive ourselves differently than how others perceive us. For example, my favorite Christmas movie is "It's A Wonderful Life." In this movie the main character, George Bailey is given a chance by an angel named Clarence to see what the world would look like without him. Clarence couldn't earn his wings as an angel unless he convinced good old George that his reputation was loved and respected. George was a very loyal man, but sadly, he didn't realize it.
Picture yourself as George Bailey, whose life would you have inspired or made an impact on? I bet there are instances where we've all unexpectedly done something without even thinking about it. Yet, someone else may have been greatly affected by your simple gesture. Our actions affect others — just as other's actions affect us.
Use your inner strength to be a perfect you! Do not look for perfection anywhere else other than within yourself.
Accepting that you're doing the best you can do starts with the confidence and respect you allow yourself to have. Making a conscious effort to know who you are will help distinguish how you are perceived by others.
Once you've found your definition of perfection, find a purpose, but always remember to keep your integrity. There will be others that want to knock you down, when that happens, stay strong.
Wherever life takes you, don't be afraid to step outside the box and try new things. Be bold, attempt to amaze yourself, and before you know it, you'll become your own personal version of perfect.