Set in Scotland and telling the story of a young woman who unwittingly falls through time, Diana Gabaldon's Outlander novels take us from standing stones to castles and battlefields, sweeping us across the Highlands with their powerful network of clans. The lives of Claire Beauchamp Randall, her husband Frank, and the young Highlander, Jamie Fraser, who becomes the love of her life, are interwoven with the story of the Jacobite cause, in particular the uprising of 1745.
Outlander, the TV series, was (and is) filmed on location in Scotland, sometimes with a little help from digital wizardry. I've picked a few Outlander series locations I'm sure you'll recognise from the TV episodes, and I'll add one or two that you might be interested to see, because I think they capture some of the magic that is Scotland.
There can be nowhere else to start! Glen Coe, which features in the first episode of Series 1, lies on the edge of Rannoch Moor, and it's impressive in any weather. As you enter the glen through a narrow and winding pass, the mountains seem to scowl down at you from either side, almost close enough to touch.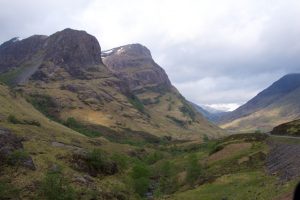 Glen Coe was once home to around 200 people, and at Achtriochtan, you can still see the foundations of stone-built houses. All the families were MacDonalds, who descended from Clan Donald, the Lords of the Isles. They grew their own crops – oats and barley – and they kept cattle and sheep. Cattle raiding or reiving was rife, and stolen animals were hidden high in a place called the Lost Valley.
Grief struck at the heart of Glen Coe after the first Jacobite uprising, which began in 1689. The Catholic James II had been deposed and the British throne was now occupied by his Protestant daughter Mary, together with her husband, William of Orange. Some of the clans rose in support of James, but the rebellion failed, and in 1691 William granted a pardon to those clan leaders who had taken part, on condition that they swore an oath of allegiance. But the Chief of Glen Coe was delayed by bad weather, and his people suffered an awful vengeance.
In February 1692, about 120 government soldiers under Captain Robert Campbell of Glenlyon were billeted on the MacDonalds, who received them with Highland hospitality in spite of their conflicting loyalties. Ostensibly, their purpose was to collect tax, but two weeks later an order came from their commanding officer to begin a massacre. In all, 38 MacDonalds were killed, and many more, including women and children, died of exposure after their homes were burned. Some of the soldiers broke their swords rather than obey; others warned their hosts through subtle hints, allowing some families to make for the safety of the hills. The Lost Valley found a new purpose, in sheltering fugitives from certain death. No wonder this place became known as 'the Glen of Weeping.'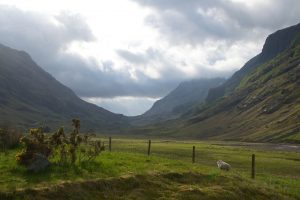 The first Jacobite uprising might have been squashed, but there was another in 1715 which supported the claim of James' son, also called James, who was known as 'the Old Pretender.' A third rebellion in 1745 transferred its attention to 'the Young Pretender,' grandson of James II, who was Charles Edward Stuart. I don't need to tell you how that worked out.
The first time you visit Falkland, you're bound to think you've stumbled into a time warp – not necessarily to the mid-eighteenth century, but to an era of traditional village shops, old-fashioned houses with pan-tiled roofs, cosy-looking pubs and a much more relaxed pace of life. In the 'Outlander' series, Falkland makes an excellent setting as 1940s Inverness, for Claire and Frank's delayed honeymoon. And it is here, by the fountain in the village square, that Frank sees a ghostly Highlander gazing up at Claire in the window of the guest house.
Aside from its old-world charm, Falkland's most obvious attraction is its sixteenth-century royal palace, turreted and opulent, its honey-coloured walls gleaming with gilded coats of arms. Falkland Palace was one of the jewels in Scotland's crown, a favourite retreat of Mary Queen of Scots, who rode out into the surrounding hills with her falcons, and played tennis on the first 'real' or 'royal' tennis court in the Palace garden. (I've tried playing tennis on this – believe me, it's impossible!)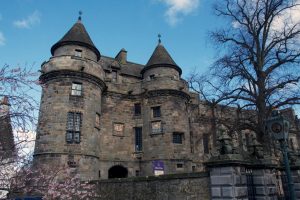 On the sign of The Covenanter Hotel, which doubled as Mrs. Baird's guest house, are the words "Down with tyranny – we are and we will make free," and the dates 1638-1688. This refers to yet another turbulent episode in Scotland's history: the Covenanters were opposed the Divine Right of Kings, one of the Catholic principles upheld by the Stuart monarchs. Because they wouldn't swear loyalty to the king, they were persecuted and their leaders met all kinds of gruesome ends. One of them was Richard Cameron, who was born in Falkland. Unlike the Jacobites, the Covenanters were glad to welcome the Protestant William of Orange as their new monarch in 1688.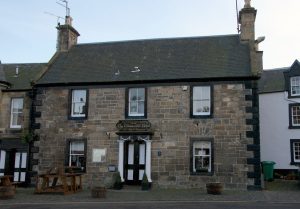 This brings us to Claire's fateful encounter with the stone circle, which in the novels is set somewhere fairly close to Inverness. Now, Scotland is rich in standing stones but it has to be said that Craigh na Dun exists only in the books. I believe that the tree-covered mound (minus the stones) where they filmed the scene is somewhere on Rannoch Moor. There are, however, a couple of megalithic sites that have similarities with Craigh na Dun, so let's have a look at those instead.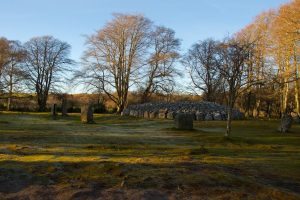 Clava Cairns (more specifically, Balnuaran of Clava) is an obvious choice, because it's not far from Inverness and it has all the atmosphere of the place that drew Claire's attention in the book. There's not one stone circle but three, and each one surrounds a burial mound or cairn, of which only the lower parts still remain. These were constructed sometime in the Bronze Age, about 4,000 years ago.
Two of the three cairns have entrance passages, and it is thought that they were deliberately aligned with the setting of the midwinter sun. These mounds were once completely covered by a corbelled stone roof, rising to about 10 feet in height. You can stand in the heart of each cairn, with the walls enclosing you like a womb – it's a strangely comforting feeling. As for the standing stones, each is now a natural work of art, covered by a rich tapestry of mosses and lichens. The long shadows of the beech trees pass silently across them as the winter sun sinks in the afternoon sky.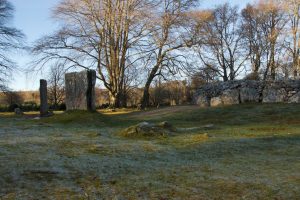 There's another stone circle that puts me in mind of Craigh na Dun, and that is Callanish on the Isle of Lewis. In particular, the central stone, which is the tallest, stands over 15 feet high and has a similar profile – slim, and roughly oblong – to the one which propels Claire into the past.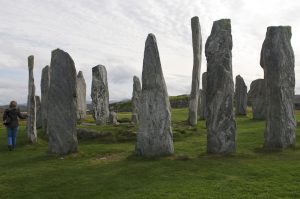 Callanish pre-dates Clava Cairns by nearly a thousand years, and it's wild and exposed, open to all the Atlantic storms that sweep across the Western Isles. There's nothing gentle or intimate about it. I went there in 2009, long before I knew anything about the 'Outlander' books, and I was startled by its energy. But no, I didn't find myself surrounded by redcoats!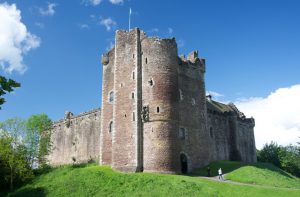 Doune is everything a Scottish castle should be: it's bold and impressive, slightly crumbling, and full of deliciously dark staircases that wind their way up to an endless succession of rooms. You can see how seamlessly it was transformed into Castle Leoch, the stronghold of the MacKenzies.
In the fourteenth century, this was the seat of Robert Stewart, 1st Duke of Albany. His character was just as colourful as Callum or Dougal MacKenzie, but his loyalty to his own relatives was pretty much non-existent. Albany was a younger son of King Robert II of Scotland; he
was ambitious and ruthless, and it is generally believed that he did away with his own nephew who was the heir to the Scottish crown. But his treachery came to nothing, and he never gained the throne.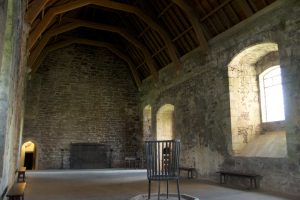 At Doune you can get a vivid glimpse of everyday life in a working castle: there are kitchens with vast fireplaces, a Great Hall where banquets were held, and there's the Lord's Hall where audiences took place and pronouncements were made. On the upper floors, each bedroom has a tiny ante-chamber with a latrine (a lavatory with a chute opening onto an outside wall!)
The most startling thing about Culross Palace is its colour. The distinctive rendering of limewash mixed with yellow ochre was traditionally known as 'King's Gold,' because it was a mark of wealth and status. In the late sixteenth and early seventeenth century Culross Palace was the home of Sir George Bruce, a landowner who had made a fortune from mining coal.
For the filming of 'Outlander, the Palace garden became the garden of Castle Leoch, where Claire and Geillis Duncan gathered herbs for medicinal potions. It's a gloriously peaceful place, with traditional flowers, vegetables and fruit trees, and a small flock of hens scratching contentedly in the sunshine. The whole garden is on a south-facing slope, and if you follow the path to the top you can enjoy far-reaching views across the Firth of Forth.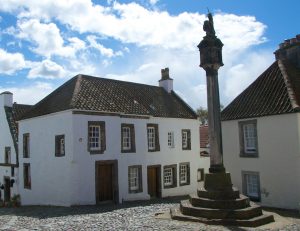 The entire village of Culross is like a time capsule, with quaint houses and narrow cobbled streets. For 'Outlander,' it became the village of Cranesmuir, and it was by the Mercat Cross that Claire and Jamie rescued a young lad who'd had his ear nailed to the stocks. There's a real connection with witches in Culross: unfortunate women accused of witchcraft were imprisoned in a room above the Tollbooth before facing trial. This room is not generally open to the public, but having been allowed to see inside it, I can tell you that the atmosphere is extremely unpleasant.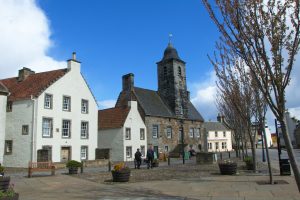 A list of scenes filmed in Culross can be found on the National Trust for Scotland's website.
You can follow this link to the Starz network for more about Outlander series locations and episodes.
Read How to Avoid Jet Lag so you can make the most of your trip when you do visit Scotland!