is a storied Dallas hotel. The "Mansion" has housed guests such as Franklin D. Roosevelt and Tennessee Williams and was originally the estate for a cotton baron a hundred years ago. The converted Mansion has been the most celebrated restaurant and hotel in Texas. It's architecture shows influences of 16th century Renaissance Italy and the interior has authentic antiques and luxurious appointments. Famous chefs such as Dean Fearing have launched their careers at the Mansion. The menus have long been known for their haute cuisine, Texas style.
With a background from the Biltmore in Scottsdale and seven years at Botero and Bartolotta Ristorante di Mare restaurants at the Wynn in Las Vegas, Jennifer Eby is well prepared for her role as the new Wine Director at the historic Rosewood Mansion on Turtle Creek. Jennifer has a customer perspective centered on knowing the guests and their preferences while exciting these patrons with inspired wines of the world.
In an interview this spring as part of our "Women in Wine Series", I asked Jennifer about her background and approach to taking on a new assignment at this famous location.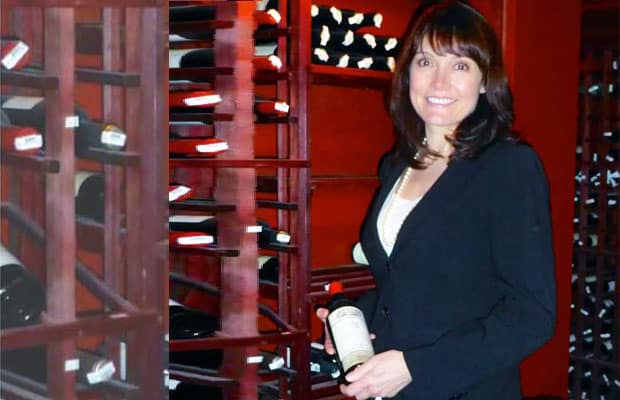 Question: (Tricia Conover)Jennifer, you follow some famous people as Wine Director at the Mansion (former director, Michael Flynn). How do you intend to put your personal stamp on this program?
Answer (Jennifer Eby):
Tricia, our tasting menu changes every day. I work with our executive chef, Bruno Davaillon, and do wine pairings with his menu. I also make sure to understand guest preferences when suggesting wine. I train the staff to talk to the guests first. Ask them where they are dreaming about traveling. This is much like my opening a bottle of Italian wine and watching the Fellini film, La Dolce Vita.
Our wine list was previously segmented by varietals and now we are organizing by wine region, but with the New World and the US (Australia, South America, South Africa, New Zealand) by varietal. It did not make sense to separate the right and left banks of Bordeaux, for instance.
Q: What have been some of your biggest career successes?
A: Obviously obtaining this position is huge. I like revamping wine programs and training and developing staff. Some of them have gone on to become Somm's [Sommelier's]. Setting up systems is always a priority: the wine-by-the-glass programs, setting up iPad wine lists, adding a formal tea program, matching cuisine with wine. I was able to grow each wine program I had. The geeky side of the wine business takes care of itself due to everyone's passion for wine.
Q: What are some wine trends you are seeing in Dallas?
A: I am noticing that people are exploring wines outside the traditional Chardonnay and Cabernet realm. But we are a steak town here so there are lots of Big Reds worth exploring from Italy and Spain.
Q: Why did you choose to go to work at the Mansion on Turtle Creek and move to Dallas?
A: I love the reputation of the hotel, the restaurant, and the chef. Dallas is great. I'm an art lover, great museums.
Q: You came up through the wine business. How has that changed for women today?
A: Several women in the business had an influence on my career. Barbara Werley, MS, now Wine Director for Pappas Bros. Steakhouse Dallas, is one. We met in Arizona at the Biltmore's Mary Elaine Restaurant, which was a three time James Beard winner. I think it is easier for women today to break into this business than a decade ago.
Q: The Mansion's wine cellar room is well known. What are you doing with it?
A: The wine cellar has an interesting history. Originally in the private mansion it was a place to store silver and furs. Now it is a wonderful space for private parties and events.
Q: What are some of your favorite wines and cocktails?
A: I like bubbles –Grower Champagnes like Rene Geoffrey Rose de Saignee and, of course, Krug or Bollinger. "I love all my children". Our craft cocktails and our bar team are amazing. Try the Figgie Smalls, fig compote with Rogue gin, fig and lemon made from the fruit one of our bartender's fig trees. Or try one of our small lot Rye or Bourbon.
Where to Find Some of Jennifer Eby's Favorite Wines:
Bollinger Grand Anne Brut Rosé 2004
(Wine & Spirits 96 points) $203


Champagne Krug Grande Cuvee NV (Wine Spectator 95 points) $183
The Mansion on Turtle Creek Cookbook by Helen Thompson, Robert Peacock with a foreward from Dean Fearing.