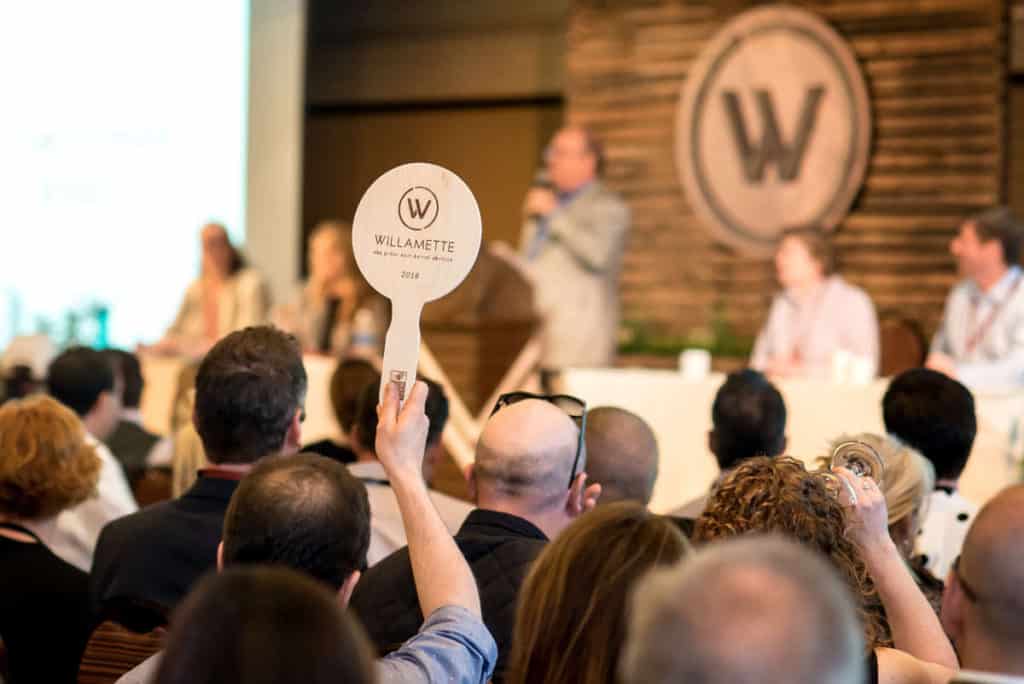 Willamette Valley wine country, just south of Portland, Oregon, is in its "PRiME" having now produced a second generation of winemakers. The Valley just concluded their first barrel auction, which was a smashing success. Catherine Fallis, MS, Master Sommelier, "the grape goddess" and founder of planet grape®, was in Oregon firsthand to witness the event. Catherine notes, "It wasn't until 1965 that Willamette Valley marked its first plantings when David and Diana Lett planted their Eyrie Vineyard. Last year was the 50th anniversary of this grape growing set in a quiet, bucolic area of the state. To celebrate the milestone, an inaugural Pinot Noir Barrel Auction was held."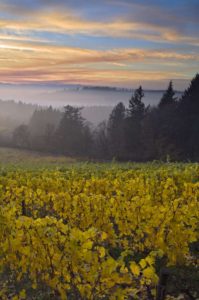 Participants in the 2016 auction included 400 elite members of the trade from major retail, casino, and restaurant buyers. These guests were invited to the festivities to bid on sixty-six custom barrels. Following a walk-around tasting and lunch, the first lot from auction chairman, Josh Bergstrom, went for $10,000. In less than 90 minutes, the auction raised $476,000 to support the marketing and branding efforts of the Willamette Valley Wineries Association.
Willamette Valley wine country is known for its laid back lifestyle. Visitors to this region appreciate the convenient access within an hour of Portland, the stunning tasting room vistas, the unique, boutique inns, and highly-rated restaurants. Nestled between Oregon's Cascade Mountains and the Coast Range, the Willamette Valley AVA (American Viticultural Area) is 100 miles long and 60 miles at its widest point of which 19,295 acres are planted vineyards supporting 507 wineries. It is a marginal grape growing climate much like Chablis and Burgundy in France, creating a unique terroir* in which Pinot Noir grape thrives and Pinot Gris and Chardonnay grapes shine.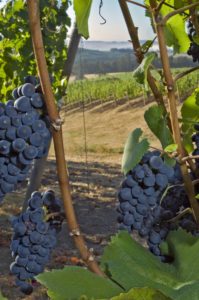 While wine grapes were cultivated in Southern Oregon in the mid and late 1800's, it wasn't until 1965 that marked the first plantings in the Willamette Valley. Slowly, grape growing expanded and in 1988, one of France's premier Burgundy producers, Maison Joseph Drouhin, invested in Oregon to create Domaine Drouhin. It has produced highly awarded wines. The French took note of the Domaine Drouhin's "French Soul, Oregon Soil." Success bread continued growth and this year, another Willamette Valley star, Domaine Serene's 2012 Winery Hill Vineyard Pinot Noir, shocked the wine world and was named the top wine in the 2016 Decanter World Wine Awards. The Willamette Valley wine competed against Burgundy's premier and grand cru historic winners.
The Second Annual Trade Auction has been slotted for March 31 and April 1, 2017, the Association announced. The 2017 wines will come from a highly anticipated 2015 vintage, one that is predicted to be one of the finest vintages ever from Oregon.
"We knew it was time for the Willamette Valley wine country to have an event of this caliber and the wine world agreed," said David Adelsheim, co-chair of the auction's steering committee. "Now we look forward to building on the tremendous success of last year's inaugural auction and continuing to tell the story of world-class Willamette Valley Pinot."
*What is Terroir?
Terroir is a French term representing the special combination of climate, soil, geography, elevation and slope, and growing conditions that are unique to a vineyard. This can impart unique characteristics to a grape and its subsequent wine. The term terroir begs the question: "Does this wine have a "sense of place?'" The good wines often do.
If you go to the Willamette Valley wine country, an interactive map is available here, which includes wineries and restaurants.
Some Suggested Wines, reviewed in planet grape®
2013 Youngberg Hill Cuvée Pinot Noir Willamette, $35
91 Points Planet Grape
Vibrant, tart, dry, and lightly chewy with notes of raspberry, cherry, Mediterranean herbs…

2014 Willamette Valley Vineyards Chardonnay, Willamette Valley, $30
90 Points Planet Grape
Balanced and elegant with notes on tangelo, buttercream…