Summer is my favorite season! I love the warm weather and the bounty of fresh fruits and vegetables at the local grocery stores and farmer's markets. This inspires me to cook healthy and easy, light meals.
Wasting food is not part of my "Being Betty" program. Recently, I found an abundance of zucchini and colored peppers which needed to be prepared or tossed. My solution was to prepare a batch of meat and rice stuffing which could be used for stuffed zucchini and peppers. This also gave me an opportunity to prepare a couple of meals ahead of time and freeze for later use.
*Store extras on a sheet pan placed in freezer. When frozen, store in a large zip lock bag.
Stuffing recipe for stuffed zucchini and peppers:
One pound of ground meat: beef, turkey or bison can be used
1 ½ cups cooked rice: Basmati and brown rice are tasty options
3 tbsp minced onions
½ tsp salt
1/8 tsp paprika
¼ tsp of Worcestershire
½ C fresh herbs such as parsley, chives, basil and oregano or ¼ C mixture of these dried herbs
*This mixture will fill 2-4 peppers and or 2-3 zucchini depending on the size.
Directions:
1. Prepare the rice following package directions. (I used basmati and followed the rice to water ration on the bag. This was ½ C rice to ¾ C of water. In lieu of water, use a broth such as chicken or vegetable. Homemade is best.)
2. Sauté the ground meat with the minced onions until cooked. Add cooking oil or butter if the ingredients need more oil. Mix remaining ingredients.
If preparing stuffed peppers:
Slice off the tops and reserve the caps. Clean out the membranes and seeds. Cut out the core from the top.
Chop the remaining top and include in sauté.
Par boil the peppers. Drop them into rapidly boiling salted water and cook uncovered about 10 minutes.
Drain them well and let cool a few minutes before adding the filling. Cover each pepper with ½ TBSP Panko bread crumb, dot with butter and sprinkle with Parmesan cheese.
Place peppers in a pan or baking dish with enough water to prevent scorching. If the peppers are large and will not stand up to cook, consider placing a small baking dish in the bowl to keep them upright while cooking.
Bake in a 350 degree oven and 10-15 minutes until casing is soft.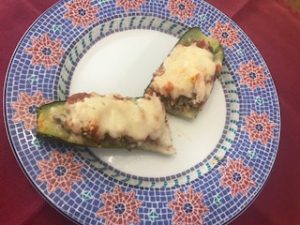 If preparing stuffed zucchini:
Scrub the skins, but do not peel.
Cut off the stalk end and cut lengthwise so they resemble a boat.
Scoop out the pulp. This can be added to the stuffing.
Par boil the casing dropping into lightly salted rapidly boiling water. Depending on the size, boil 2-4 minutes.
Place boats on a sheet pan and fill with the stuffing mixture. Top with a couple of spoonsful of marina, sprinkle with panko breadcrumbs and parmesan cheese.
Bake at 375 until tender; 10-20 minutes.