VGS Chateau Potelle owner Jean-Noel Fourmeaux, winemaker Kale Anderson and Vice President Matthew Regan invited a group of journalists for the first time ever to a tasting of upcoming releases at Girard Hirigoyen's lovely Basque restaurant, Piperade, in San Francisco last week.
The winery sells direct to consumers and has not before been available in restaurants or shops.
Chef Hirigoyen, known for San Francisco classics Pastis and Fringale, and the more casual Bocadillos, skillfully paired Jean-Noel's wines with a delicious and artfully-prepared six-course tasting menu, including a delicate, silky Dungeness Crab "Txangurro" with Mangos, Basil, Aoili and Espelette pepper, an earthy Pacific Calamari a la Olancha with Garlic and Lemon, luxurious Pacific Black Cod Porrusalda with Braised Potatoes and Leeks and (pictured right) Braised Beef Cheeks with Tempranillo, Dried Plums, Cipollini Onions and Carrots with the record-setting Fourmeaux Red.
The Fourmeaux Red stole the show at this summer's Napa Valley Wine Auction. For wine lovers, getting a chance to attend the famous Napa Valley Wine Auction is often a bucket list item. The festive atmosphere, music, delicious food and wine, and the chance to rub elbows with celebrities is part of the allure, but also being first on the scene to discover which Napa Valley winery lot achieves the highest bid.
This year the winning winery was a bit of a surprise for many people, because it is considered to be a "hidden winery" of Napa Valley, according to owner Jean-Noel Fourmeaux.
"Though Chateau Potelle has been in Napa Valley for over 30 years," he said, "we are a 'hidden winery.' We only sell direct to consumer and very rarely advertise."
So when his 2016 VGS Chateau Potelle Fourmeaux red blend wine, made from 82% Cabernet Sauvignon, 14% Cabernet Franc, 3% Petit Verdot and 1% Malbec, achieved the top bid of $114,300, everyone was curious about the winery.
Chateau Potelle
Originally established high on Mt. Veeder, hidden away from the crowds, VGS Chateau Potelle now has a tasting room in downtown St. Helena, where visitors can make a reservation for a wine and food pairing.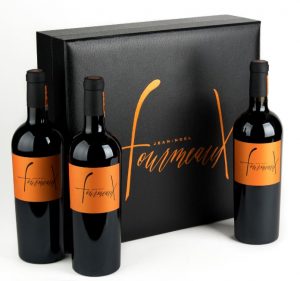 Though it may not be possible to taste the winning wine (you may email [email protected] to inquire), there are many other delicious options, such as the VGS Riviera Rose, made from 100% Cinsault, the VGS Zinfandel, and several Chardonnays.
"I believe that wine should bring pleasure," states Jean-Noel, a French native who trained as a professional wine taster in Bordeaux. "We are pleased that the proceeds from the sale of our auction wine will go to support many charity organizations in Napa Valley."
So the next time you are in Napa Valley, consider discovering a "hidden winery" that is now basking in the limelight.
Read reviews of VGS Chateau Potelle wines by panelists Liz Thach, Deborah Parker Wong and Catherine Fallis here:
2016 VGS Chateau Potelle Fourmeaux Red Napa Valley
2017 VGS Chateau Potelle Riviera Rose Kick Ranch Vineyard Sonoma
2017 VGS Chateau Potelle Sauvignon Blanc Napa Valley
2016 VGS Chateau Potelle Zinfandel Alta Vista Vineyard Sonoma Mountain
2016 VGS Chateau Potelle Syrah Mount Veeder Napa Valley
2016 VGS Chateau Potelle Fourmeaux Chardonnay Russian River Valley
Read Next:Experience Cooper's Hawk Winery & RestaurantsTexas WineriesGifts for the Wine Lover