I typically don't watch award shows or celebrity-filled events. I have too much going on to find time to sit down and watch an endless stream of movie stars and musicians strut their stuff on the red carpet. Especially this time of year when hockey playoffs are on every night, and, well, dinner's not going to make itself. I find myself intrigued, however, by the Met Gala. The outfits and wardrobe options are just so over the top… it's almost as if designers are working to create the most audacious outfit they can imagine. As I scroll through pictures and see headlines in the days that follow, I admit that I think most outfits are rather ludicrous. But I think that's the point – to think outside the box and get a little over-the-top, all in the name of designer fun.
This year's gala was a tribute to Karl Lagerfeld, who passed away in 2019. It's reported that tickets to the event cost the A-list attendees $30,000, so they were sure to dress to impress (or make you do a double or triple take). For example, heartthrob Jared Leto showed up in a cat costume as a homage to Karl's cat, Choupette… I mean, how much more bonkers can one night get?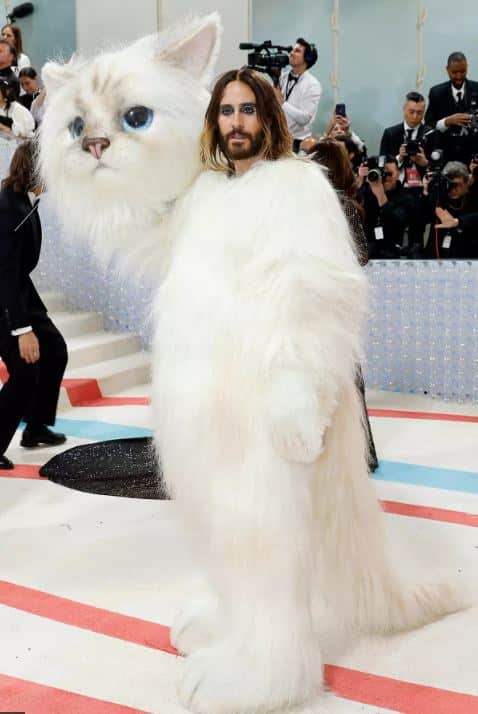 After finding great amusement in his get-up, however, I sat down to enjoy the fashion choices of some of my favorite prime women. Here are some of my top picks.
Naomi Campbell
Naomi's soft pink and silver Chanel dress was possibly one of my very favorites. Her smooth hair and accenting makeup finished the look perfectly.
Salma Hayek
Salma opted for a gorgeous red gown that was both bold and beautiful. Just like her!
Nicole Kidman
Nicole's dress was soft and supple, and her loose wavy hair was the perfect accompaniment. Having her handsome husband Keith on her arm didn't hurt either.
Jennifer Lopez
My only problem with Jennifer's look is that nobody should look that good. The long train of her Ralph Lauren dress was amazing on the front steps of the Met, and the hat added a fun touch.
Michelle Yeoh
Michelle's been turning heads all year, and the Met is no exception. The contrast of black and white in her dress perfectly accented her slicked-back hair and elegant jewelry. She really is a timeless beauty.
Penelope Cruz
Penelope's dress was a throwback to Chanel's spring 1998 collection. The beautiful white dress and veil glowed down the red carpet, creating a dazzling look.
Viola Davis
Viola's dashing pink dress caught all eyes as she walked the Met staircase. The fanciful plume topped off the look perfectly.
Glenn Close
Glenn's icy blue dress had a train that went on for days, it seemed. Her gorgeous mane of snowy white hair finished the look perfectly.
Mary J Blige
If you've got it, flaunt it! That definitely seemed to be the approach that Mary took on the red carpet for the met gala. Her beautiful blonde hair was pulled back in a chic pony, and her custom Burberry dress was in a shade of blue that accented her perfectly. Finally… knee-high boots? They finished the look perfectly.
Those are some of my top choices for stylish Prime Women. They wore their designer outfits with confidence, which boosted their look and made them shine. Do you agree with our choices?
Read Next:
Michelle Yeoh: Making History and Shattering Glass Ceilings