If there's one thing that never goes out of style, it's denim. Last year jeans were all the rage, with a multitude of styles for each body type. Along those same lines and attitudes, this year is all about jeggings, which are the the perfect option when you want comfort and style. Jeggings bring a level of versatility to your wardrobe, allowing you to kick back and relax for a lazy weekend on the couch, or wear them to a girls night out or a date night. You can also keep them fashionably informal by pairing them with your favorite t-shirt, or kick them up a notch by wearing them with your favorite tunic top.
Jeggings are awesome because you can show off your personality by wearing them with a wide variety of tops, shoes, or accessories. Appropriate in any season, they allow you to wear your confidence on your sleeve, have fun, and stay comfortable at the same time.
These are our favorite jegging picks.
Cuffed Jeggings, $45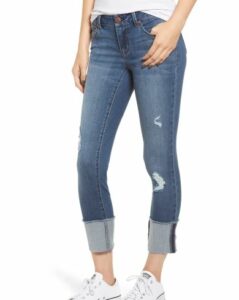 Stretched denim jeggings work with you by allowing flexibility in the fabric. The cuffed bottoms and roughed up patches give a level of vintage charm.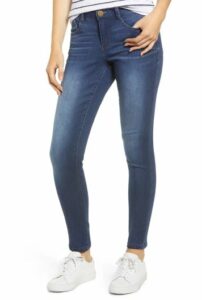 These jeggings are extra comfy because they're made of exceptionally soft and comfortable stretched denim. The skinny fit keeps you looking slim and trim, and pairs well with a variety of shoes.
Ab-Solution Glider Jeggings, $68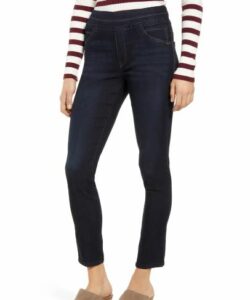 Skip the button with these ankle length pull-on jeggings. Their ab-solution technology helps to slim and shape your body, which is extra helpful after the holiday season.
NYDJ Alina Ankle Jeggings in Black, $129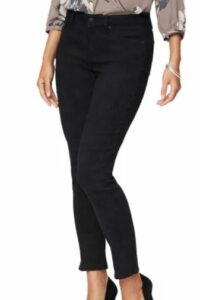 A bit more reflective of actual jeans, this pair of black jeggings offer a zip fly and the typical five-pocket silhouette. Black hardware gives the perfect monotone feel, and belt loops give the option of pairing with your favorite belt to add a dash of style.
Free People Jeggings, $78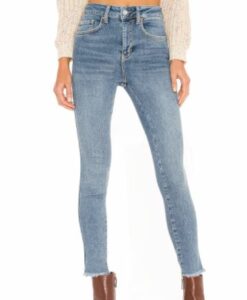 A perfect fit, these jeggings are comfortable and true to size!
Snake-print Jeggings, $80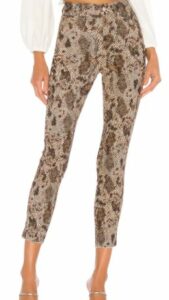 Looking to kick it up a notch? Try this snake-print pattern, which fits true to size and enhances even the most robust wardrobe.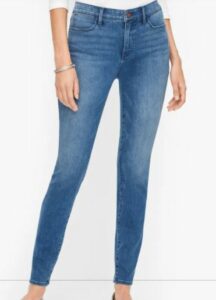 Made of Comfort Stretch denim, this high-waisted option is designed to smooth your body and flatter any figure.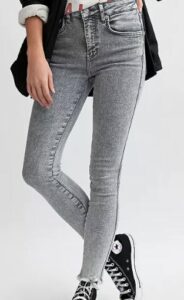 From the We The Free collection, these denim jeggings take your look to the next level and offer a style option different from the normal denim look.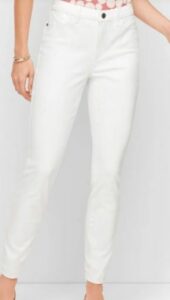 White jeggings? Why not! This pair in a high-waist style has an invisible slimming panel and is made from Comfort Stretch denim. The curvy fit is specially designed for the woman whose waist is proportionately smaller than her hips.
B(air) High Waisted Jeans, $178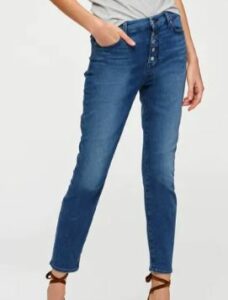 Designed with the timeless high waist style, this pair brushes your ankles and offers an exposed button fly. B(air) denim is virtually weightless and allows for maximum comfort.
Patio Red Crop Jeggings, $27.99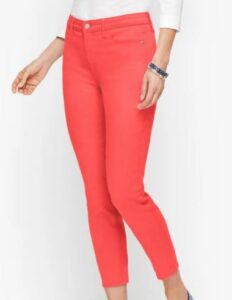 Cropped length and full comfort, these Comfort Stretch jeggings offer the same skinny leg and high waisted fit.
Mott & Bow Jeans, $108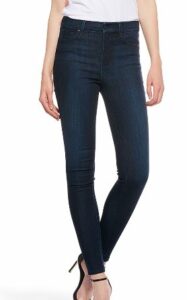 Jane is one of the original bestsellers, offering a flattering and comfortable fit in a medium-weight stretch denim.
Fawn Talbot Jeans, $95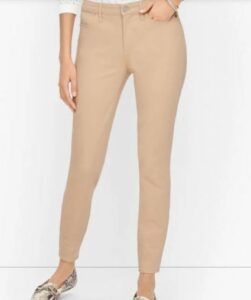 Designed with the previously mentioned Comfort Stretch fabric, the high waist on these jeggings lengthens your legs and flatters your figure, and are designed for a woman whose waist is proportionally smaller than her hips.
Jeggings are perfect for any occasion, allowing maximum flexibility when looking for different fabrics and pairing options. Wear them with your favorite shoes and tops, and if you're looking for a more casual look, check out our boyfriend tops that would pair nicely with our jegging choices.
Looking for the perfect jeans for you? Watch the video below for tips on finding jeans that fit and subscribe to our YouTube channel for more fashion, lifestyle and fitness videos.

Read Next:
The Best Butt-Lifting Jeans For Women Over 50