When there are so many different prices, sizes, washes, cuts, trends, and brands, choosing the perfect pair of jeans can be quite daunting. So what is the best jean choice for mature women? The answer is the ones that make you feel the most confident and make you look and feel fabulous!
When choosing the perfect pair of jeans, things to look for include finding some that don't stretch over time, slide, or bunch. Only you will know what type of fit or style will be the perfect choice for you; however, we have helped narrow down some options for you and hopefully point you in the right direction. These picks are ideal for dressing up with heels or dressing down with sneakers.
Disclosure: This post contains affiliate links.
Slim Cut Straight Jeans
These jeans are probably the most comfortable, making them one of the most popular styles for mature women. They fit most figure types and hold close to the body, yet they aren't as snug as other styles. They tend to be slim at the waist and thigh but aren't tapered.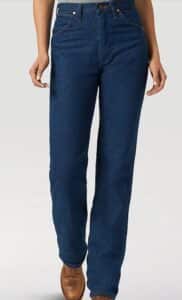 These jeans are available in four washes. They're made of heavyweight broken twill denim designed for comfort and durability for everyday life. They also feature a high-rise fit, a tapered leg, and a vintage fit with a narrow waist and a slim thigh.
These jeans were engineered to smooth, lift and contour your body, giving you a perfect, flattering fit every time. The high waistband stays in shape, helping prevent the dreaded muffin top, and it's contoured to flatter in front and prevent gaps in the back.
These jeans come in a variety of sizes, including classic, petite, and tall. They feature a curvy fit that defines your waist to give you that perfect hourglass figure. Additionally, the front pockets help hold you in and lift you up.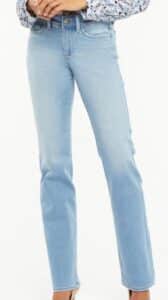 Thanks to the flattering waist and versatile straight-leg fit, these jeans pair well with everything. They feature a proprietary slimming panel with a patented criss-cross design to shape and support for an always-sleek silhouette.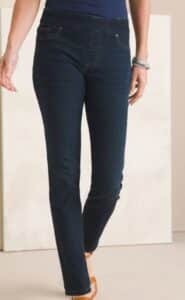 These denim pull-on jeggings look like jeans, but they have a slimmer, sleeker silhouette. The stretch denim fabric moves with you – making them comfortable all day – whether you're on the go or relaxing at home.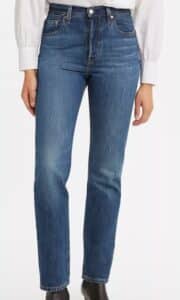 This specific look hasn't gone out of style and never will. They consistently receive 4-star reviews and are a fan favorite among women that wear them.
High Rise Jeans
Many of us want to prevent exposing our unwanted "muffin top." High-rise styles are a great option to avoid this. High-rise jeans can come in all styles and fit every woman and her curves.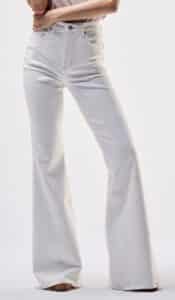 Available in 10 washes and multiple lengths, these jeans have enough extra flare-legged fabric to dress an entire decade. These '70s throwback jeans are high rise and have a beautifully trimmed waistline, and they're followed by a snug-yet-comfortable fit in the seat and thighs.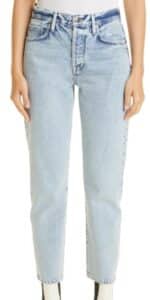 These jeans have a super-high waist and nonstretch denim.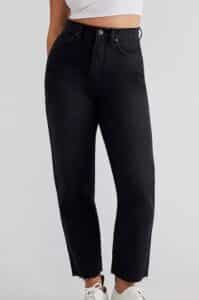 These jeans are available in five different washes and feature contoured waistbands so that you can say goodbye to the waistband gap.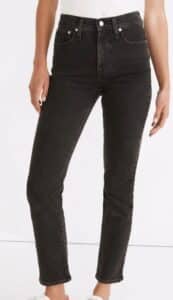 These are the perfect mom jeans with a waist-accentuating high rise and tapered legs.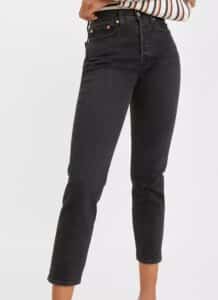 These jeans are specially designed to highlight your curves and give your butt just a little more lift.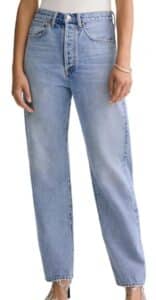 Love jeans that give you a throwback look? These jeans are sure to do that. You can look back to the '90s with these light-wash loose-fitting jeans that are perfectly faded and subtly distressed.
Skinny Jeans
Often mature women question if they can still pull off skinny jeans. The answer is "absolutely!" Skinny jeans offer a sleek look that will look great on you.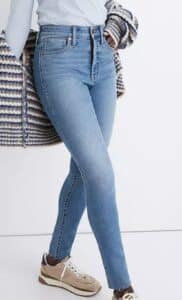 These jeans are available for all shapes and sizes, and they come in plus, petite, standard, and tall. They're designed for an hourglass shape and are lean and legs-for-days sexy. The stretch denim will hug the body and bounce right back without stretching.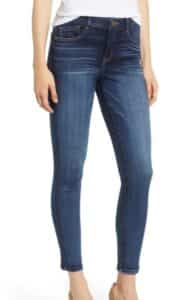 The dark wash on these jeans gives a curve-skimming look with just a little whiskering to help them become our favorite jeans in the closet.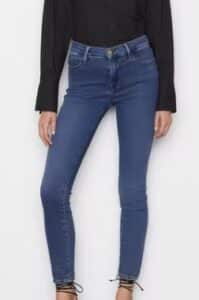 These are Frame's best-selling high-rise skinny jeans. They're designed to sit at the small of the waist with a form-fitting shape. You can pair these jeans with a ribbed knit top or a crisp button-down for instant polish.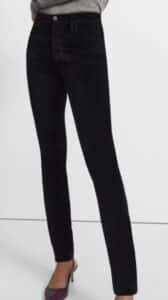 Designed with a flattering high-rise waist and super-skinny fit throughout the leg, these jeans are cut from cotton-blend black velvet and have some stretch to them.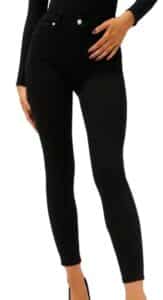 These stretchy skinny jeans are designed to hug every curve and flawlessly retain their shape from day to night.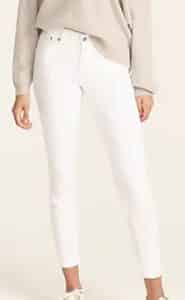 These skinny jeans are available in the coveted white color. We always have a problem finding white jeans that aren't sold out, and finding white jeans that flatter you is even better! The fabric has premium stretch cotton from Cone Denim®, one of the oldest denim mills in the world. It also has amazing stretch and recovery that will hold you in and never bag out, even after wearing them all day.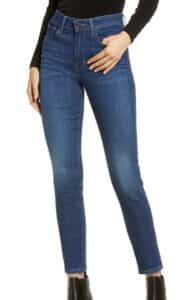 These jeans are available in different lengths – and they're cut from stretch denim – which helps figure-sculpt your best assets. These jeans move with you and keep their shape all day long.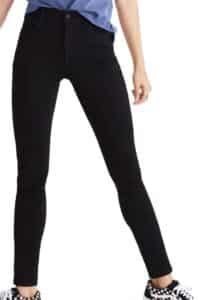 These high-waisted skinny jeans are made with soft stretch denim, perfect for long road trips or evenings on the couch.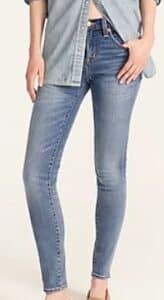 Available in classic, petite, and tall, these cropped jeans are flexible and flattering. The stretch denim is a customer favorite because it keeps you comfy all day without losing shape. These jeans are also made with a recycled poly crafted from recycled plastic bottles, yarns, and fabric scraps.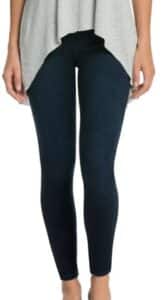 If you don't own a pair of SPANX pants, you are missing out. These leggings have a comfortable elastic waist, and the hem is right at the ankles. Plus, they have 4-star reviews from over 300 people.
Wide Leg
This style offers a flattering silhouette. What makes them perfect for mature women is they don't discriminate on height or body shape. They accentuate your waist and can hide many lower body sins, creating the illusion of an hourglass figure.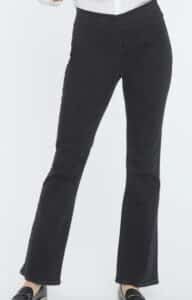 SpanSpring is made from expandable denim that stretches up to three sizes and recovers easily to its original shape (talk about your perfect buffet jeans!). They're flattering since they have their signature Lift Tuck® Technology. These comfortable and stretchy jeans feature an on-trend silhouette that hugs the waist, hips, and thighs and flares out at the hem.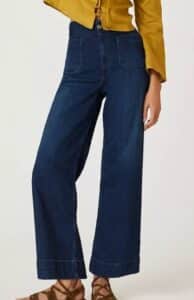 Available in standard, tall, petite, and plus, these jeans are perfect to pair with sandals and sunglasses. They're high-waisted, hip-hugging, and have a slight flare starting at the knee.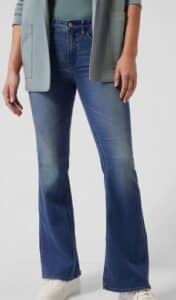 These jeans are perfect for commuting, work, and travel. The fibers stretch everywhere you do but snap right back into place.
Boyfriend Jeans
Boyfriend jeans are a bit baggy and loose-fitting, but they are plain comfy. While not the most feminine choice of jeans, you can dress them up by adding heels and a blazer. However, if you are just picking up the kids from school, grab some sneakers and a ball cap, and you are ready to go!
These jeans are perfectly balanced and can fit every body type.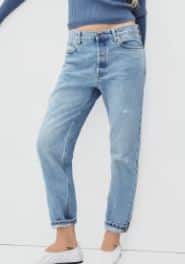 Sometimes it's okay to be slouchy. These jeans are made with organic cotton and feature a straight, slouchy fit that works perfectly, so you can be comfortable and laid back throughout the day.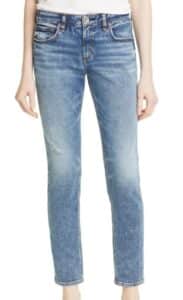 These jeans are for your casual day out. They feature a boyfriend cut, but they slim down as they flow from hip to ankle.
Read Next:
The Best Butt-Lifting Jeans For Women Over 50