Loss of eyebrow hair and lack of growth is a malady of maturity that most women suffer to some degree. But don't frown. There are fixes, like microblading and serums, for thin brows that won't have you looking like a clown.
The Problem
Experts say the biggest cause of thinning eyebrows is years of overtweezing. "When you overtweeze or overwax, your eyebrow hair eventually stops growing back," explains celebrity eyebrow wrangler Lucy Hart of her eponymous Lucy Hart Ink in Los Angeles. "Plucking weakens the root, and at some point, your eyebrow hair is just going to say 'enough is enough.'"
For many of us, the tweezing during the thin, sharp eyebrow trend of the '90s exacerbated the issue, and contrasted with the current trend of full, bold and bushy power brows, the aged look of our thinning eyebrows is accentuated. Lifestyle, diet, disease, medical conditions, and medications also impact the strength of eyebrow hair. And, unfortunately, the aging process alone is a significant contributor, as the elasticity of our hair starts to fail as we get older and — like the hair on our head — brows can become fine and thin.
The good news is that we've come a long way from eyebrow pencils being the only solution, and there are ways to get your brows back, from temporary cover-ups to permanent solutions.
Solution #1: Product Applications
The beauty industry has embraced women's intense sensitivities about the look and feel of their brows, developing growth gels, fiber tints, and long-lasting products to promote brow hair growth, define, and fill. Here are three of our favorites.
RevitaBrow Advanced: Cosmetic physicians at RevitaLash looked upward and developed this award-winning brow enhancing conditioner that blends science-backed technology and natural botanical ingredients, including biotin, green tea extract, peptides, and lipids, to condition and strengthen brow hair, protect against breakage and brittleness, and improve brow hair growth and flexibility. Vitamin B and plant extracts high in antioxidants help protect, nourish, revitalize, and moisturize for stronger, fuller-looking brows. Available at revitalash.com, $110.
BrowFood Mighty Brow Kit: The kit includes five products that work together to create demi-permanent long-lasting brows that last for several weeks but are easily removed. Its Velvet 3D Brow Glide colors; the Phyto-Medic Eyebrow Enhancer organic restorative eyebrow serum helps hair grow evenly and fill out; and the Chamomile Makeup Eraser pen corrects inevitable shaping mistakes, while it nourishes and soothes with a lick of vitamin E and chamomile. Available at ulta.com, $69.
7 Days Tattoo Eyebrow: K-Beauty's long-lasting Korean brow pen goes on like liquid eyeliner but with such a fine tip you can apply single hair strokes. You apply the harsh-looking liquid, fill in, and shape your brows at night to reveal a very natural, soft-looking result in the morning. Results last about a week with no touch-ups. Available at yesstyle.com, $12.
Solution #2: Microblading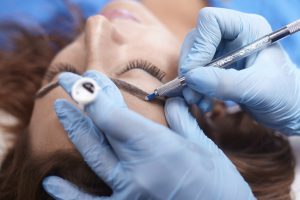 Unlike an eyebrow tattoo, which goes deep into the skin, microblading is semi-permanent makeup implanting color into the shallow layer of the microdermis. When done well it looks so soft that no one should be able to tell your eyebrows aren't fully natural. "We use a manual blade made up of nine to 18 needles with different shapes that are so tiny you can do such precision strokes to mimic one blade of brow hair," explains Hart, whose academy teaches the technique and artistry.
Microblading typically costs $700 to $1,100 for two sessions and a touch-up, and lasts an average of 12 months. Aftercare requires no sun exposure and no sweat, steam, or water touching your eyebrows for 10 days, which means no working out until brows have scabbed and healed, with copious moisturizing.
>READ: MICROBLADING EYEBROWS: LOOK YOUNGER IN JUST A FEW HOURS
Solution #3: Surgery
If your eyebrows are severely thin or gone completely due to alopecia or illness — or you're just fed up and bold and confident enough — eyebrow transplantation is a permanent solution. Dr. Jeffrey Epstein is one of the nation's top eyebrow transplant surgeons, working at clinics in New York and Miami. He confirms that "overplucking and regret" is the most common reason women seek hair transplantation, in addition to genetic thinning, trauma, scars, or a bad laser or eyebrow tattoo experience. The process involves transplanting 325 to 350 grafts, each of one or two scalp hairs, into the eyebrow region; the full result takes several months. "Patients look really good about five days after surgery. At two to three weeks all the transplanted hair falls out — like a plant shedding leaves for growth energy to go to the roots — and four months later it grows back a fuller brow."
Eyebrow transplantation costs $4,000 to $8,000, and Epstein says because it's hair from your head, you can expect a disorderly hair or two and prepare for weekly trims.
>READ & WATCH: HOW TO DO EYEBROWS IN 4 STEPS
>READ: 3 SOLUTIONS FOR FADING EYEBROWS
Photo: Guille Faingold