While we change our outfits every day, one thing stays pretty consistent when it comes to our wardrobe: our handbag. Sure, many of us have a collection of colors, styles, shapes, and sizes, but we typically settle on one and use it every day for an extended amount of time. I have my favorite brands and am not afraid to spend a little money on a handbag I love because I know I'll carry it until the strap falls off. I'm always a sucker for a sale, which makes it a lot easier to splurge on a designer that I like. Because I carry the same purse every day for so long, I try to purchase one that's not only trendy but also durable. My go-to type is a crossbody bag because it keeps my hands free for other things, and it's really just more my style.
It's always fun to see what styles and looks designers are coming up with this year, and because we're feeling a little luxurious these days, we've put together a list of our favorite luxury crossbody bags. Not because we can afford to buy all of them or even want to, but because it's just fun to look and dream (and sometimes wonder what they were thinking!).
Our 12 Favorite Luxury Crossbody Bags
Disclosure: This post contains affiliate links.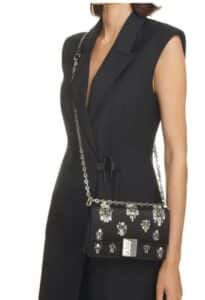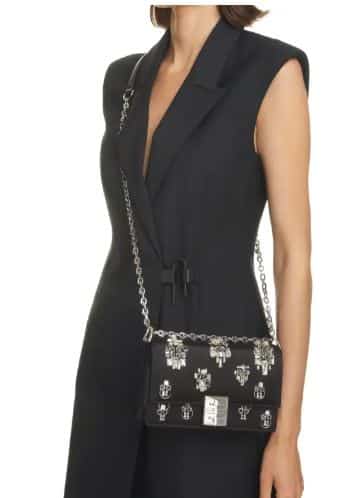 This Givenchy bag has crystals that create an edgy yet elegant look. This year, the two main Spring/Summer handbags trends were Never Break The Chain (having a chain as the strap) and The Party Goes On (heavy embellishments), and this bag engulfs both of those trends.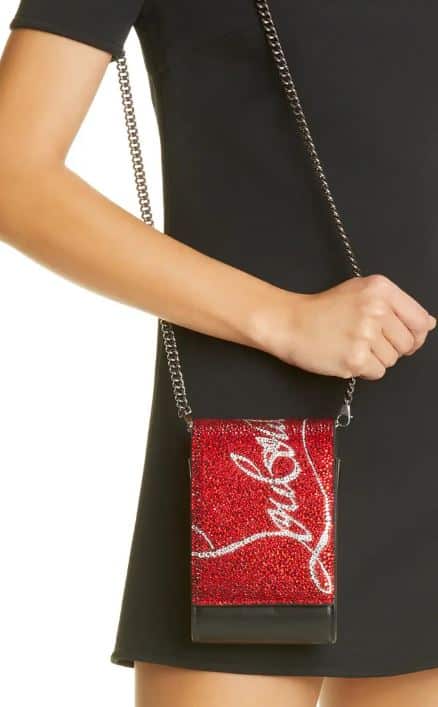 Another example of Never Break The Chain and The Party Goes On, you can pair this party bag to match your red sole shoes. The chain is also detachable, and the lining is a classic red.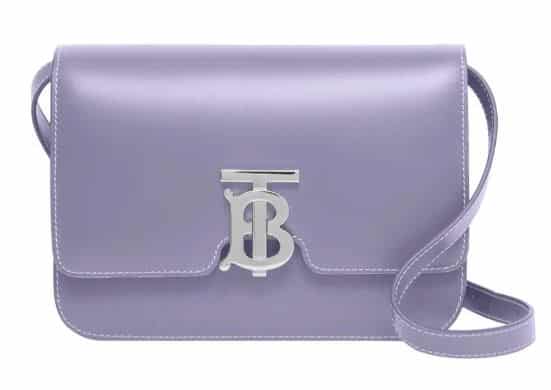 A perfect color for spring, this Burberry bag features a silvertone monogram and is a structured bag crafted from smooth calfskin leather.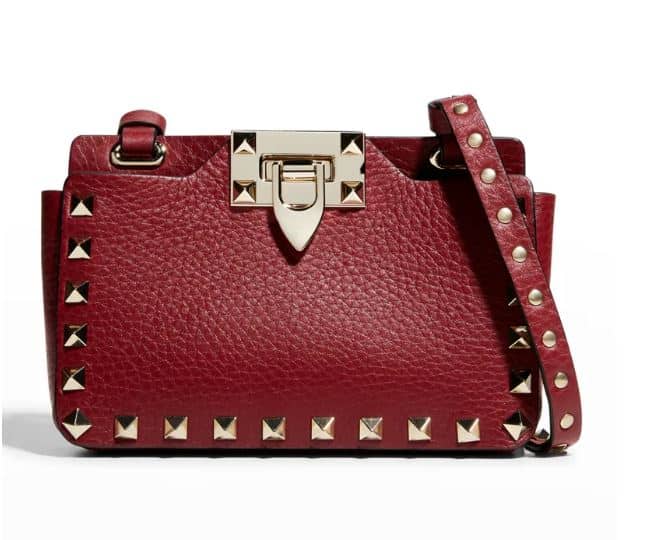 The Party is sure to go on with this classic Valentino Garavani crossbody bag. Creating another edgy yet sophisticated look, this bag will be ready to go, day or night.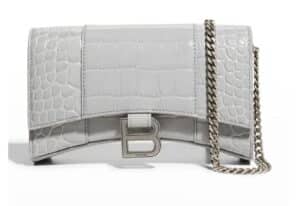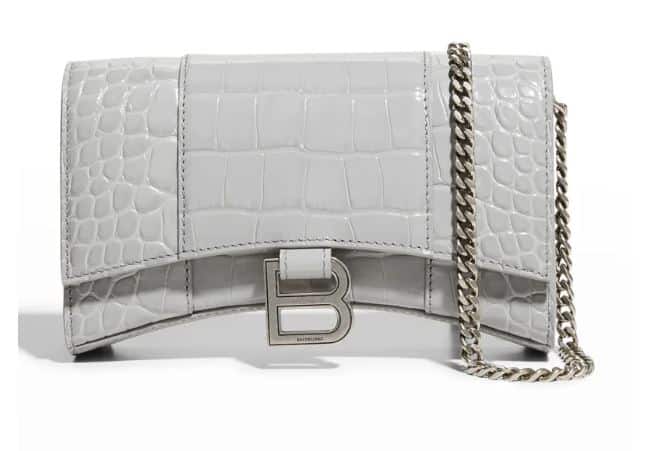 The Balenciaga "Hour" wallet crossbody bag ties into the Never Break The Chain trend. This bag is a shiny croc-embossed calf leather with the chain as an option when going out for the evening.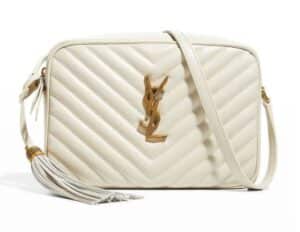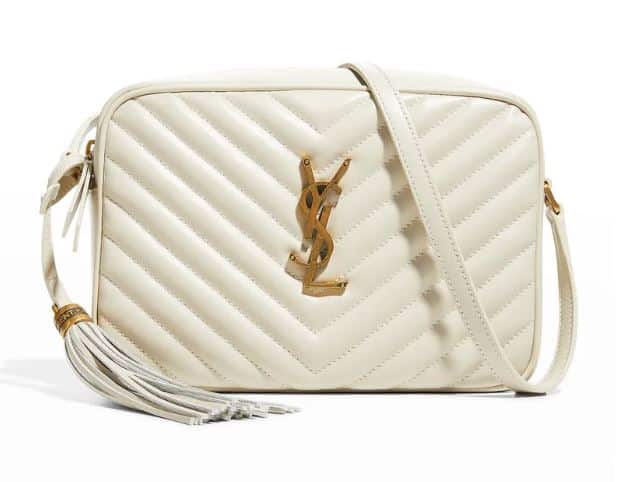 Everyone loves the classic quilted look of Yves Saint Laurent. This white crossbody bag is sure to lead the way into the summer weather that is quickly approaching.
This Bottega Veneta crossbody bag is quilted with lamb leather. It features an adjustable strap and comes in multiple colors.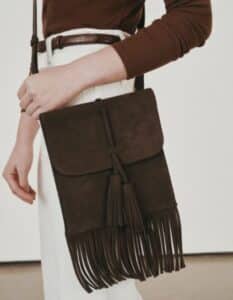 Fringe
clothing was a Summer/Spring trend, so why not add a little fringe to your handbag? This double-tasseled crossbody bag comes with an adjustable strap and is lined with black calfskin.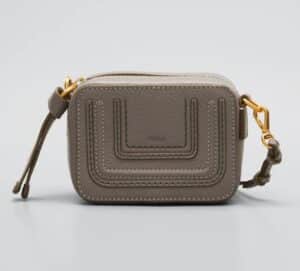 Pint & Pocket-Sized
was another leading trend this season. This Chloe bag is a classic color but in a trendy size, and it is made with calf leather and features a topstitching detail.
Another Pint & Pocket Size, this Bottega Veneta crossbody bag has the signature intrecciato woven lambskin leather that Bottega is known for but comes in a perfect size for going out and hitting the town.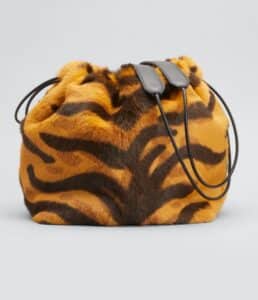 The last Spring/Summer trend we're going to show is the Bucket Bag trend. Jil Sander's luxury crossbody bags come in a tiger pattern with dyed horsehair and calf leather. It has a shoulder strap and a drawstring closure.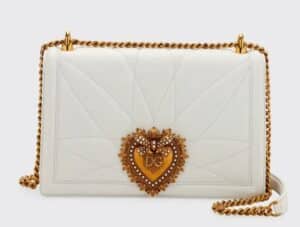 While this bag is a bit gaudy, you have to admit it screams The Party Goes On. This Dolce & Gabbana bag is quilted lamb leather and features a chain shoulder strap (hello, Never Break The Chain). It also features the pearly-beaded sacred heart logo seal.
Yes, we know, some of these purses are over the top. But some are pretty fun, and that's what fashion is all about. Being bold, trying new things, and sometimes – getting outside your comfort zone. And there's no easier way to do that than with a fabulous purse.
Read Next:
6 Ways to Get Ink Stains out of a Leather Purse
Handbag Trends for Spring 2022