First some background. I began running at the age of 24. My first 50K was run in February 2000, and first 100 mile race in February 2001. I've finished 34 races of 100 miles or longer, with the longest distance being 138.9 miles. I'll be 64 in August of 2017.
Barkley Fall Classic

I decided I wanted to attempt The Barkley Fall Classic, a 50k run that, in the words of Race Director Lazarus Lake, is meant to provide a "finish…attainable for anyone, but easy for no one." It's considered quite a party by runners and offers a sampling; a glimpse, if you will, into the difficulty of the Barkley Marathons. What can I say? My goal was a 50K finish, something I realized in the first 30 minutes was not in the cards for me. My training runs along the flat Mississippi coast did not prepare me for the hilly course in eastern Tennessee. So, my new goal was a marathon finish, doable, with considerable effort!
The race begins with the lighting of Laz's cigarette! Then, off the crowd goes along a stretch of paved park road to spread out the competitors.
Bird Mountain Trail
Bird Mountain Trail
was the first obstacle; a lovely canted single track trail sprinkled with rocks and roots with 15 steep-ass switchbacks. The crowd had not spread out enough before the uphill climb, so there was a lot of stepping on the heels of the runners just ahead, and lots of passing attempts on that narrow, tilted trail. All part of the joy of ultra-trail running!
North Bird Mountain Trail
A bit of rolling terrain came next to pick up the pace. Unfortunately, that didn't last long enough before the next set of switchbacks of North Bird Mountain Trail. A repeat of steep-ass switchbacks without the runners bunched together. It was a pleasant struggle, with room to move along the trail. The first aid station at 7.6 miles is in this section of the course. Not much there; just water, sports drinks, pretzels and cut up granola bars. The 3:07 it took me to the first aid station sure seemed much longer than 7 miles. Plus, we received the first punch on our race bibs proving we ran that section, very important!
About a quarter-mile, after I left the aid station, I met a group of ladies that had forgotten about the punch, so they had to retrace their steps, a total waste of time on the clock! More uphill switchbacks to the Garden Spot where Mike Dobies waited to provide our next bib punch. Finally, a downhill runs on a jeep road to a fence we climbed to continue along more rocky, rolling jeep road to the next aid station. 5:13 for 12.4 miles! Again, the distance sure felt longer. Next, a fun, downhill run to a road crossing enhanced with flashing law enforcement vehicles and a nice volunteer who directed me up the road to the Testicle Spectacle.
Testicle Spectacle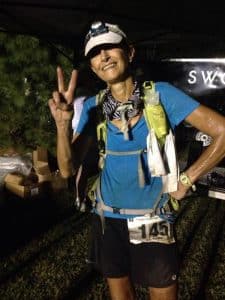 Wow. Glad I brought leather garden gloves for the Testicle Spectacle adventure. What a wild "out and back" with a church at the bottom where you could refill fluids and refuel calories. There were briars to avoid or grab, steep crap with loose dirt to crab crawl or butt slide down; bushes to hang onto that have been mangled by multiple hands trying to stabilize the downhill or uphill struggles. Shoe sucking mud in places and rock climbing over crumbly, steep walls in others. Some bush-whacking through dense trees, and a creek to cross by balancing on boulders or slopping through water. As I climbed up one hill, I noticed a guy taking a picture that captured my image. I asked him to please send it to me, so his buddy wrote my number on his glove. Yay! I have proof I endured the Testicle Spectacle.
As I pushed myself up the Testicle Spectacle for the return trip, I approached a young man sitting in the loose dirt. He was suffering from stomach issues. I offered my help, telling him papaya enzymes would fight his nausea. He was willing to give it a try so, I removed my dirt-encrusted glove, pored a few tablets into my less than clean hands and dropped them into his mouth. I felt like a mother bird feeding her young! Finally, with considerable effort, I escaped the Spectacle. The entire trip took almost 2 hours!
Brushy Mountain State Penitentiary
The adventure continues on a long, very steep downhill with many opportunities to glissade over very loose dirt while grabbing at trees and bushes to slow the butt sliding. Next is the Brushy Mountain State Penitentiary, the former home of James Earl Ray, the assassin of Dr. Martin Luther King Jr. His escape and three day struggle in Frozen Head State Park inspired the creation of the Barkley Marathons. Finally, I reached a paved road leading to Brushy Mountain State Penitentiary aid station where an angel provided cold cokes to refresh the filthy, exhausted runners. A trot through the moldy buildings and prison grounds led to a back wall where a ladder was set up for an "escape" from the prison. The escape continued along a creek and through the dark, damp, tunnel with another steep climb waiting to deliver the runners to Hell.
Rat Jaw
Hell is Rat Jaw. A 1.2 mile torturous trip up to an observation tower that took me over two hours. Rat Jaw is a makeshift trail over unbelievably steep, rugged, briar covered terrain littered with the bodies of resting runners either sprawled in the dirt or perched on rocks and fallen tees. The trek up is accomplished by crawling, back sliding, hanging onto cables in some spots to pull yourself along, grabbing plants, trees or rocks to pull yourself forward, or using sticks for balance.
At one point, as I pulled myself along the trail with a cable, tossing my sticks up the trail as I struggled, I approached a guy who had collapsed in the dirt! He kindly offered to toss my sticks up the trail but said he couldn't move. Instead, I crawled right over him! After what seemed like an eternity, I reached the tower. The climb up for my bib punch was torture on wobbly legs and I had to sit when I reached the highest point of the course. I needed the break but that was curtailed when the punching volunteer informed me that I had less than 2 hours for the last 5.5 miles, if I were going to finish under 13 hours 20 minutes. No time for a slow walk to recover.
As I moved toward the last aid station, I did lots of soul searching. I didn't think I had the energy or strength or power to make the final cut-off, but I had to try. I couldn't waste all my spent effort getting to this point on the course without giving my best. I refilled my fluids, thanked the volunteer for her help and headed out to North Old Mac Trail. I trotted, ran and power-walked along, checking my watch every few minutes. My heart raced faster than my legs.
North Old Mac Trail
I watched the trail closely in waning light for anything that could trip me or slow my progress while I continued moving as quickly as possible. Every step hurt! I was joined by another runner named Mary when we both found we had taken a wrong turn. We back-tracked to find the right trail and picked up the pace wondering when we would find the 22-mile timing-mat. What we found was a snake stretched across the trail! Yikes! I poked him with a stick to encourage movement; Mary took his picture.
Finally, after what seemed like an eternity, the timing-mat! Surely more than 22 miles. We crossed it in 12:51. A right turn to quitters road was our only option. As we ran by Laz, he yelled "What took y'all so long?" We smiled and ran off toward the finish line in a nice, cool drizzle. Mary and I completed the 2016 Barkley Fall Classic marathon in 13:04. Whew.
If you are interested in learning more about the Barkley Marathon – 100k, you can view a short documentary here. To read about the fitness trends to watch this year, try this.
Read Next:
Make a Triathlon Your Next Fitness Goal
3 Reasons Why I Ran a Marathon Race