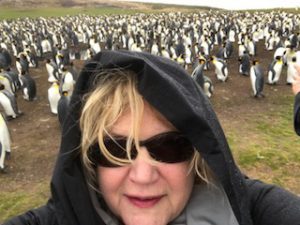 For years I have wanted to travel to the Falkland Islands. I am not sure why. Perhaps it was to understand why in 1982 the British Empire would send the Royal Navy and Royal Air Force to the southwest Atlantic Ocean to protect this sparsely populated island from Argentinian control. Perhaps because I had heard there were some interesting penguin colonies (I do like penguins). Or perhaps it was because very few people go there (I like to be different).
I have to say my day in the Falkland Islands was fascinating. First, being on a cruise ship, we had some guest lectures on Margaret Thatcher, her role in the Falklands War and the War itself. Seems like no one really expected the English to come to the defense of an island that was so remote and certainly not strategic. But Margaret was firm (her reaction moved even Prince Andrew to the islands' defense) given that there were British subjects at risk. She showed her signature determination and fortitude (and no doubt helped to create her image) after the initial Argentinian invasion. And the military leaders in Argentina who had planned the invasion to take back what they thought was their territory, and to distract from all their domestic problems were subsequently replaced. And all of this was over in only 74 days, with the death of 649 Argentine military personnel and 255 British military personnel.
So what is left on the Falklands? Your tour guide (who will speak with a British accent and accept pounds) will point out the sites of some of the major battles and even point out many of the cottages and gardens that look very British and surround the central city, Port Stanley. You can also see the Liberation Monument commemorating the victory against those horrible invaders and what is called the Boot Hill where you will see a number of shoes staked in the ground—supposedly left by the soldiers of the war in sympathy for those who had fallen.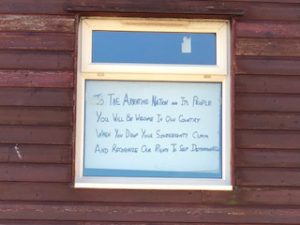 You will not hear any sympathy for Argentina. In fact, it is better not to even bring up that country's name at all. When I asked our tour guide about whether they travel frequently to Argentina, he almost threw me out of the car. The people of the Falkland Islands to Chile travel to England on military aircraft. Argentina does not exist—especially since many Argentinians still call the islands the Islas Malvinas and still claim sovereignty. And Argentina is only 311 miles away. Signs are posted in windows: "No dialogue is possible until Argentina gives up its claims to our islands. Respect our human rights" or "To the Argentine Nation and its People: You will only be welcome in our country when you drop your sovereignty claim".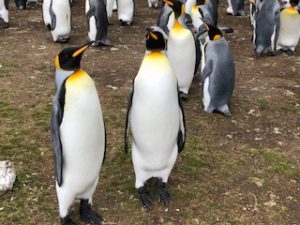 But this is not the only part of the Falklands that is fascinating. If you have the time, take a tour to Volunteer Point (there is a shorter excursion to Bluff Cove or Gypsy Cove, but you don't have the same experience). It is at least a 5 hour tour and you travel off road for approximately 2-3 hours to reach the nature area where there are a number of penguin colonies. The trip is long, but well worth it. A picnic lunch is usually served by your guide at the point. There are three types of penguins at Volunteer Point (Gentoos, Magellanics and King Penguins), and you will see thousands of them.
You can also walk down to the Atlantic Ocean following the route (over a mile) that the penguins take to get to the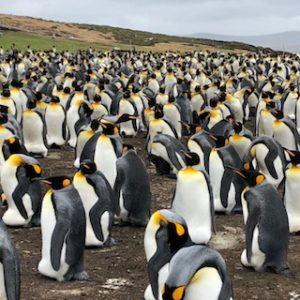 water in order to get their food. The King Penguins will take your breath away. You won't see these in Antarctica (at least at the locations cruise ships travel) and they are beautiful and fascinating. We saw two males fight over one female, chicks peeking out of their mother or father's feet, huge penguin eggs, little chicks being chased by their parents so they could learn to walk, and watched a mother Gentoo penguin sit patiently on a nest long after nesting season ended hoping an egg would hatch. We booked our trip online through Jimmy Curtis Tours avoiding the cruise ship crowd. It was perfect.
When you arrive back in town, you can do a little shopping at some cute gift shops where you will find anything penguin related or penguin shaped that you have ever wanted, or you can go to the history museum. Both are worth the time.
Not everyone takes the time to travel to these remote destinations and many cruise ships have issues getting into the port because of the wind. But this one is worth it. A day well spent.