If you, like me, ever watched Sex and the City and wondered how on earth Carrie Bradshaw could sashay through the streets of New York in Manolo Blahnik sky-high heels and still have a smile on her face instead of a grimace of pain with each step, then this documentary, Manolo: The Boy Who Made Shoes for Lizards is for you. It is an in-depth portrait of legendary fashion designer Manolo Blahnik and how his extraordinary dedication to his craft led him to become the world's most famous luxury shoemaker, revered by celebrities, stylists, and industry icons for
generations.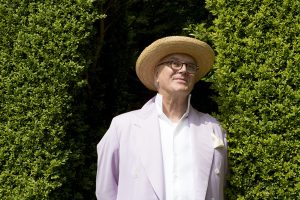 Director Michael Roberts, British fashion writer and artist has known Blahnik for four decades. He handles the material lovingly and with a good deal of humor. Though Blahnik is not a publicity seeker, he is absolutely captivating on film. Twinkling eyes, sweeping arm gestures accented by white gloved hands, and high pitched squeals of feigned outrage followed by giggles.
The 89-minute film weaves together historic footage and photos of youthful antics with the likes of Bianca Jagger, with dramatizations and interviews with the shoe designer and fashion's elite including Vogue's Anna Wintour, Andre Leon Talley, Rupert Everett, Rihanna, Karlie Kloss, Naomi Campbell, Iman, Isaac Mizrahi, Paloma Picasso, and Candace Bushnell, creator of Sex and the City.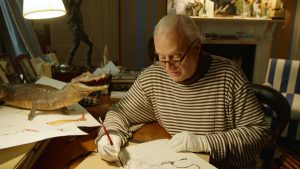 Blahnik has been called the greatest shoe designer of the 20th and 21st centuries. As you hear him describe his philosophy, it becomes apparent that he genuinely loves what he does. The creative process, the physical process of actually hand-modeling the shoe in wood, and the final result – a thing of beauty that can be worn by celebrities and secretaries alike. When asked what inspires his designs, he responds, "Everything that surrounds me can be an inspiration. I might not know at the beginning but later on, it can appear in my imagination and I will translate it into sketches to finally sample the shoe. It can be a book, a film, an exhibition or a building … I am a very visual person so if I like something I will never forget and it will somehow appear in one of my collections."
What struck me as I watched the film was the delicate beauty of each shoe. Had you told me that scattered throughout the film would be photography of shoes nestled in floral landscapes, showing the embroidery and stitching in loving detail, I'd have laughed and rolled my eyes. In reality, there was no eye rolling. Instead, my brain was furiously trying to work out how I could purchase a pair as soon as the movie ended.
I recommend this film for anyone who loves fashion and the creative minds that make the world a little more beautiful. Manolo: The Boy Who Made Shoes for Lizards opened in New York September 15, 2017 and is spreading into wider release. Watch for it at a theater near you. But beware. If that theater is in a mall, you better leave your credit card at home!
If you are interested in more beautiful imagery and stories on Mr. Blahnik, you should purchase the book Blahnik by Boman: Shoes, Photographs, Conversation and/or Manolo Blahnik: Fleeting Gestures and Obsessions.