Although taking a vacation during COVIDisn't easy right now, that doesn't mean we have to suffer a completely dull and boring year. There are plenty of ways to enjoy summer safely, without letting the pandemic completely take away our fun. However, while we're out enjoying the sunshine, it's essential to take appropriate precautions that'll keep you safe and healthy. Our key tips for staying healthy while out and about include:
Wearing a face mask around others

Washing your hands thoroughly and often

Socially distancing yourself from others, and choosing activities that allow you to stay at least 6 feet apart

Staying home if you're feeling sick
Here are ten fun and easy ways to enjoy summer safely, whether with your family or your significant other.
1. Catch a Movie at a Drive-in Theater
Reaching peak popularity in the 1950s, drive-in movie theaters were once a community staple before the rise of at-home technology. So, it might surprise you to hear that there are actually hundreds of drive-in movie theaters still open around the US. Relive the good old days with a classic movie outside and a pile of homemade snacks in the safety of your own car. See if there is a drive-in near you.
2. Pack a Picnic for Outside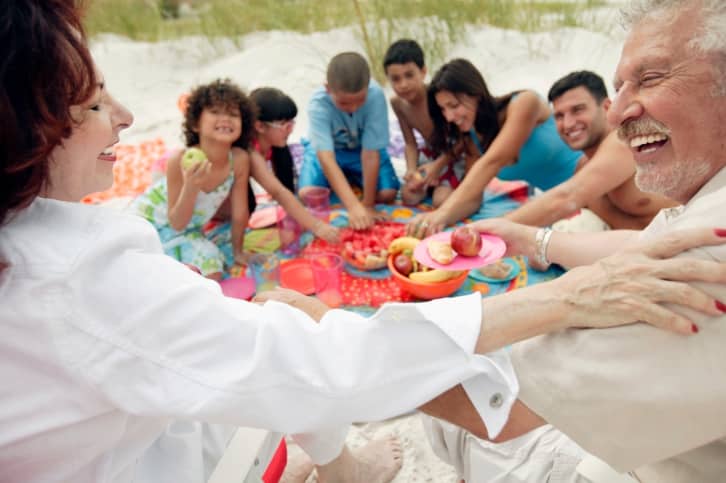 While the weather is still lovely and social distancing is still necessary, why not pack up a luxury picnic to enjoy in the sunshine with loved ones with a picnic? Don't forget your Picnic Time Champion Picnic Basket ($200), your cozy outdoor picnic blanket ($35), and your favorite bottle of wine for a day noshing in the fresh air.
3. Visit a State or National Park
Now more than ever is a wonderful time to get out and explore the beautiful landscapes of America. No matter where you're from, a visit to a local state or national park will get you out of the house and your heart pumping for a bit of exercise. Visit the NPS website for park information or your state's local DNR to see what's open near you.
4. Take a Road Trip
Sadly, many travelers have had to cancel their flights this year to avoid the dangers of a super-packed airport or plane. While this has been a massive disappointment for many, it can offer an excellent opportunity to take a road trip to a local destination instead. Hitting the road is a much safer way to travel, and it allows you to social distance. If you're unsure where to go, some of our favorite American destinations include national parks, beaches, and secluded cabin getaways!
5. Host a Staycation
We're all dying for a change in scenery, but being stuck at home doesn't have to be boring. Staycations are a fabulous way to enjoy a luxurious, leisurely, or unique activity without straying too far from the house. While there's a whole host of things you can do at home to choose from, we're partial to spa days, backyard glamping, and a visit to local outdoor attractions.
6. Indulge in a Cozy Airbnb Weekend
If you're at your wits' end being confined to your house, maybe it's time for a cozy weekend getaway to a luxurious Airbnb. We recommend choosing a vacation rental that features amenities you can't enjoy at home to make your trip memorable with the added seclusion you can't find at a hotel. Keep your eyes peeled for exceptional reviews and resort-style features like a hot tub, swimming pool, sauna, gourmet kitchen, jacuzzi bathtub, or a rain shower.
7. Learn Something New
As the summer drags on and many of our favorite activities remain closed, it's a great time to learn a new craft. Duolingo is a completely free platform offering instruction in 38 different languages that you can practice from your phone. Or find a course that interests you on Coursera and become an expert in a new field. There are plenty of ways to learn something new online!
8. Join or Host an Online Event
Did you know that there are thousands of online events and clubs that happen every month? You can easily search on Eventbrite to find one that interests you most or even create one yourself with loved ones. Organized events often range in price from free to $50+, and you can take your pick from virtual cooking or baking classes by world-renowned chefs, live concerts from famous musicians, or even online book clubs. Or host an online game night or virtual hangout on Zoom yourself.
9. Travel Virtually
One small positive of this year's pandemic is the increase of online and remote technologies, including the new trend of virtual travelthat makes it possible for people to see the world who never could before. From the comfort of your home, you can see masterful works of art at the Louvre in Paris, France, you can marvel at adorable beluga whales at the Monterey Bay Aquarium, and you can discover the Giza Pyramids in Egypt. The world is your oyster, even now!
10. Go Camping or Glamping
Camping is another fantastic way to enjoy the rest of the summer safely while social distancing. For those uninterested in the hassle of gathering gear and setting up camp, glamping is another excellent option. A combination of sleeping out in nature and glamorous amenities, glamping is a popular pastime for people who appreciate the great outdoors but weren't made for roughing it. Find the best glamping sites near you.Nothing can truly replace the thrill and joy of travel, not even our ways to enjoy summer safely! But these travel-inspired candles may just help tie you over until we can continue exploring the world.