Seinfeld was one of my favorite shows when I was growing up. I loved the quick humor, the quirky dialog, and the hustle and bustle of life in New York City. As a girl living in West Texas, it seemed like a different world than the one I was living in. While Jerry was always living a pretty perfect life (he was even Steven, after all), Kramer's antics never failed to make me smile, and George (well, the entire Costanza family) was great for a belly laugh – I most adored Elaine. She was a strong, intelligent, no-nonsense woman who was quite the inspiration.
I watched Elaine work as an editor in publishing before I knew wanted to enter the business. As I look back at old episodes, I realize she provided a bit of career inspiration for me, even if subconsciously. I wanted to be like her in other ways too. After all, she dated a Kennedy, doubled down on 'the contest,' and defeated the soup nazi. Elaine was a cool, fashionable, and formidable opponent.
Now Elaine, er, I mean Julia Louis-Dreyfus, has moved on from the Seinfeld days. She's been 'New Christine,' a Vice President on Veep, and now she's got her own podcast, where she gleans knowledge from women that are ahead of her in years. Or, as she puts it, wiser than her.
Just the facts.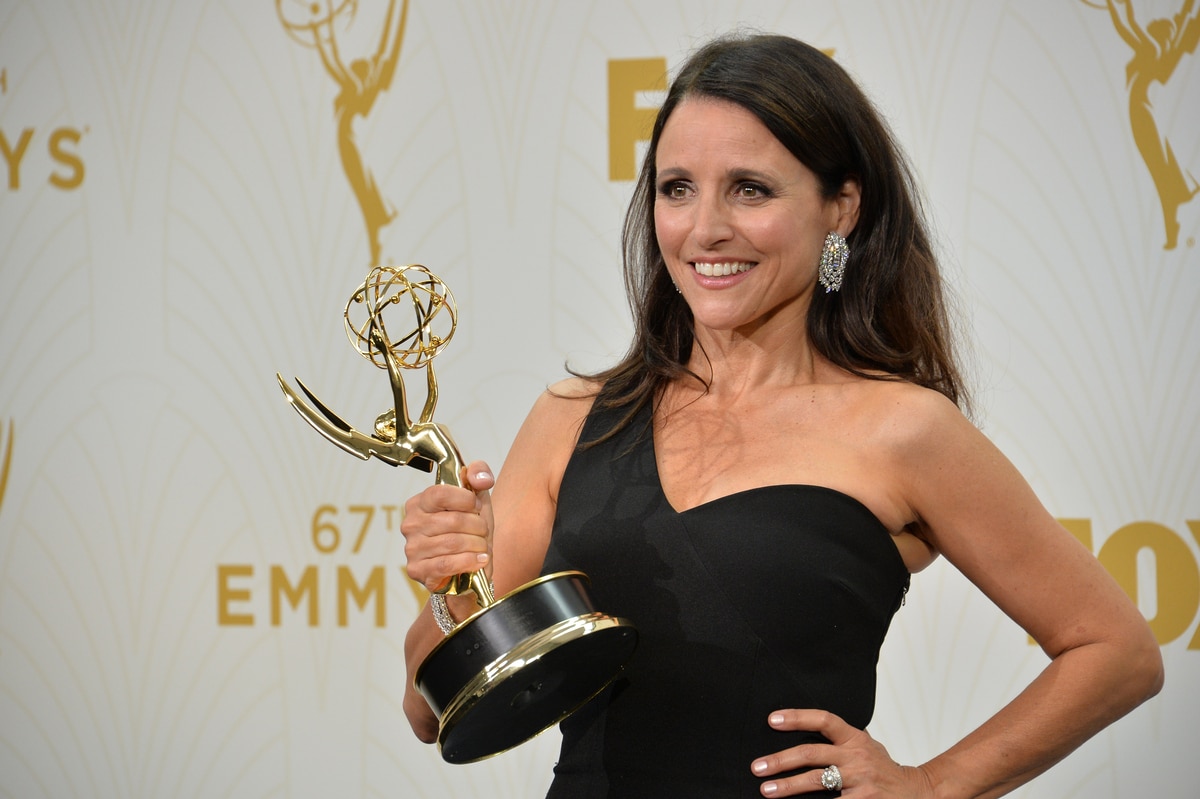 Born in Manhattan, Julia got her start performing improv at Chicago's Second City. She also appeared on two seasons of SNL, which helped hone the acting chops that she's showcased throughout her career. Her talents have led her to receive a whopping twenty-six Emmy nominations with eleven wins across a variety of shows, including Seinfeld, The New Adventures of Old Christine, and Veep. She's also gotten a Golden Globe, 9 SAG awards, and two Critics' Choice awards.
Despite Julia's tendency to play single down-on-their-luck with love characters, she's been married to her husband, Brad Hall, for over 30 years.
It hasn't all been happy times, however. In September 2017, Julia announced a breast cancer diagnosis, something she admits was a terrifying moment. Fortunately, with chemotherapy treatments and subsequent surgery, she's been cancer-free for over 5 years. She's previously stated that humor helped her get through the ordeal, despite terrible side effects from the treatments. Her ability to laugh through the tough times is a sure sign of what a strong woman she truly is.
Getting Wise
We cover Julia's history to get to her present. In her new podcast, Wiser Than Me, Julia interviews women, including Jane Fonda, Fran Lebowitz, Carol Burnett, Amy Tan, and Diane von Furstenberg. As stated in the podcast trailer, Julia "wants to know why the hell we don't hear more from older women." She believes that her conversations with the aforementioned ladies will give guidance and knowledge about living a full and meaningful life. Each week they encourage us to "Join the Emmy award-winning-est actress of all time on her first-ever podcast where each week she has funny, touching, personal conversations with unforgettable women who are always WISER THAN ME."
Julia's amazing new adventure in the world of podcasting is just one more example of how mature women – or, dare we say it – women in their prime, are positive and inspirational role models to their peer group and to younger generations. Women, both inside and outside of the celebrity world, are making a difference and reminding the world that we're a powerful force to be reckoned with. If you haven't listened to Julia's podcast, which currently has a 5 out of 5 critic rating and rave reviews, we encourage you to give it a try. She brings humor and frank honesty to the conversation, opening up a light, relatable, and memorable dialog.
Hopefully, we'll see an increasing number of Prime Women joining the mission to rail against the idea of becoming invisible as we get older. We'll definitely keep our eye out and point you in the right direction when we find them.
Join me on my first-ever podcast, Wiser Than Me, from @lemonadamedia, where I have funny, touching, personal conversations with unforgettable women.

Listen to the first two episodes today, featuring @Janefonda and Isabel Allende.

Listen: https://t.co/bmtUCWLNxT#wiserthanme pic.twitter.com/wfcGxO7qv2

— Julia Louis-Dreyfus (@OfficialJLD) April 11, 2023
Read Next:
Featured Women: Jamie Lee Curtis
Academy Awards 2023: A Tribute to Women