Women over 50 should not wear Prada.
Whew. I've waited for years for an opportunity to say that outside my living room.
What's more. Women under fifty shouldn't wear Prada either. And if you're under 25? Well. Avoid Prada like the plague. How many years do you have to wear a skirt that barely covers your crotch and look good in it? That's not to say you can't wear one; I just said look good in it.
Channeling Mamie Eisenhower is never a good idea but is particularly horrendous for women over fifty.
Prada, heaven knows why, is revered by fashionistas. Actress and vaginal steamer Gwnyth Paltrow almost makes a fetish of it—see the Prada parade at the trial for her recent skiing incident—though the outfits she chose were the least dowdy in the line.
We took up the topic of what to wear with a panel of savvy, sophisticated, opinionated women who are well past the half-century mark, looking back on their braless, hot pants-wearing youth and reviewing what to wear now—without embarrassment.
Fashion Over 50
All of them believe in body positivity; all would call themselves feminists. But looking good to themselves—and others—still means something.
Susan Baronoff, an Emmy Award-winning producer/director/writer/actress and chanteuse, has lived in Los Angeles for over 20 years, giving her the bone fides to comment on West Coast style. "I really do think a lot depends on individual bodies—and I AM in Hollywood, where over 50 can still look like … 38.
"Honestly, if you've got the body—and the skin—wear what you can get away with! We're thinking over 70 now. I don't imagine anyone over 70 has the skin for a bikini."
Judy Rosenfeld Cox started out on the wild side, working in New York with edgy designer Norma Kamali, who once styled a line of clothing made from silk parachutes. After a move to Washington, DC, she worked as a manager and buyer for high-end boutiques, started the consulting company, "The Attire Buyer," and began selling the Worth Collection: conservative, structured suits and sportswear geared toward women in high-powered, highly visible careers.
She knows clothes and women's bodies. "I have never been a wardrobe consultant who believes in rules," she says. "How women dress should be geared more to their shape than their age."
Creating New Fashion Rules
She feels that fifty is a bit young to be stressed about what to wear. "If these were 'rules' for women over 70, I might relate to it better," she said with a laugh. "There are many women today in their 50s, 60s, and 70s who are very active and in great physical shape.
"I guess my only rule would be…if you have children and/or grandchildren in their 20s, 30s, or 40s… you should not be dressing in the same clothes."
As one might expect, work clothing is pretty staid at one Palm Beach non-profit, says grant manager Bonnie Mitchell, who is always well-suited for work. Topping the list in a little poll she took of her co-workers: "Don't try to copy young styles unless they suit your body," she said. "And avoid turtlenecks that bring attention to necks — and chins." Despite the semi-tropical location, she advises saying no to anything resembling a mumu. "Avoid really baggy dresses and clothes, and wear a belt if you still can!"
From across the pond, former Fleet Street reporter and freelance journalist Maggie Hall, who's still going strong at 80-something, says, "Hitting elderly status doesn't mean you have to start dressing like a grandmother of old….so no pleated skirts, chuck the twin-sets (unless they're cashmere), toss the pearls (unless they're a long rope of imitation or real that can be looped, or tied in a knot)."
Shades of Downton Abbey. I'm not sure where you might find American women of any age dressed like that—except, perhaps, those fond of Prada. Closer to universal is her take on casual style.
"Hitting elderly status means….in public, no short shorts (even if you've got the sort of tan that they use when advertising Coppertone) and no spaghetti strap camisoles without a shirt (no matter how long you spend in the gym, your upper arms will show your wrinkly age)."
Susan takes issue with baring arms. "If you spend 8 hours a day at the gym and you're 52—why not?" Consider Michelle Obama's "guns": honed, burnished, and enviable at 59.
Casual Dressing
So how do you dress for comfort without looking foolish or sloppy?
"I love loose, silk pajamas on women of a certain age," she says. "There's something uncomfortable about too-fitted things—and I not only want to be comfortable—I want to see women being comfortable. Elegant and comfortable," says Susan. "I don't even like fitted clothes on women like Jane Fonda – who totally has the body for them."
Judy shudders in agreement: "My pet peeves? I hate leggings! There are too many women wearing them that should not be wearing them. Although, the world has made it acceptable to wear athletic clothes and gym shoes everywhere, anytime. Perhaps…one shouldn't."
"Although my past was in fashion," she adds, "living in Montana, I feel so far from what goes as Fashion today. People do think I am still fashionable because I match my socks to my outfit….and I tend to dress up more than most women."
"No crop tops," adds Bonnie. "Or tight pants or leggings if you have excess 'baggage.' She says that the last comment was from an under-30 co-worker who thought those marbled with a little flab and cellulite shouldn't show too much skin. (Just you wait, sweetheart).
"I just don't like things that look childish," says Susan. "Things that look fun and flamboyant and bohemian on young people—and just look stupid and garish on the middle-aged. And desperate. And embarrassing."
Changing Beauty Standards
Like Tattoos. "The very idea of something permanently affixed to my skin makes me claustrophobic," says Susan. "I'm scrubbing my arms in my mind right now. Get off! Get off! And, of course, nothing says WRONG like tattoos on sagging, crepey, over-70s skin. Seriously. Nothing. They (and strange piercings) go in the Kids-Can-Sometimes-Get-Away-With-It file but over 70? Awful. I'm shuddering."
"There's also the eyeshadow question," she says. We didn't ask, but please enlighten us: "Greens and blues are horrible on the over-50 set, but WHO does green or bright blue look good ON??"
Apparently, the Palm Beach set agrees: "Don't wear blue eye shadow," says Bonnie, adding, "and do spread out your foundation below your chin to your neck."
Thanks for that, Bonnie. Why on earth do people who paint their faces stop at the chin, creating an opaque coating that looks like a mask? Just smooth it down the neck so it blends into your body. There are so many natural-looking tints out there. Unless you're being filmed and require an unblemished canvas, there's no reason to plaster on foundation, which slips into wrinkles and weighs the skin down.
Maggie is all for ditching "the heavy eyeshadow—the creases on your eyelids (yes, they're there) will suddenly show their ugly presence. Go easy on the mascara, too. Particularly black mascara. And thick, last-all-day lipstick in pillar-box red (think British TV dramas to get the color)—use instead a tinted, glossy lip balm; and while you've used eyeliner since you first raided your mother's make-up box – forget it!"
Hair Stories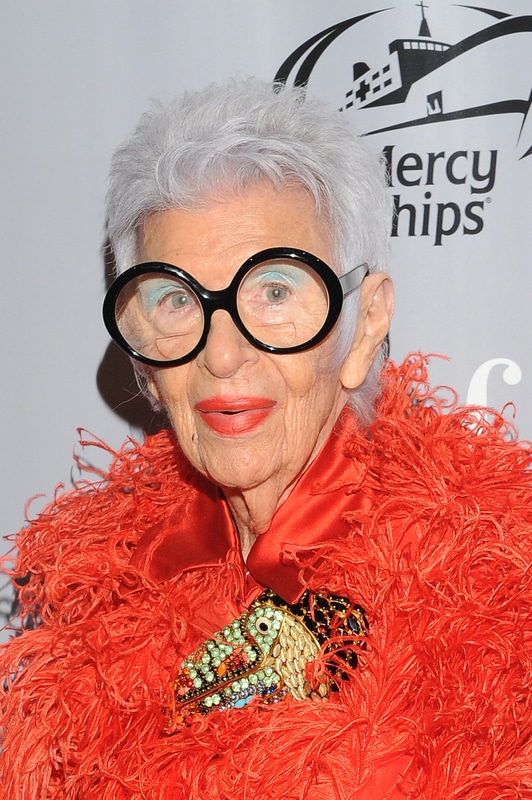 "And get a haircut; Woodstock is long over for you." Maggie, who wears a "blaze" of black across the front of her chopped grey hair, is basically a fan of going grey. "The only time to use dye is to streak your grey or white with a purple or red – or whatever – highlight."
Those of us that look like hell with short gray hair (me, for instance) and like their eyeliner might quibble, but it does lead to this thought: what if you still want to be visible? Not gorgeous or sexy (though it would be nice); just seen.
Some think the older you get, the more outrageous you need to be.
"Yes!! Like that Iris Apfel woman? She looks fabulous," says Susan. "Big bright colors—a shock of white hair—fabulous."
More than a century old, interior designer and fashion icon Iris Apfel has become the doyenne of over-the-top elder chic. She is bird-like in size and wears enormous glasses, fat bracelets to her elbows, loops of chains, and pearls around her neck. She's flamboyant, colorful, and more than a little outrageous—and wears what few women south of 70 have the moxie to dare.
Apfel has leagues of admirers, books, a documentary, and even a Barbie Doll in her image. Ari Seth Cohen chronicles her following: a coterie of turbaned, caftaned women who are bejeweled up the wazoo, who occupy the website Advanced Style.
They're fabulous in their plumage—defying any and all rules. Their looks scream Look at Me! And we do. And we smile.
Rules, you know, are made to be broken.
Read More:
10 White Blouses to Keep It Cool This Spring
Handbag Trends for Spring 2022