What woman doesn't love beautiful jewelry? We deserve it, and are worth it. But it should not just be beautiful – and pricey. When we invest in a good piece we want to make sure we will love wearing it for the long haul. Let's look at the four fundamental seasonal color palettes to get some clues about choosing gemstones and metals that work best for each skin tone.
Winter Coloring
Starting with the so-called "Winter" palette, someone in this category tends to have very smooth, highly reflective or almost translucent-looking skin. They can either have very striking coloring (dark hair and pale complexion) or extremely dark skin. The whites of their eyes tend to be very white. They are best served by stones and metals that are shimmery and highly reflective. Consider that famous winter type, Liz Taylor. Her coloring was enhanced by the brilliance of the diamonds she adored. Diamonds (they don't call it "ice" for nothing) are a cool gemstone. Someone with winter coloring does well choosing gemstones in cooler colors, e.g. diamonds, sapphires, (both clear and star sapphires), amethysts, and brilliant emeralds. Silver and platinum settings, because they are also considered "cool" colors, work best for them.
Spring Coloring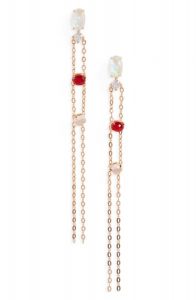 A typical "Spring" type has a natural glow to their skin, regardless of the weather! They have a lot of options. They can wear both transparent and opaque gemstones in a rainbow of colors because that rainbow palette is already built into their coloring. For example, a typical spring type person could have blonde or red hair, blue eyes, and a pinky skin tone. Any gemstone with the same degree of color brightness will match those qualities, as would opaque stones with similar brightness. Because spring types have a combination of warm and cool coloring, their gemstones can also be warm or cool. That means choosing gemstones like rubies and coral, blue sapphires, turquoise and lapis, emeralds, diamonds and pearls is the way to go. And for metals they can wear both yellow gold, white gold and silver. Lucky them!
Summer Coloring
Someone with very delicate "Summer" coloring will come more alive when their jewelry reflects the same subtlety and refinement found in their coloring. We all know those women who can wear soft dusky lavenders, pearl gray, mauve and rose, seafoam and sage, slate blue. Anything too bright, too saturated with color or too heavy-looking will eclipse them. They tend to have paler skin tones that are smooth and almost transparent (you can often see their veins) and they are also considered "cool" in coloring. That means they are most flattered by cooler metals like platinum, silver, and rose gold, and shimmery precious – and semi-precious – stones that enhance their visual refinement. Their ideal gems include things like pearls, (white, pink, and lavender) mother of pearl, aquamarine, opal and moonstone, pink quartz, pale green or lavender jade, or pale blue tanzanite, as well as diamonds in more delicate, less showy combinations.
Autumn Coloring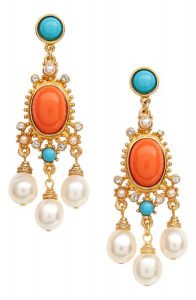 And finally there is the typical "Autumn" coloring, a warm color type. They tend to have more layering and depth to their skin texture and color as opposed to translucence or brightness. They might also have freckles. This kind of skin tone will be complemented by any kind of accessory that has some substance, but, alas, not too much sparkle. That would dim their spark! So this means they can wear opaque gems, and boho-looking jewelry with earthy stones, wood, leather and other textiles as well as non-symmetrical beads. They can really "rock" such rocks as turquoise, coral, lapis, amber, Jade or variegated gemstones like Jasper or agate. In precious gems, rubies and yellow sapphire or topaz can work for many of them too. Yellow gold, because it is a warm metal, is better than silver (although you're obviously going to find most turquoise and coral set in silver.) And anything in copper or brass falls in the same category.
Now, the reality is that most of us are a combination of color palette "seasons." It's a rare bird that falls into a single category. This is good news for everyone, but especially the autumn types (myself included) that still love shiny gemstones! Also, the shape of one's face can add to the type and color of jewelry we can wear. But staying with skin tone guidelines and then looking for the colors, textures and shapes that complement that will guarantee that there will always be something sparkly and wonderful out there for everyone.
Shine on!
Shop the Look