Sponsored Post
Finding a well-fitting bra and understanding bra sizing shouldn't be that difficult. But unfortunately, nearly 80 percent of women wear the wrong size: resulting in unwanted bulges, uncomfortable squeezing, and even back pain. Sound familiar?
In general, you should have at least a few comfortable bras to suit different necklines and occasions. We'd recommend at least two t-shirt bras, a few breathable sports bras, a convertible bra, like Yummie's Peyton Contour Strapless Convertible Bra ($42), and a cozy lounge bra.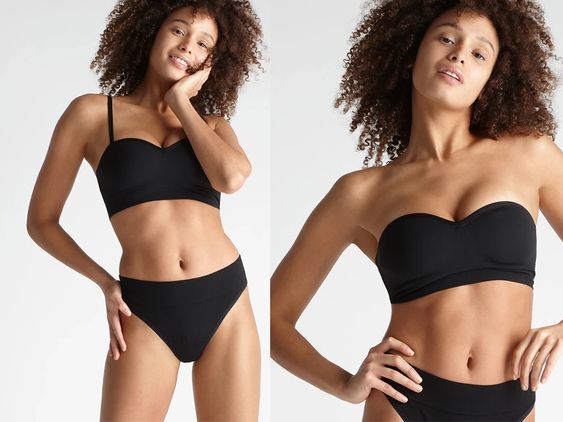 So how do you know if your bra sizing is correct? Here are 10 questions that you should always ask before buying a new bra, along with some top-rated styles from Yummie to try.
1. How should the bra band fit?
When calculating your bra size, always wear an unlined wire bra (no push-up underwire styles)! Have some measuring tape ready and encircle the base of your bra just under your bust. The measuring tape should be snug, but not too tight. Round to the nearest whole number for your band size.
2. How should I measure my bust size?
With the measuring tape around your back, wrap it around the fullest part of your bust for your measurement. Then, let the measuring tape settle without squeezing. Like your band size, round to the nearest whole number.
3. How do I accurately measure my cup size?
To get your cup size, subtract your band measurement from your bust measurement. Match the number you get with the alphabet. For example, if you get 1 then you will be an A cup as this is the first letter of the alphabet.
Over-spillage or gaping in the cups is a sign that you are not wearing the right bra size. It may be tempting to get a smaller size to make your breasts appear large, but this will be uncomfortable in the long run.
4. My breasts are different sizes — what should I do?
First of all, this is very common. If this is the case for you, always opt for a bra that fits the larger of the two.
Yummie's stretchy bras with removable pads, like the Nylon Seamless Bralette ($34), are ideal for providing support to different breast sizes. You could also remove one pad to even out the appearance of your breasts. Since many Yummie bras are designed as dual sized, multiple sizes can fit into one bra. Depending on how you like your bra to fit, go up or down a size for either a more loose or snug feel. Even if you're a 34D, if you want a more snug fit, you can wear an S/M. Prefer something looser? Go for an M/L. It's easy!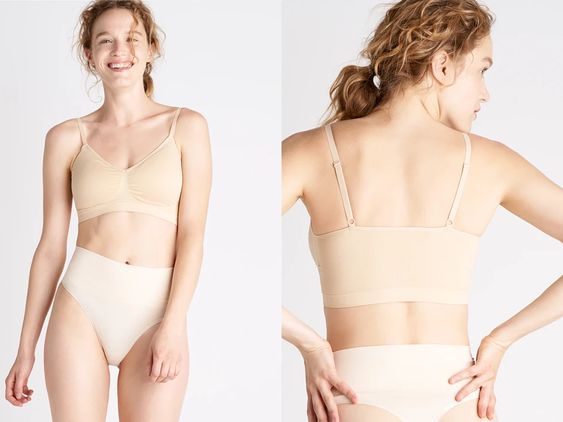 5. Why do my bra straps slide off?
We're all familiar with annoying straps that slide down our shoulders, even after tightening them. If this is an everyday occurrence for you, it's likely that your bra is too large.
6. Why are my bra straps digging in?
Unlike the previous scenario, uncomfortably tight bra straps that dig into your shoulders could be a sign that you need a larger size. You want to avoid unwanted lumps that could be created by too-tight straps.
7. What does it mean if my band keeps moving up my back?
Your band should stay put all day. If it keeps shifting up your back, it's a telltale sign that the band size is too big. The weight of your breasts is pulling down in the front, causing the band to rise up in the back. Your band should not look like an upside-down U shape in the back or create unwanted (and unflattering) bulges.
8. How does style affect bra sizing?
Not all bras will fit all breasts as cup shapes can always vary. If you experience gaps or squeezing, it might signify that the bra is just not the right style for you. Try a range of styles to find the one that suits you!
9. How does the material affect bra sizing?
Some materials have more stretch than others, particularly soft lounge bras. Take into account that your bra will stretch if it has any Spandex before determining what size you want for soft bras.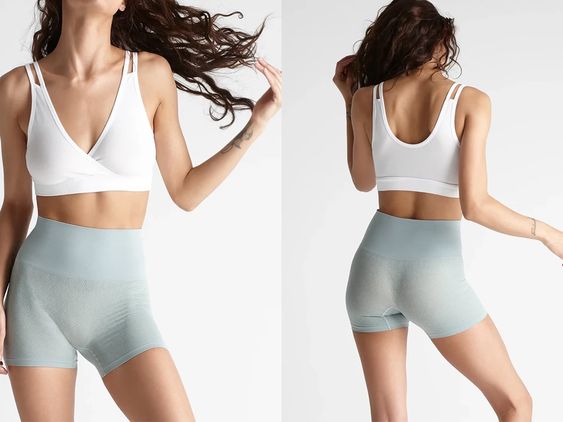 10. What do "full bust," "full figure," and "plus-size" mean when it comes to sizing?
These terms may sound familiar, but they refer to different things when it comes to bra size. For example, if you see advertisements for 'Full Bust,' they are referring to women with a small band size and a large cup size. 'Plus-Size' specifically refers to band sizes that are 38 or larger. And 'Full Figure' is where the band size is larger than 38 and the cup size is above DD.
If you're searching for an everyday bra that can fit most bust sizes, try Yummie's Nylon Seamless Unlined Molded Bralette ($24), available in sizes up to 2X/3X. Just check out what Maureen O. had to say about wearing hers: "This is a small miracle for me. I wear a 40D and cannot stand wearing a fitted bra… Not only is this leisure bra soft and comfortable, but it also provides enough shape to wear under any loose-fitting top. Hallelujah." We think that pretty much sums it up.
Now that we've covered how to shop for bras, let's review how to accentuate those curves! See our guide for dressing your curves after 50.