It wasn't that long ago that cosmetic surgery was the only option for women who wanted to "freshen" their appearance. Hospital stays, anesthesia, scarring, and long and sometimes painful recovery times were all just part of the process. Along with a hefty price tag, there was also a stigma that surrounded these elective procedures, especially when it came to nose jobs. Women who had rhinoplasty often claimed "deviated septum" to justify the post-surgery bandages and bruising rather than cop to cosmetic enhancement.
Fortunately, in today's modern world, women have more options for facial rejuvenation, even some that don't involve going under the knife. Dermal fillers are growing in popularity because they can mimic the results of common cosmetic surgeries like rhinoplasty. According to plasticsurgery.org, the request for "liquid rhinoplasty" has boomed in recent years.
"Non-surgical rhinoplasty has definitely become a more commonly requested procedure," says Marta Paul, a multi-award-winning Medical Aesthetic Practitioner and founder of Nova Aesthetics in San Antonio, Texas. She attributes that fact to society's desire for instant gratification and more natural-looking results.
"The effects are immediate," she describes. "It's a great alternative if you are hesitant about having surgery or you'd just like to see what you'd look like with a new nose before committing to the permanent effects of surgery."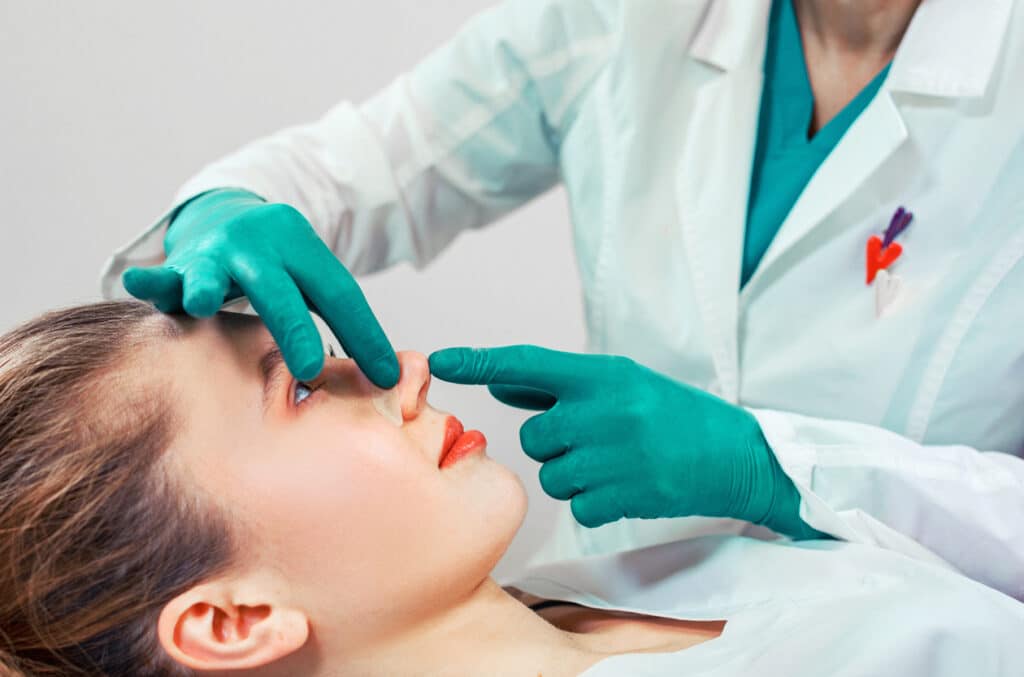 How is a Non-Invasive Nose Job Done?
Liquid rhinoplasty is typically performed by injecting small amounts of Hyaluronic Acid filler like Juvéderm or Restylane into the areas of the nose where you want to reshape, refine, fill in, or lift.
"We can hide bumps, help straighten, correct crooked bridges, turn up the tip, and create an overall refining of the nose and its contours," explains Paul.
The relatively painless procedure is performed in your practitioner's office, usually with a topical numbing cream or a local anesthetic added to the filler. The whole process typically takes less than an hour. In fact, some patients call it a "lunch-hour nose job" because they return to work immediately with little to no "tell-tale" signs.
Pros and Cons of a Non-Invasive Nose Job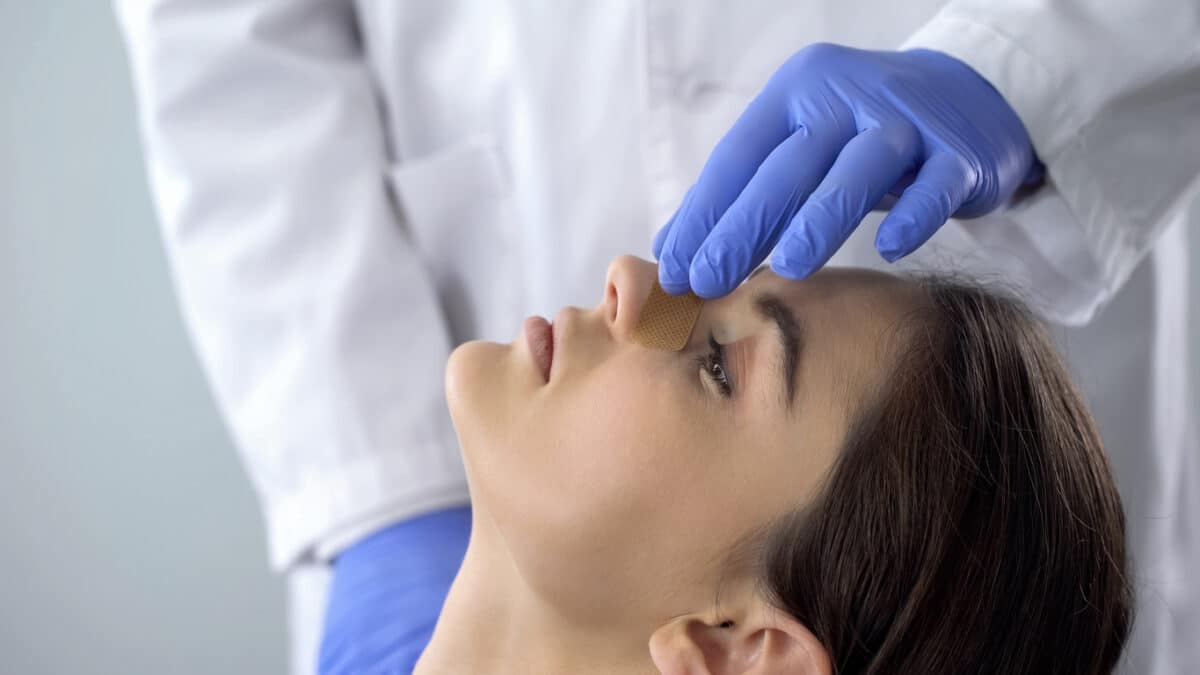 While the lack of downtime and instant results are two of the biggest reasons people choose liquid rhinoplasty, other pros make this procedure an excellent alternative to surgery. For starters, there's the cost. The American Society of Plastic Surgeons statistics estimate the average cost of rhinoplasty at $5,483, and that's not including anesthesia, hospital costs, medications, and other fees that add up quickly. In contrast, liquid rhinoplasty ranges anywhere from $800 to $1500, depending on what state you live in, making it a more affordable option for many people.
Another plus is that, unlike a surgical nose job, the non-surgical option is reversible. If you don't like the results, you aren't stuck with them. When you consider that your nose is the most prominent feature on your face, that's a big deal.
"We can dissolve the fillers instantly, and you are back to the nose you started with," assures Paul.
The biggest downside to the procedure is that fillers do wear off, and you will need to repeat the procedure every two or three years. Another deterrent is that while a liquid rhinoplasty can address many cosmetic issues, it can't change the size of your nose or correct any breathing issues.
"If you have a bulbous nose or are wanting to shrink the size of your nose, then a traditional rhinoplasty is going to be a better option," advises Paul. "We can add filler to hide or correct imperfections, but we can't make the nose smaller."
She also cautions against having the procedure if you've already undergone multiple surgeries.
"Someone who has had several rhinoplasties will not have the blood supply needed in the nose," she explains, adding that she typically turns away patients who fall into this category.
Risks and Rewards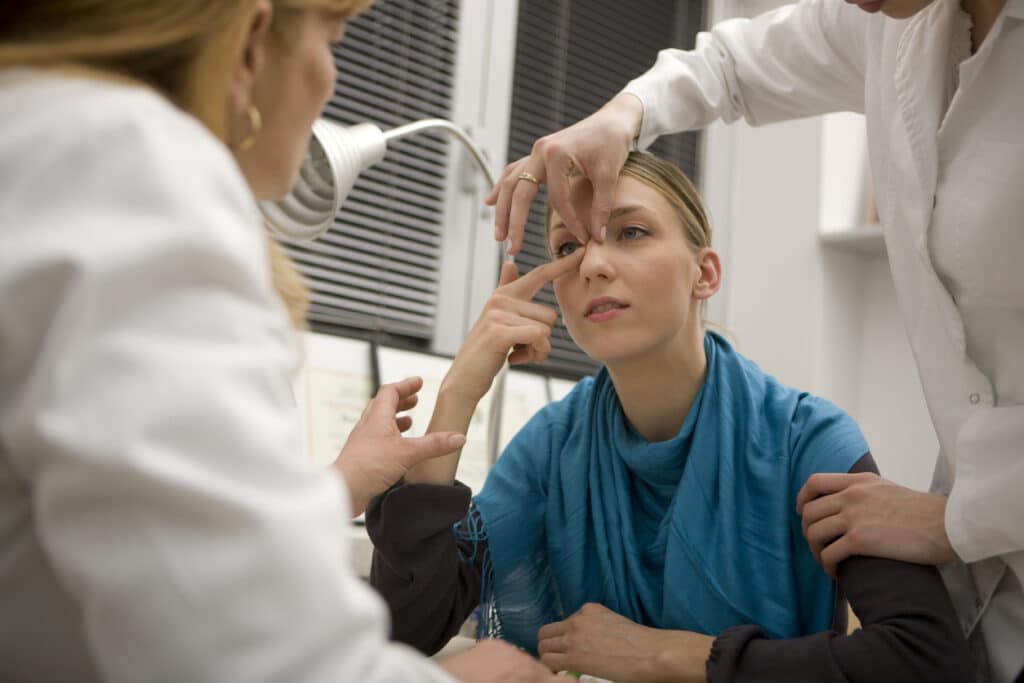 Although it is considered non-invasive, there are still risks associated with a liquid rhinoplasty, the most common being bruising and soreness.
"Any swelling or bruising will go away between 5-7 days," says Paul.
A very rare complication is vascular occlusion, which occurs when the filler is accidentally injected into an artery. If not caught and treated immediately, this can lead to tissue necrosis, where the tissues die due to lack of blood flow. That's why it is imperative that you don't put your nose in just anyone's hands!
"The nose is the most high-risk area of the face to treat with fillers, so you want to make sure that you're going to someone who has been injecting for many years," cautions Paul. "Your chosen practitioner should be well-versed in facial anatomy, have a crash cart on hand, and be able to quickly recognize an adverse reaction."
Understanding the risks is the first step in reaping the rewards. Do your research. Ask your practitioner for references or before and after photos of their work. Find out how many liquid rhinoplasties they have performed.
When done correctly, liquid rhinoplasty can be an excellent way to put your best face forward. When you look good, you feel good, and that confidence is the biggest reward of all.
Read Next:
Do No-Injection Instant Fillers Work?
Does Synthetic Estrogen Affect Your Blood Pressure? Find Out.