A good night's sleep is the foundation of good health, but they come rare for many people. As of 2021, up to 36% of UK residents were thought to struggle with getting to sleep. More and more people are turning to supplements like magnesium for sleep.
From reducing stress and regaining energy to recovering from exercise and overcoming illness, sleep is arguably one of the most important factors in maintaining a healthy routine and lifestyle. Unfortunately, recent changes in lifestyle related to the COVID-19 pandemic, including working from home and stress about job security, are thought to have significantly increased the number of people who struggle to get good sleep.
While pharmaceutical sleep aids exist and are effective, they are often highly addictive, do not encourage natural sleep, and do not help to tackle the underlying issue causing insomnia in the first place.
We will go into more detail at the end of this article on why people are using magnesium for sleep rather than other supplements and natural options. But first: what are the best magnesium for sleep products in the UK?
The 6 Best Magnesium Supplements in the UK (2023)
Evopure's product contains magnesium citrate and magnesium l-threonate powder, along with additional minerals and herbal botanical extracts to cover all bases, helping to stimulate a relaxed feeling in multiple ways.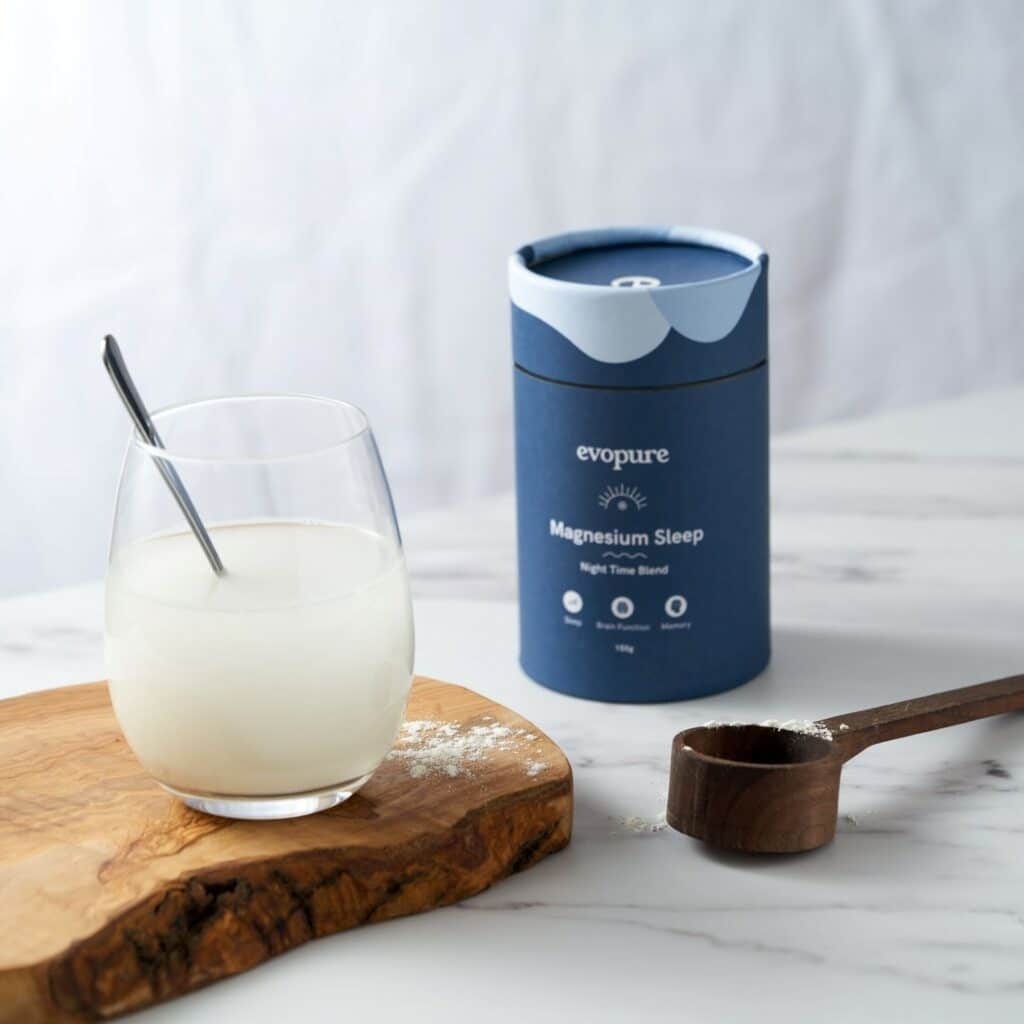 A lot of sleep-promoting products only rely on one key ingredient or form of magnesium. Therefore, they can have varying results for different people. This combination of different ingredients means positive results are more likely for the average person.
The powder is also super easy to dissolve in water and tasteless enough to be used in shakes and smoothies.
The product is pure, 100% natural, and made in the UK with independent lab oversight. It's a safe and high-quality product for everybody to use. Additionally, taking into account its price and ease of use, you will struggle to find a better magnesium product in the UK.
Try Evopure's Magnesium Sleep Powder at www.evopure.co.uk
2. Together Natural Marine Magnesium
This product contains five natural forms of magnesium (oxide, citrate, chloride, carbonate, hydroxide). Since each form of magnesium has a slightly different bioavailability, this increases the chances that you'll get enough magnesium for the parts of the body that need it.
It is naturally extracted by evaporating ocean water and then purified to remove contaminants. We particularly like this product due to its comprehensive range of magnesium sources and natural production.
Each capsule is completely vegan and contains 188mg of magnesium. The manufacturer recommends a dose of one capsule per day.
3. BetterYou Magnesium Flakes
These highly concentrated magnesium flakes are intended as a bath soak rather than for ingesting. While this may not be the best way to take magnesium for everybody, topical magnesium has been found to help reduce muscle pain, promote relaxation, and is an effective way for the body to absorb magnesium.
As a result, if you're the type who likes a hot soak in a bathtub before bed, this may be one of the best ways to take magnesium for sleep. Similarly, if you are a hard-working athlete who struggles to calm down and get to sleep in part due to aching muscles, this could make a significant difference in your ability to drift off to sleep and stay asleep all night while offering other benefits such as helping you to stay stocked up on electrolytes.
4. Floradix Magnesium Liquid Formula
Floradix's magnesium liquid formula is an ideal way to take magnesium for those who dislike taking tablets. Since the magnesium is already dissolved, it is also a quicker way to digest magnesium and get it into your system.
The formula includes herbal extracts and fruit juice concentrate, meaning it tastes great and potentially offers further benefits beyond magnesium itself.
With 62.5mg of magnesium per dose, this contains less magnesium overall than most of the other products on our list. However, the ability to take multiple servings per day actually allows you more freedom in choosing how much to take each day.
It's also gluten-free, lactose-free, and vegetarian, making it a great, easy-to-use choice for almost everybody.
5. Vitabiotics Osteocare Fizz
Osteocare offers a budget-priced package of 20 effervescent tablets. Along with 60mg of magnesium per tablet, it also includes calcium, copper, zinc, manganese, selenium, and vitamins D and C. This means that while it isn't specifically a magnesium supplement alone, it will be highly effective at topping up your body's mineral store and is a great option for those with concerns about bone density or health.
Osteocare also comes in a great-tasting orange flavor, making it suitable as a daily "pick me up" vitamin and mineral drink.
Another great product for those who dislike regular magnesium capsules, this is one of the lower-cost options on our list. It can be a great low-risk way to test out the benefits of magnesium for yourself.
6. Magnesium Plus by Healthspan Elite
These tablets contain 375mg of magnesium along with a vitamin B complex to aid recovery for athletes. It is intended to support protein synthesis in those who work out regularly. However, it will still provide all the same benefits for relaxation and sleep that magnesium supplements usually offer.
Healthspan Elite has gone for a dual-source formulation combining magnesium oxide and hydroxide, which they claim allows them to increase the dose without causing digestive complaints.
At around £10 per package for 100 tablets, it is great value too!
What is Magnesium?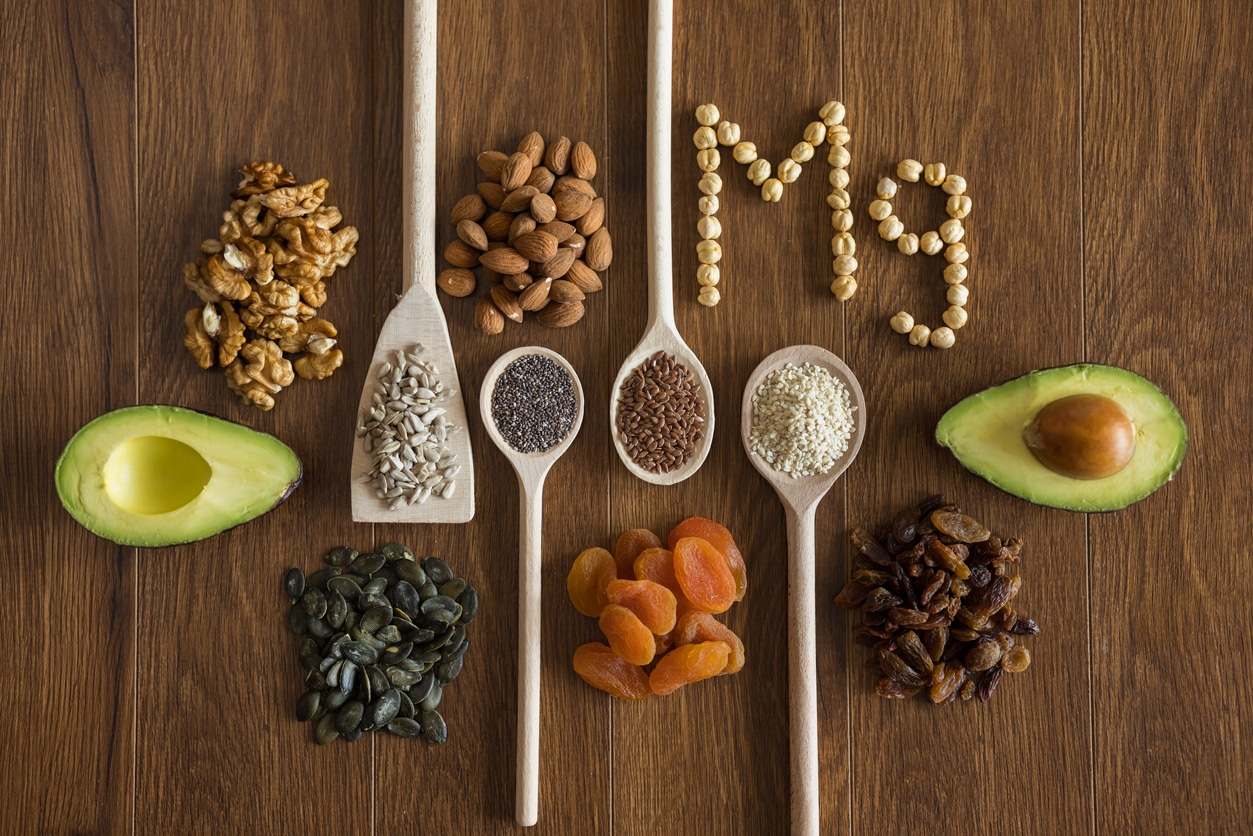 Magnesium is an essential mineral that has a huge range of roles when it comes to supporting your body's health. It has been found to support hundreds of enzyme reactions that are involved in regulating a large amount of your body's critical processes.
Why do People Use Magnesium for Sleep?
Studies show that magnesium is especially effective in promoting healthy sleep. Insomnia is one of the most common symptoms of magnesium deficiency.
Evidence proves that magnesium can make it easier to fall asleep, easier to stay asleep, improves sleep quality, and reduces symptoms related to sleep disorders.
How Much Magnesium Should I Take for Sleep?
The dose varies depending on a variety of factors. This includes the form of magnesium itself, as different forms have varying bioavailability.
It also depends on the causes of your sleep issues. For example, if you're suffering from a severe magnesium deficiency, then a higher dose than usual is advisable. However, if your sleep issues are unrelated to magnesium and you already have good internal stores, then a dose of magnesium may be less likely to help.
A good guidance dose for young adults is around 350-400mg of magnesium.
What Are the Symptoms of Magnesium Deficiency?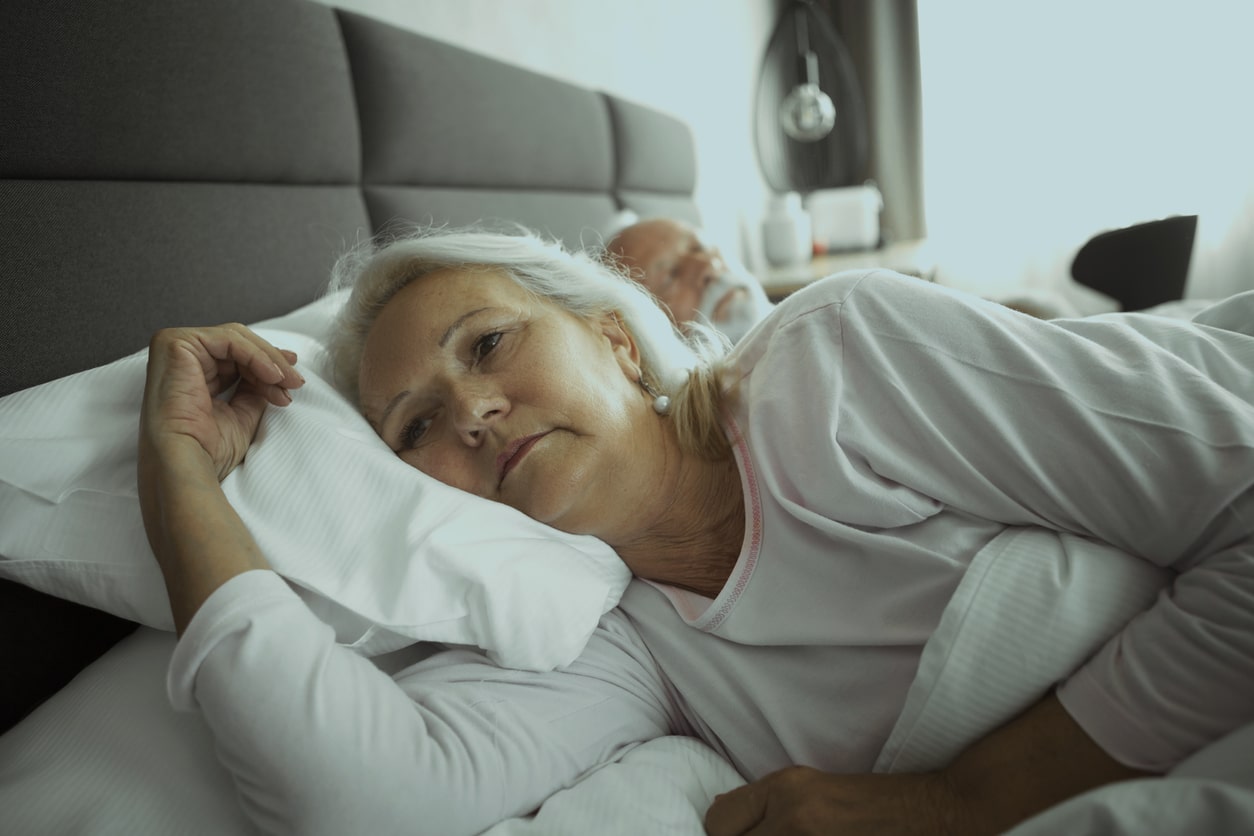 Given the topic of this article, it's perhaps unsurprising that some of the most common symptoms of magnesium deficiency include insomnia and hyperexcitability.
However, it can also cause loss of appetite, nausea and vomiting, weakness, numbness, muscle spasms, and fatigue.
Do Magnesium Supplements Have Side Effects?
In the vast majority of cases, when doses are 400mg or below, magnesium is extremely safe, and side effects are unlikely.
In cases of larger doses, magnesium can potentially cause heart murmurs, diarrhea, confusion, and difficulty breathing.
How Do I Choose A Magnesium Supplement?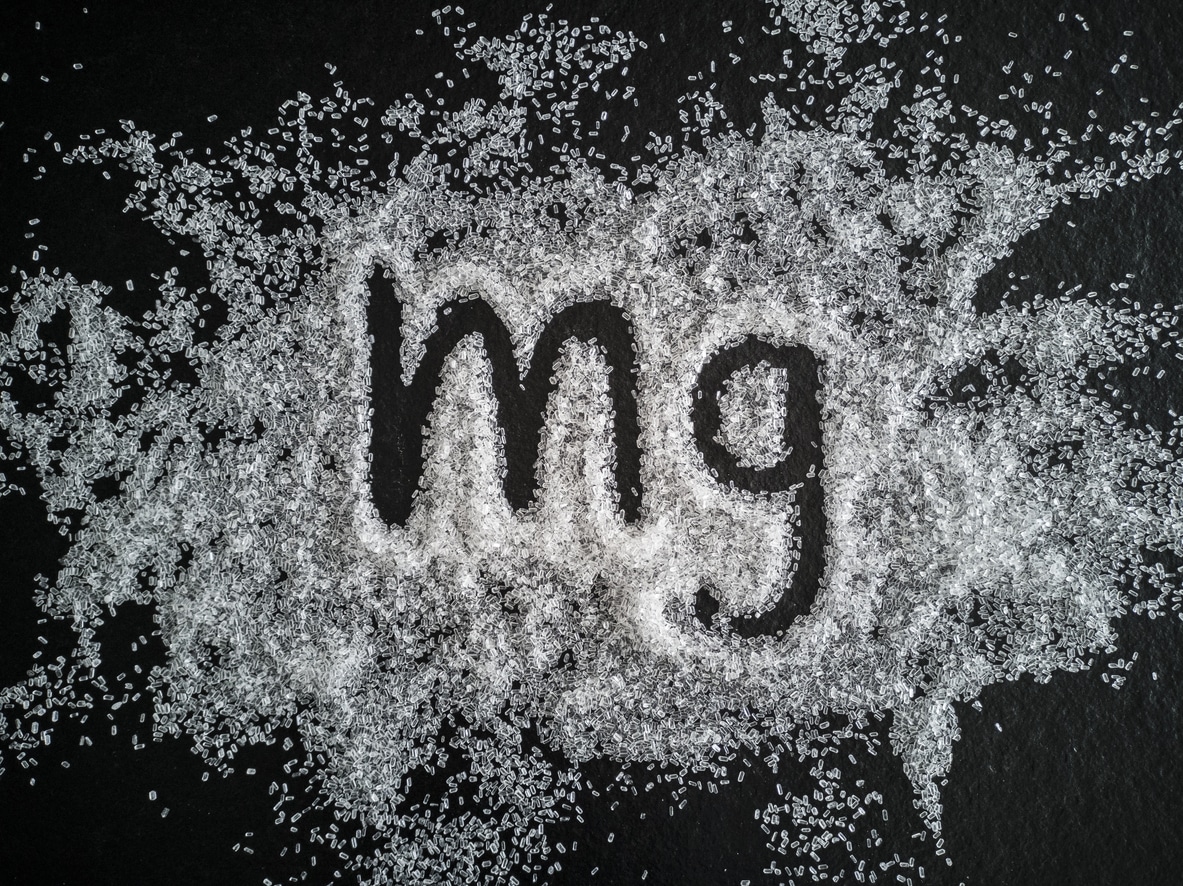 Years of research into products offering magnesium for sleep in the UK have led to the above products being listed as the best, most high-quality options. As a result, if you're looking to increase your magnesium intake, any of these products will be an excellent choice.
If you are looking to find your own product that isn't present on our list, the main things to look out for include:
Either a high-quality, highly bioavailable form of magnesium or more than one form
Strict independent third-party testing to ensure purity
High standards of safety
No additional ingredients beyond magnesium (exceptions include other vitamins and minerals, herbal ingredients, etc. – but sweeteners, fillers, preservatives, etc. should be avoided)
Read More:Will Reducing Your Body Fat Help You Sleep?Could one daily vitamin help you avoid Alzheimer's as you age? A new study offers hope.12 Top Wellness Supplements