Sometimes, we enjoy what we do in our paid careers, sometimes not. If the nature of your work or your life is changing – or you're just ready for something new – here is a path to consider:
Turn your hobby into a business. It's a smart move.
Children's Clothes to Hard Hat
knows homes from framing to finish out. But she started out in the kid biz.
Her career foundation began at the Dallas Apparel Mart, where she started the first resident buying office outside of New York City exclusively for children's wear stores. She created unique private label offerings and catalogs for independent retailers throughout the country.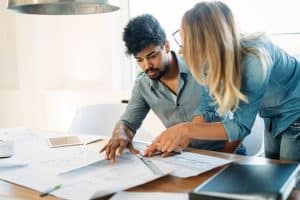 She always had a knack for home improvement projects – working on her own house and helping friends. In the 1990s, Jolene began buying, upgrading, renting and re-selling properties for her own portfolio and ultimately for investor groups. Others encouraged her, saying, "turn your hobby into a business," so Jolene expanded to a full-time career focus as a general contractor with an emphasis on remodeling.
In the apparel business, Jolene built an organizational machine – managing a myriad of details and deadlines and multiple product lines/seasons. She can systematize a hundred moving parts at one time – a perfect skill set for overseeing subcontractors, order/delivery of materials and demanding deadlines.
In a world populated by good ole boys, Jolene stands out. She understands the power of the purse and knows to discern desires, demands and aesthetic concerns important to women decision makers.
From Tech to Textiles
Belinda Hernandez grew up in elegant, scenic surroundings in her home country of Cuba. Her family emigrated here when she was ten and had to create a sense of beauty, beginning in humble surroundings, as they built new lives in an unfamiliar place. Home was a haven and stabilizing factor in a world of change.
Belinda pursued a business degree and built a successful career in high-tech sales – leading teams, large corporate engagements and federal government contracts for companies such as HP and Xerox. Like Jolene, she had an unerring eye for improving her home surroundings with a special touch that friends called BelindaStyle, now the name of her company.
She began doing projects on the side and tested the waters with a focus on rearranging and accessorizing – making the most of what you have, then infusing some update boosts. But clients wanted more.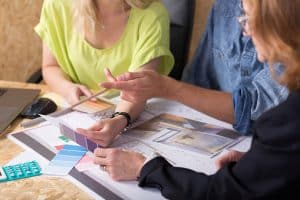 She took additional coursework and is now a member of ASID (American Society of Interior Designers) and IDS (Interior Design Society). She parachuted out of the high tech world and into the world of textiles, lighting, furniture and more.
She brings her business discipline and years of advanced sales/service training to deliver a high level of professionalism and client satisfaction. Knowing how to quickly qualify prospective clients is a competitive advantage. Negotiating with vendors, showrooms and contractors is intuitive and a value-add.
It was a happy change. Belinda's work has been featured in Southern Living, Dallas Morning News, Fort Worth Star-Telegram and the AIA Dallas Tour of Homes.
Travel to Home
Rosemary Westerhuis loves travel – especially when she can experience a destination as a local. Fifteen years ago, she and her husband rented a home for two weeks in the south of France. She was hooked. It became an annual summer tradition that grew into a potential retirement dream.
Wouldn't it be wonderful to own a home in France that could also be marketed to others who would enjoy the same live-as-a local dream? What a way to turn your hobby into a business in your second act!
She crafted a plan, fueled by low-interest lending rates. She bought several homes as investment properties near her neighborhood in Texas – offering a good school district and well-appointed, well-kept residential opportunities. "I only buy and rent homes that I would want to live in myself," Rosemary says.
The rental income will pay off the mortgages – creating a nest egg for possible purchase of a European dream home by the time she and her husband retire. At first, Rosemary handled the marketing and management of the Texas properties herself. When she and her husband moved to Colorado, she hired a property manager.
Rosemary's career foundation in sales and marketing – including a role at ClubCorp, the elite network of private clubs – now combines with her travel-inspired real estate experience as a vacation home renter and rental property owner. She has just become marketing director for Integrated Mountain Group, a new real estate business services company in Glenwood Springs, Colorado. She has come full circle to turn her love of travel – her hobby – into a business.
Think about your second act. What is it that you are passionate about and enjoy doing? Could you turn your hobby into a business?