The USA is now the largest wine consuming country in the world. Considering this, it is not difficult to appreciate the growing interest in Wine Country wedding venues across America, especially for second weddings. Brides are crafting new traditions around these spectacular vistas. Imagine having a wedding ceremony between vineyard rows and holding the reception in a wine cave, on a winery patio terraces, or across a broad lawn.
The mature brides of PrimeWomen will especially appreciate winery venues for any wedding whether it's the first one or subsequent nuptials. They know their guests will enjoy and take advantage of other wine country experiences in the area.
Winery and vineyard locations do call for special considerations of season, tourism traffic during festivals, hotel occupancy in high season, and weather concerns. However, the beauty and majesty of vineyard locations largely outweigh other scheduling issues. For a truly unique wedding experience-for you and your guests, a winery wedding can offer the best of a destination wedding, but with a local setting.
Wine Country Suits Second Weddings
The top six states for wine production in the USA are California, Oregon, Washington, New York, Texas, and Virginia. Let's explore several of the top wineries and wine regions in these states that host weddings. We'll share their guests' love stories and new traditions. Obviously, the wine itself plays a major role in the ambiance of the event, so choose the location and wines through a consultative pre-wedding tasting.
At the bottom of this article you'll find some etiquette tips, a Do and Don't Do list to help ease the stress of second-wedding planning, and all contact info for the wineries featured below.
California Wineries
Napa and Sonoma Counties
89% of all USA wine is made in California. The state boasts the most wineries and AVA's* in the nation. Wine regions like Napa Valley, Sonoma Country, Paso Robles, the St. Ynez Valley and Santa Barbara area, and the Lodi Region, all have wineries that specialize in weddings.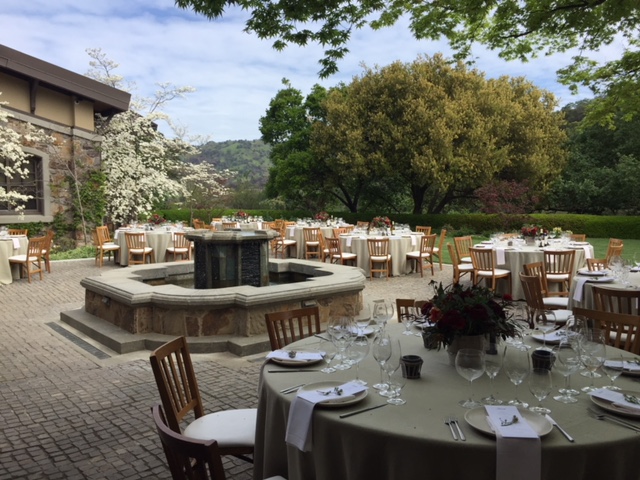 Naturally, Napa Valley, the state's most famous wine region, comes to mind initially for a wedding location, but the Napa Valley Wedding Ordinance restrictions (land use, traffic, noise, etc.) from the county allow only six "grandfathered" wineries to host a wedding. These wineries including Charles Krug Winery, V. Sattui Winery, Merryvale Vineyards, Hans Fahden Vineyards, and Beringer Vineyards. However, other Napa wineries like Silverado Vineyards are able to host rehearsal dinners, bridal showers and other private events on site. Charles Krug Winery, St. Helena, California, is the oldest in Napa Valley. The broad lawns, Redwood Cellar, and vineyard vista all create a truly luxurious setting for a wedding. The Charles Krug wines are some of the most awarded in the US, especially the signature Cabernet Sauvignon. Charles Krug has a wide portfolio of wine choices to create the ultimate food and wine pairing dinner. Located at the end of the Napa Valley Wine Train, your guests might enjoy this outing as part of your destination wedding.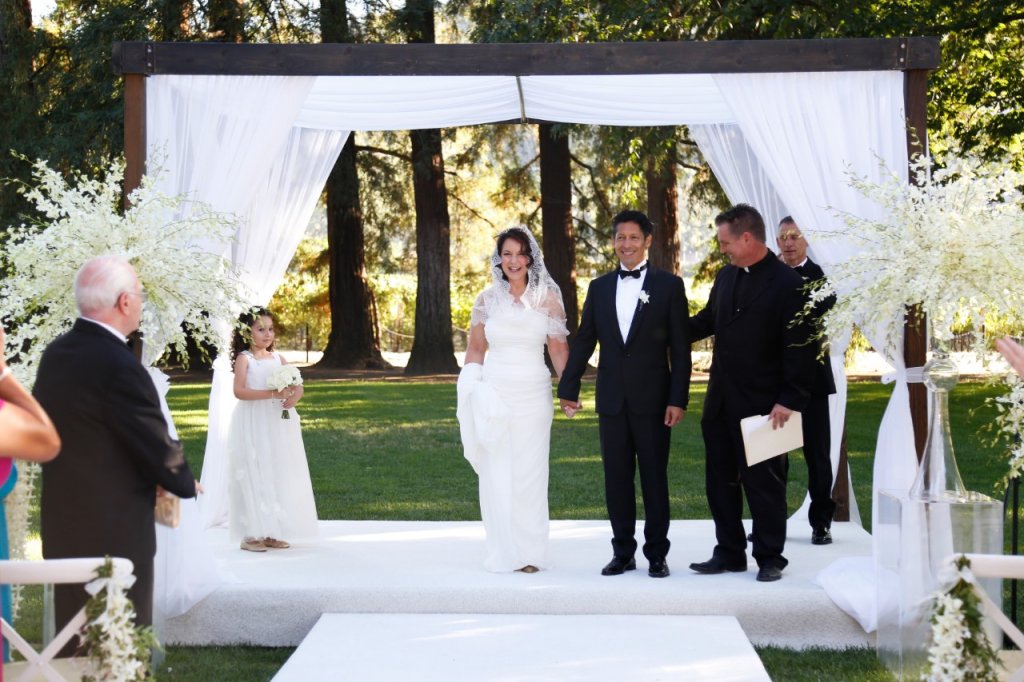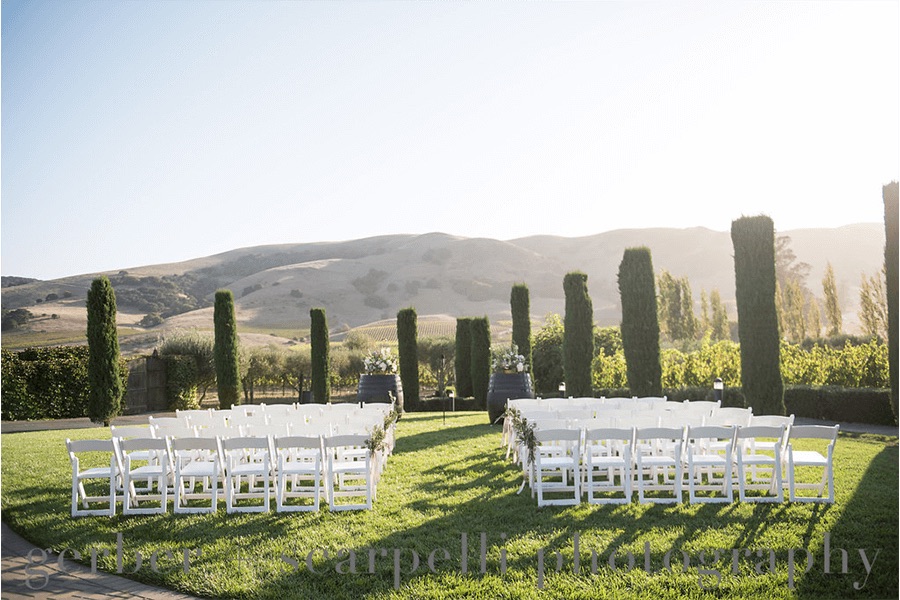 Sonoma County wins the California star for holding the most wedding ceremonies in the state. Standout wineries are BR Cohn, Viansa, and Gloria Ferrer. Viansa Sonoma Winery looks like a love story. The Tuscan feel of the winery, surrounding wetlands, bird preserve, and cypress trees let you understand why Viansa has served frequently as a movie setting or a wedding mecca.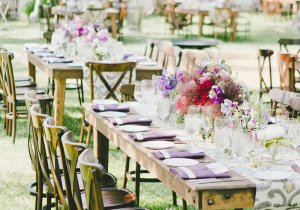 BR Cohn Winery and Olive Oil Company was built forty years ago with acres of vineyards nestled between the Mayacamas and Sonoma Mountains. They host weddings in all seasons. The founder grew up in the music business and ultimately managed the Doobie Brothers for 45 years as they climbed to Rock-n-Roll fame. The BR Cohn portfolio of award-winning wines is a centerpiece for many of the weddings taking place in the variety of locations they offer couples.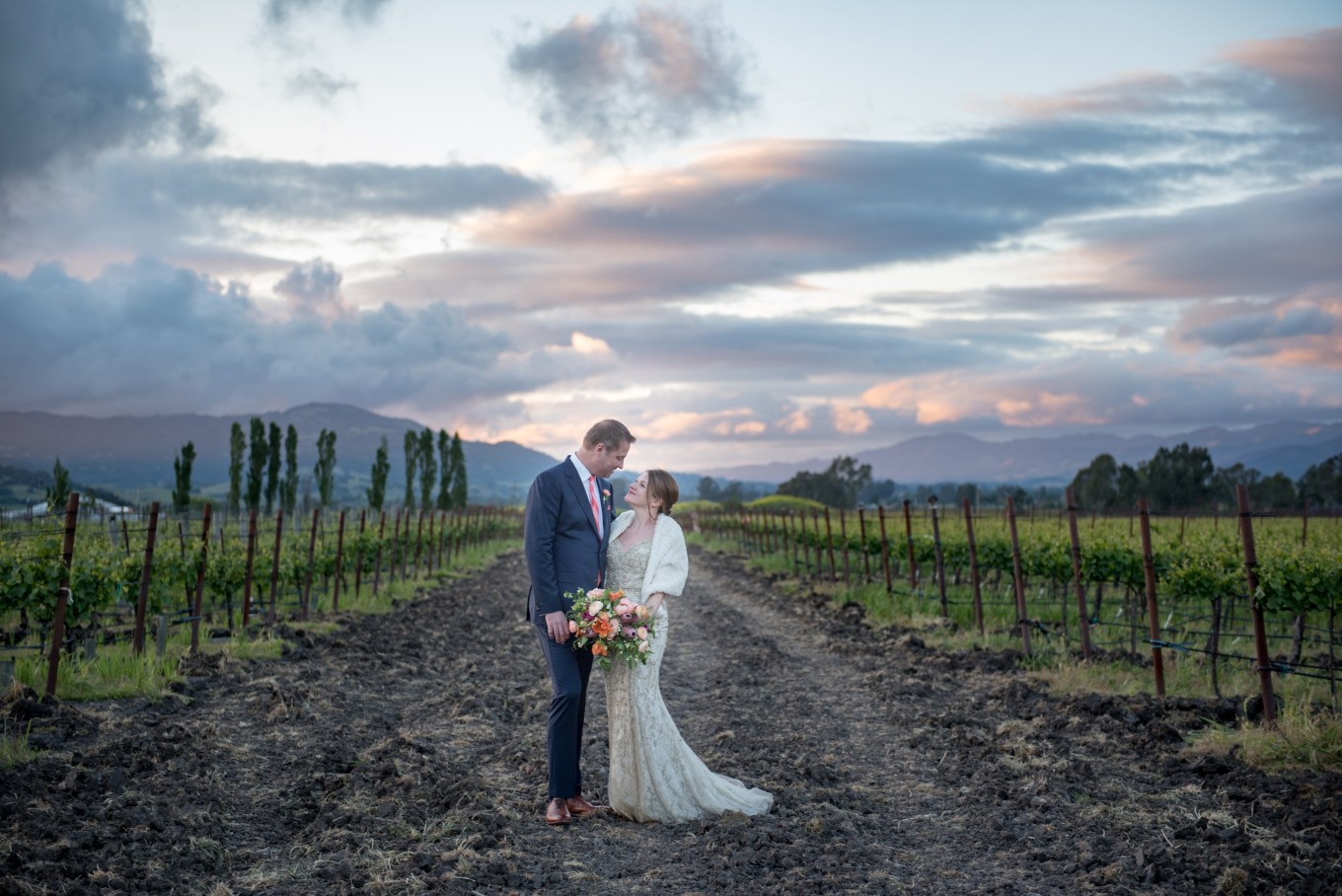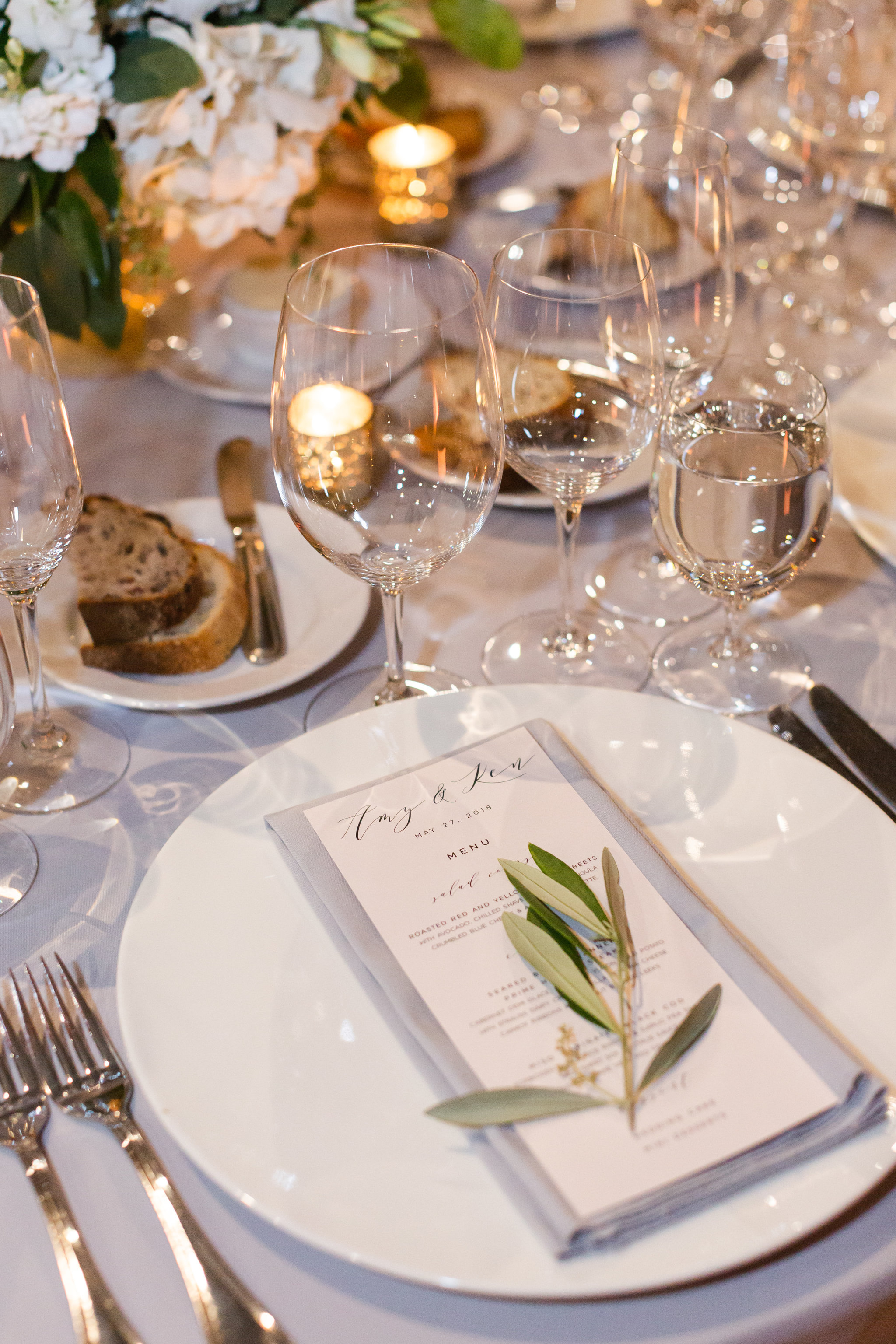 Gloria Ferrer Caves & Vineyards, famous as a sparkling wine producer, presents "Weddings that Sparkle." From the Vista Terrace guests have a stunning view of the Sonoma Carneros region. Ceremonies can take place overlooking the vineyard or in the wine caves. Their wine portfolio is broad and reflects the best grapes like Pinot Noir and Chardonnay that grow so well in the Carneros region of Sonoma County. The Gloria Ferrer Royal Cuvée sparkler would be perfect for your wedding toast.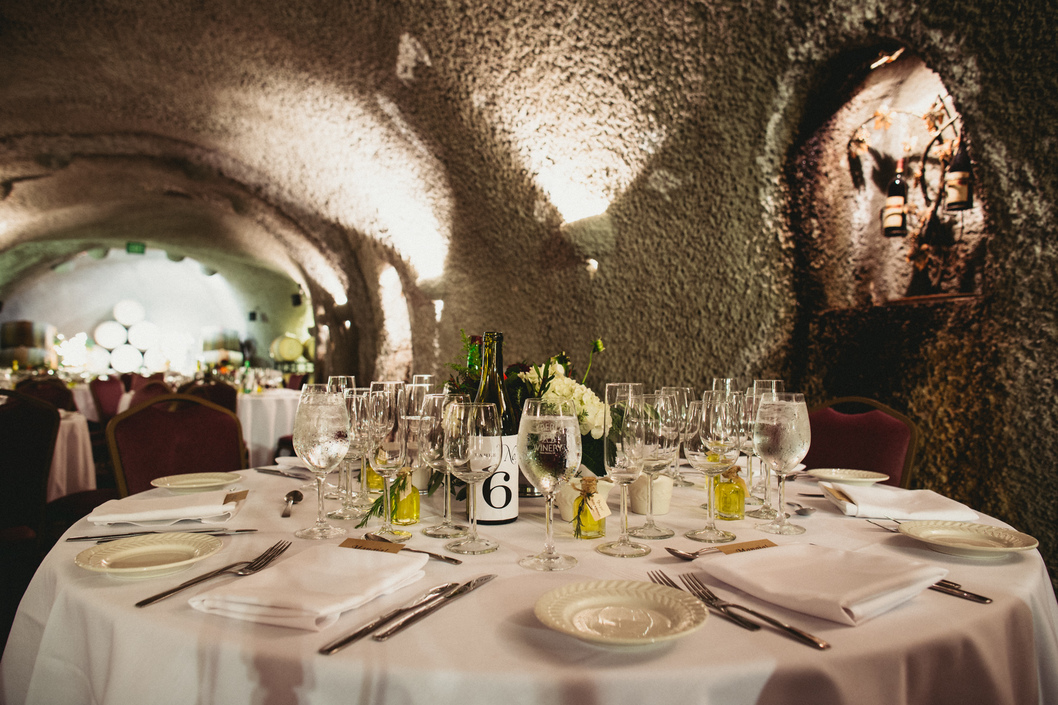 In Paso Robles, California, Eberle Winery features a Wild Boar Room located in the Eberle Winery Caves, which provides a unique ambiance for elegant candlelight dinners and receptions. The Vineyard Deck is a great spot for capturing a sunset over the Coastal Mountain range and sweeping views of the vineyards.
Texas Wineries
The Lone Star State ranks 5th in wine production, but first in the hearts many wine lovers. Texas lends its own cowboy traditions to the mix. The Texas Hill Country near Austin claims the most wine tourists, but venues near Houston, Dallas, and the High Plains AVA near Lubbock also offer scenic venues. Duchman Family Winery and Spicewood Vineyards near Austin, and Messina Hof near Bryan, Texas (also with Fredericksburg and Grapevine locations) are particularly sought-after wineries for weddings.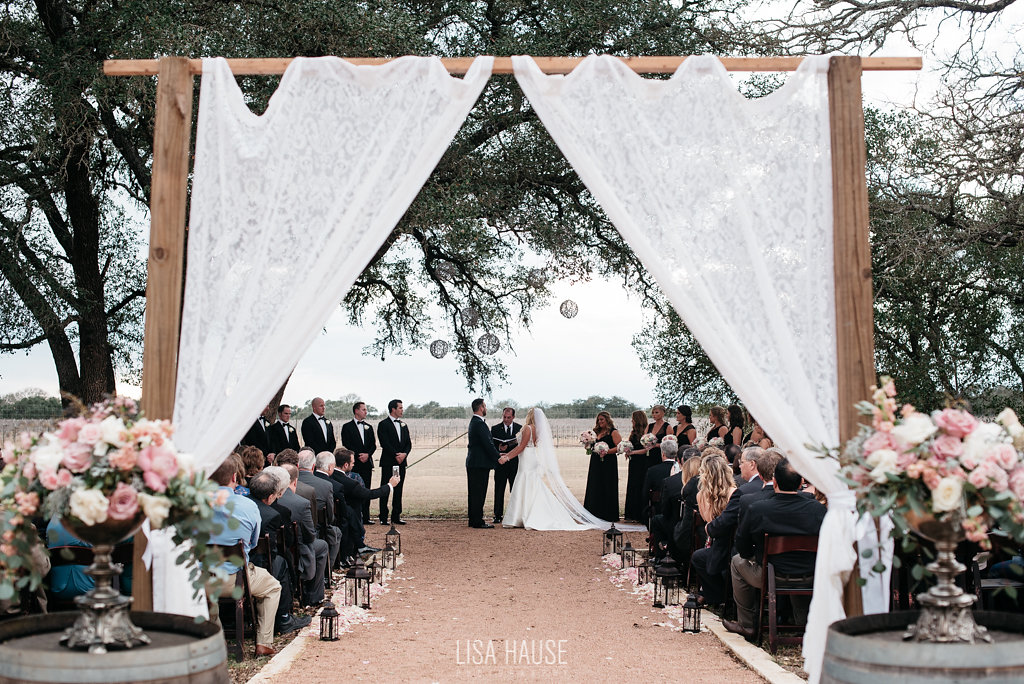 Duchman Family Winery, Driftwood, Texas, located in the Texas Hill Country near Austin has both a majestic seated vineyard location for ceremonies as well as a spacious Italian Villa-style event center. It is famous for its Italian varietal wines and ivy-covered winery that mimic the Tuscan Hillside, without the price tag. "Many brides like our place because its is only thirty minutes from downtown Austin and we allow outside vendors so each bride can create a wedding of their own." , said Callan Martin, Director of Events, Duchman Family Winery.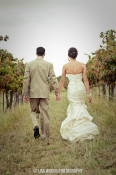 Spicewood Vineyards in Spicewood, Texas, located in the Texas Hill Country, is 45 minutes from Austin. This is a classic Texas gentleman's ranch, but with amenities for an elegant wedding. TheKnot.com has chosen Spicewood Vineyards as a "5 Star Top Pick for Weddings" two years in a row. The Spicewood wine portfolio includes white, red, rosé, and sweet wines to offer a variety to your guests. "Most of our brides come from Dallas/Ft. Worth, Austin and Houston. We range from intimate, cost effective weddings to luxury weddings with pyrotechnics at the end." -Lauren Sposetta, Event Manager, Spicewood Vineyards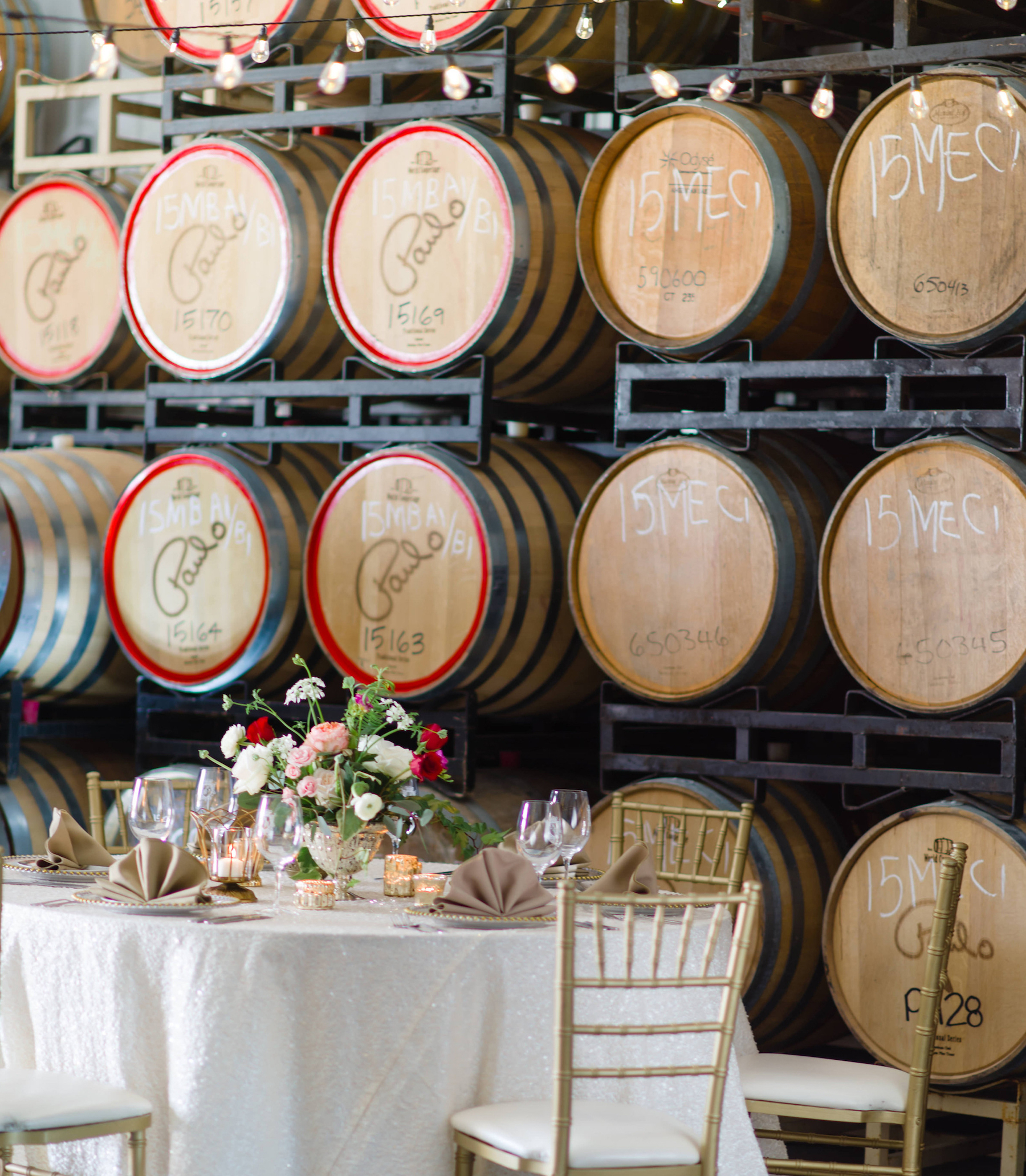 Messina Hof Winery and Resort has three Texas locations, including Bryan, Fredericksburg, and Grapevine, Texas. Each location offers multiple indoor and outdoor venue options for the perfect wedding. Messina Hof employs a Designer Events team to create custom packages for small and large events. The venues include the Gazebo, The Rose Garden, The Vineyard, The Lakeside Deck, The Gallery, The Cellar Room, The Balcony, and The Vineyard Room. Messina Hof's onsite restaurant, Vineyard Cuisine, is a concept created by Messina Hof's founders, which includes using wine in every dish.
Oregon Wineries
Oregon's Willamette Valley is famous for Pinot Noir and wedding adventures. Notable wineries that host weddings include Zenith and Maysara. Even wineries such as Stoller Family Estate, winner of USAToday's vote for "Best Tasting Room," which do not host weddings, do offer pre-wedding gatherings such as rehearsal dinners and bridal showers either indoors or on their broad front lawn.
Maysara Winery in the McMinnville foothills features one of the largest indoor and outdoor settings in Oregon Wine Country. The Tuscan-inspired stone and wood winery has a rustic sophistication and is surrounded by 532 acres of the Momtazi Vineyard. Both intimate and grand weddings can experience the grandeur of this location. "At Maysara we are giving couples the chance to tell their own love story. When a couple chooses to get married at Maysara, they put their own spin on how they represent their story," Hanna Momtazi, the Events Manager, Maysara Winery, explains.
New York Wineries
New York has two well-known wine country AVA's for the discerning bride. The North Fork AVA on Long Island and the Finger Lakes region in upstate New York are popular sites for many weddings.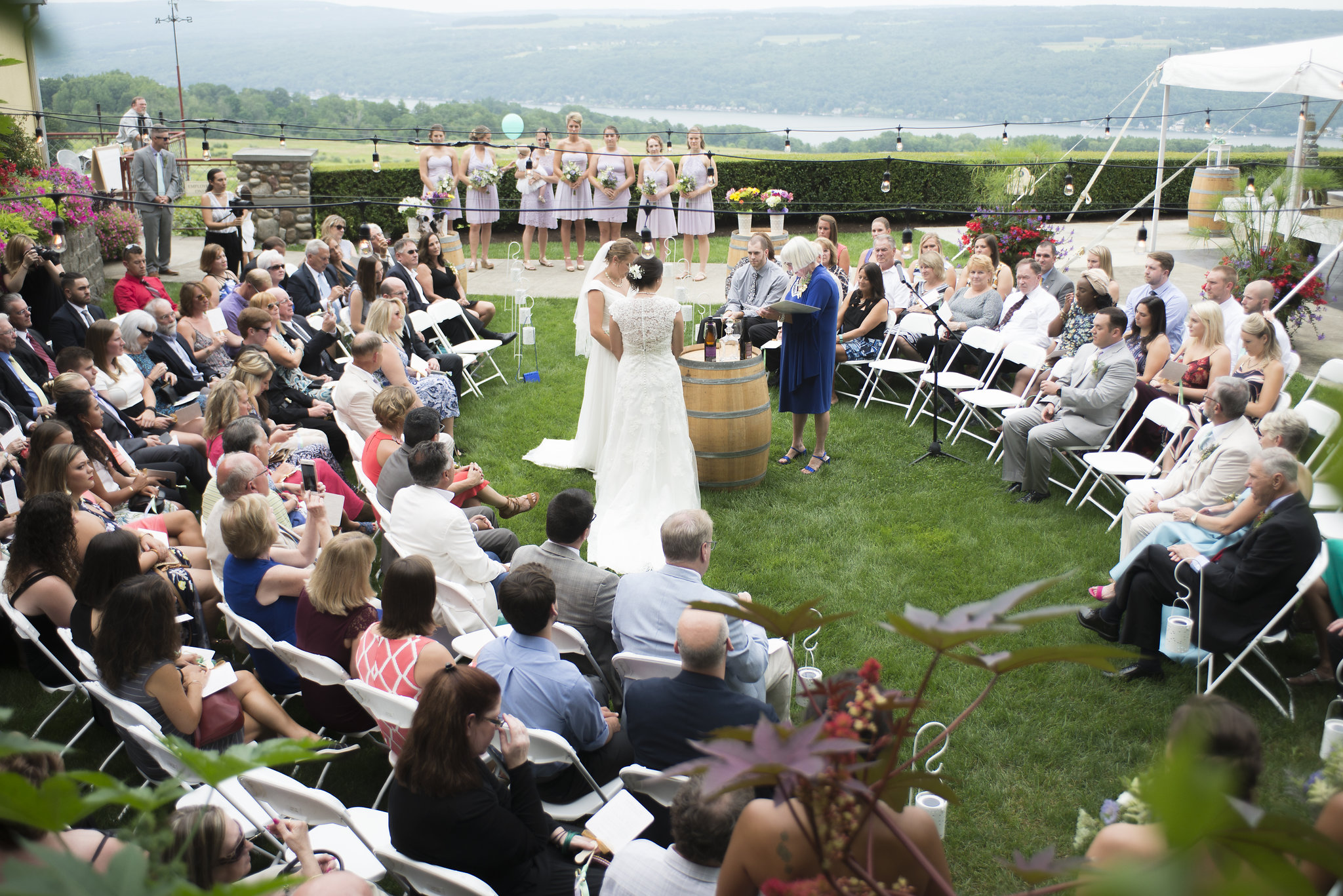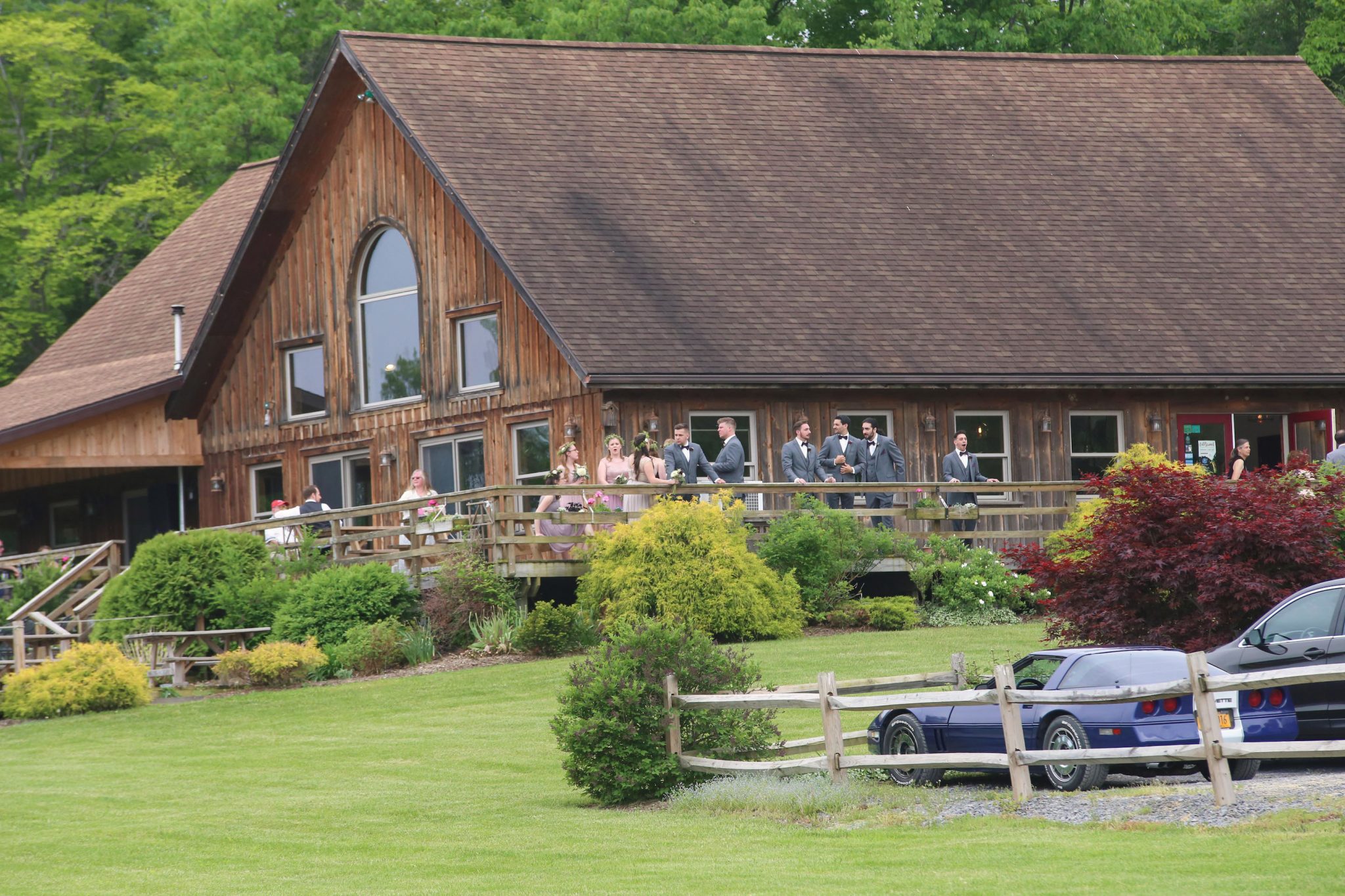 In the Finger Lakes region two wineries stand out. Heron Hill Winery features an exclusive caterer, Nolan's on Canandaigua Lake, with a landscape that is spectacular! Wedding and Events Coordinator Meghan O'Toole adds,"In addition to weddings, we are launching our Elopement Package (or Vow Renewal package) this year. We are overjoyed to celebrate all people of color and same sex couples at Heron Hill."
The other site is Buttonwood Grove Winery, winner of the 2017 Governor's Cup, "Best Wine in New York State." Couples frequently choose this winery due to its panoramic view of Cayuga Lake. The rustic casual feel and the beautiful pond-side ceremony site attract many couples. The on-site cabins are a big attraction for a destination wedding.
The Long Island North Fork AVA vista has the look of the Hamptons without the price tag. Convenient for a New York City arrival, many Long Island wineries offer wedding venues for accommodating up to 250 guests. Notable wedding locations with highly-rated wine portfolio's are: Macari Vineyards, Mattituck & Cutchogue, NY; Wölffer Estate Vineyards, Sagaponack, NY; and Bedell Cellars, Cutchogue, NY.
Virginia Wineries
Virginia is for wine lovers. A wide range of wine regions across the state from Shenandoah Mountains to Chesapeake Bay to Thomas Jefferson's Charlottesville area often host weddings with a Southern flair.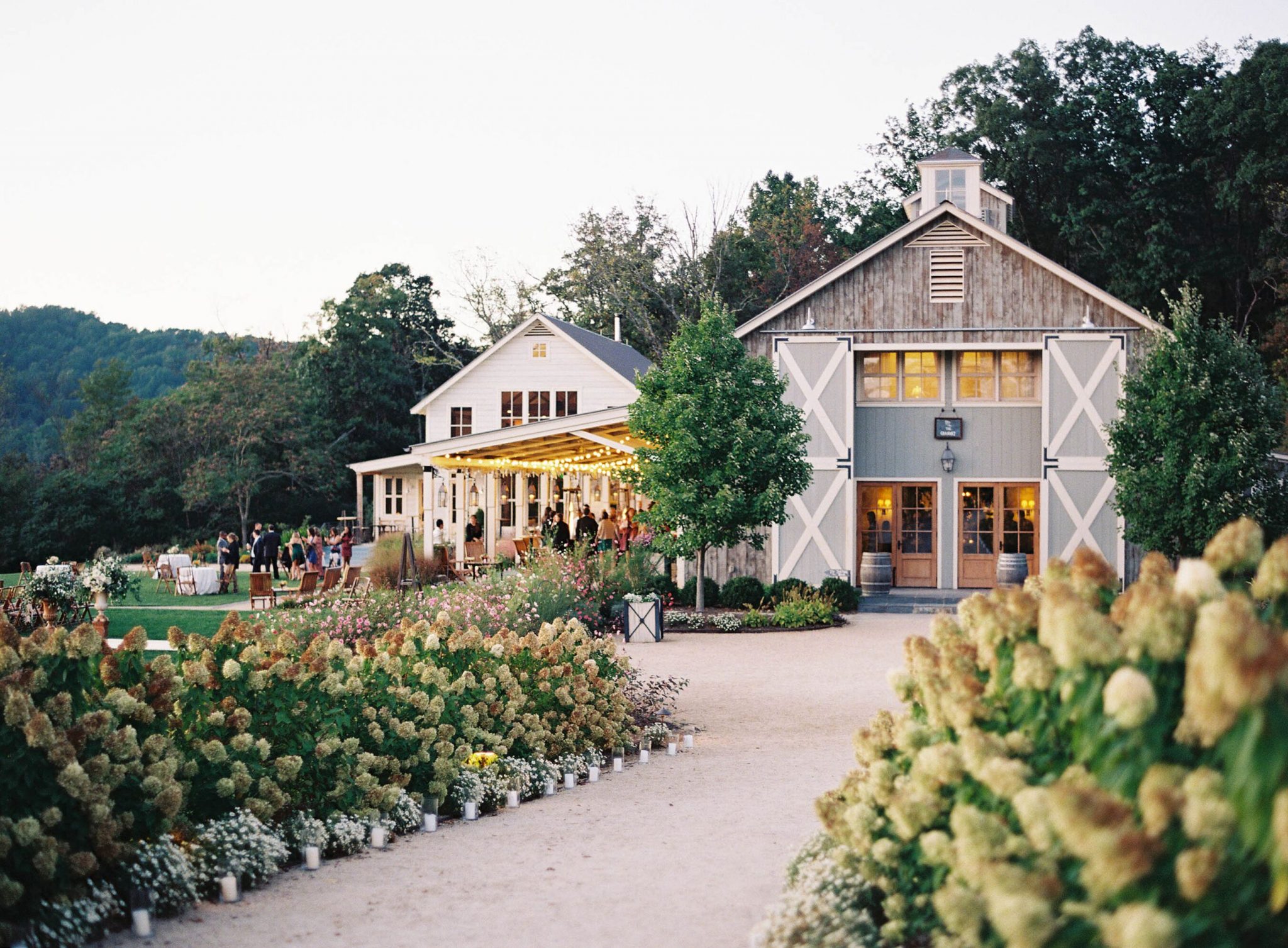 Pippin Hill Farm & Vineyards is located just outside of Charlottesville and near the Blue Ridge Mountains. This destination has been covered in Harper's Bazaar as one of the best garden venues in the country. Its executive chef, Ian Rynecki, offers couples traditional, customized menus based on the abundant locally produced vegetables, fruits, meats, and cheese of the region. "Co-founders Lynn Easton and Dean Porter Andrews designed the venue together – a true marriage of their talents developing luxury properties and styling events," , cites PR Director, Anna Kuskin.

Do's and Don'ts for a Winery/Vineyard Wedding
Do's
Do ask the winery about any restrictions for the venue: hours for outside receptions (noise might be an issue in the countryside), traffic and parking guidelines, and fireworks restrictions.
Do ask about any restrictions on bringing in other wine and food other than the recommended caterers.
Do ask if they have any preferred caterers, wedding planners, florists, transportation, bakeries, hair/makeup designers, entertainment (bands, DJ's, etc.), photography, lodging, house rentals, officiants, and videographers. The wineries often suggest a list of their preferred regional vendors.
Do enjoy the spectacular setting you have chosen!
Don'ts
Don't forget to ask if the wineries/vineyards only allow weddings after the tasting rooms are closed.
Don't bring in banned wine or food.
Don't expect that all wineries can host weddings.
Virtually anything goes in etiquette for a mature wedding, but here are a few tips:
Do tell your families about the engagement first, especially children. Should you tell your ex? Yes, if you have joint custody of children. Otherwise it is not required, but considerate.
Do incorporate the rest of your families as appropriate into the ceremony.
Lose the bouquet toss, garter removal, and the frou-frou Cinderella tulle gown with mega-train found in twenty-something weddings.
Check out how Katie Couric's girlfriends all dressed in hot pink to show their support.
A suggestion for the invitation: "Together with our families, Tom and Sue request the honor of your presence at their marriage" – rather than coming from parents.
Wedding dresses can range from a number of colors and lengths…even white…even pants.
Wedding planners are divided on whether to register. No, if the majority were at your first wedding. Yes, if it is your first wedding. Many register for giving to a charity.
A rehearsal dinner is not necessary unless you have out of town friends and family to entertain.
A gaggle of attendants is not needed, but there are other ways to incorporate family through readings, singing, and candle lighting ceremonies.
Repeat brides wonder whom should walk them down the aisle. Great choices are: dad, children, friends (male or female) or brides can choose to walk down on their own.
Make sure the toasts are neither too long, nor incorporate ancient history of previous marriages!
Contacting These Wineries, Wedding Planners, and Event Coordinators
California
Napa Valley Charles Krug, St. Helena, CA (full weddings allowed), Special Events Coordinator, Phone: 707-967-2223 Silverado Vineyards (rehearsal dinner only): Events, 707-257-1770 Sonoma County Gloria Ferrer Caves & Vineyards, Sonoma, CA Event Specialist, Phone: 707-933-1931 Viansa Sonoma Winery, Sonoma, CA, Weddings Events, Phone: 707-247-4770 BR Cohn Winery and Olive Oil Company, Glen Ellen, CA Wedding Events, Phone: 707-921-2891 Paso Robles Eberle Winery, Paso Robles, CA, Private Events, Phone: 805-238-9607
Texas
Duchman Family Winery, Driftwood, Texas, Director of Events, Phone: 512-858-1470 Spicewood Vineyards, Spicewood, Texas, Event Center, Phone: 940-367-5860 Messina Hof Winery and Resort, Bryan, Grapevine, and Fredericksburg, TX –Messing Hof Winery Weddings, Phone: 1-800-736-9463
Oregon
Maysara Winery and Momtazi Vineyards, McMinnville, OR, Events Manager, Phone: 503-843-1235 Stoller Family Estates, Dayton, OR, Private Events: (bridal showers, rehearsal dinners, not full weddings), Phone: 503-864-3404
New York
Finger Lakes Region For more information, contact: [email protected] Heron Hill Winery, Wedding and Events Coordinator, Phone: 800-441-4241 x 20 Buttonwood Grove Winery, Romulus, NY, Wedding Events, Phone: 607-869-9760
Long Island North Fork Region For more information, contact Long Island Wineries Macari Vineyards, Mattituck & Cutchogue, NY: Events, Phones: 631-298-0100 and 631-734-7070 Wölffer Estate Vineyards, Sagaponack, NY: Events, Phone: 631-537-5106 Bedell Cellars, Cutchogue, NY, Events/Weddings, Phone: 631-734-7537
Virginia
Pippin Hill Farm & Vineyards, North Garden, VA, Weddings, Phone: 434-202-8063
*AVA – American Viticultural Area – designated wine grape-growing region in the United States providing an official appellation for the benefit of wineries with examples, including Napa Valley, California, Texas High Plains, Willamette Valley, Oregon.