Many of us have not been able to see our grandchildren for quite some time because of the ongoing pandemic. Alas, we finally have a vaccine, and things can start getting back to normal. With that, it's time to start planning your next trip with the grandkids and begin making up for the lost time. To help you get started, we've put together a list of the best places to visit in the United States with grandkids.
1. Hawaii
It's probably no surprise to see Hawaii on our list. Regardless of which island you visit, Oahu, Maui, Kauai (pictured above), or the Big Island, you and your grandchildren will have a wonderful time, especially the tweens and teens. Since Oahu is the island with the most direct flights, it's our featured Hawaiian destination.
Oahu offers everything you would expect on a Hawaiian vacation, including a plethora of outdoor activities like parasailing and surfing, historical sightseeing at Pearl Harbor, fun luaus available at most resorts, wonderful food, and more.
We recommend staying at Disney's Aulani on the west side of Oahu. It has all of the perks of Disney but at the beach. They have several onsite restaurants, a kid's club and teen club, family crafts, beach toys, and more. While on the island, be sure to eat at Cinnamon's for breakfast, lunch at Giovanni's shrimp truck, and grab a treat at Shimazu Shaved Ice.
2. Anna Maria Island – Florida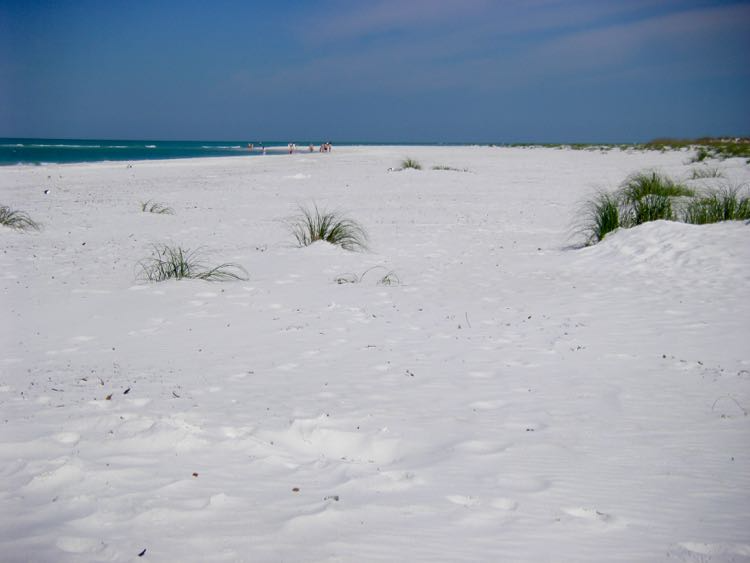 Anna Maria Island, Florida, is one of the most desired US Gulf Coast destinations for families of all types. Their sugar sand beaches are perhaps the cleanest, softest, and whitest along the entire Florida Gulf Coast. AMI is a top place to vacation with grandkids because of the enviable amount of vacation rental beach houses and condos. Choose a rental home with a private pool and hot tub as well as separate master suites. Visit beachfront restaurants and bury your feet in the cool sand while enjoying fresh fish tacos.
Our suggested best things to do in Anna Maria Island list include breakfast at Ginny's and Jane E's (The funkiest place in Florida!), morning beach walks, nightly Gulf Coast sunset celebrations, and a massive amount of amazing seafood. For a splurge, treat the family to dinner at Beach Bistro, one of the USA's top-rated restaurants (and probably the most casual one on that list). Make sure you visit Bean Point at the top of AMI (the widest beach section).
3. Sun Valley – Idaho
Sun Valley is a year-round luxury destination oozing with outdoor activities and frequent celebrity sightings. It is well known for skiing and was the #1 ranked ski resort in the West by SKI Magazine last year. They have large lifts and a gondola, making it easy to take your grandkids up to the top of the slopes. There are two ski mountains. One of them, Dollar Mountain, is an ideal place to learn to ski because of the beginner-friendly terrain.
In the summer, you can enjoy incredible hiking, horseback riding, biking through 400 miles of trails, fishing, golfing, and much more. There's even a year-round ice skating rink! Regardless of when you visit, we recommend staying at Sun Valley Resort, where you can take advantage of the swimming pools.
4. Pigeon Forge – Tennessee
Pigeon Forge is one of the most kid-friendly places you can find in the United States. Built in 1820 by Isaac Love, Pigeon Forge is a mountain town and vacation spot in eastern Tennessee.
Pigeon Forge is the home to Dollywood, country singer Dolly Parton's Appalachian-themed playground, which is made up of rides, a museum of her memorabilia and costumes, and an adjoining water park.
This area always has lots of fantastic outdoor opportunities to bike, hike, and much more. It is associated with new developments such as The Island, an entertainment complex that is full of music venues, stores, and restaurants, as well as "Pigeon Forge Snow," an indoor tubing winter wonderland.
Other incredible attractions in the city include dinner theaters, like Dolly Parton's Dixie Stampede, country music revues like the Smoky Mountain Opry, and outlet malls. It's also worth noting that Pigeon Forge has family-friendly campgrounds and RV parks, which allow vacationers to come with their RVs, tents, or camper trailers to enjoy both the area and the fun of camping in the outdoors.
Visit during the spring or fall season when the area has pleasant temperatures, and the local attractions are not overly crowded.
5. Naples – Florida
With over 270 days of sunshine a year, Naples, Florida, makes for one of the great trips with grandkids. Here you will find an abundance of beautiful beaches where you can swim, build sandcastles, and hunt for shark teeth. Other fun activities include kayaking through mangroves and visiting the nearby Everglades, where you can take a swamp tour. You can also take a private Naples boat tour with Pure Florida or a shelling cruise with Rising Tide Explorers to nearby Keewaydin Island. Both are a great way to discover hidden gems around Naples. You can also take part in identifying resident bottlenose dolphins with the Dolphin Explorer Eco Tour.
Visit the Golisano Children's Museum or Sun 'N Fun Lagoon, then have lunch on the water at Tin City Naples, a favorite family attraction.
Naples has a wide variety of excellent dining options. It is the home to the first Tommy Bahamas, which is a family-friendly restaurant with live music every night of the week. If you feel like Cuban food, be sure to check out the Rumba Cuban Cafe.
As for hotels and resorts that cater to families, the Hyatt Regency Coconut Point Resort and Spa is centrally located at the Coconut Point outdoor mall. There are also several excellent restaurants, bars, cafes, and a fun water park and lazy river, all on-site.
If it's a beachfront resort you're looking for, you can't get more family-friendly than the Ritz-Carlton Naples. Aside from personal service, their Ritz Kids program provides kids and families with the chance to immerse themselves in a living eco-sanctuary with aquariums, turtle discovery programs (during turtle season), and hands-on nature programs.
With an abundance of beautiful beaches, natural settings, and great shopping and dining options, there's enough fun for everyone to enjoy an extended family vacation in Naples, Florida.
6. Utah's National Parks
Utah is a fantastic place to bring the grandkids! There are five national parks in Utah: Zion, Bryce Canyon, Arches, Canyonlands, and Capitol Reef. They are known as the "Mighty Five" national parks. Grandparents over 62 can get a lifetime National Park Pass for $80. This is a great value, especially if you plan on visiting many parks.
Kids love hiking on the red rock formations at Bryce Canyon and Arches, seeing a weeping rock that actually looks like it is crying at Zion, and making echos in the tall canyons of Capitol Reef.
The junior ranger program is a great experience for kids. At each national park, a park ranger will give the kids an activity book to complete. Once the activity book is finished, they get a badge. Kids love collecting the badges at each park, and in Utah, you can start quite a collection!
Consider renting an RV and camping your way through the parks.
7. Cape Cod – Massachusetts
Cape Cod, Massachusetts, is one of the best places to travel with your grandchildren. Fifteen beautiful Cape Cod towns offer miles of beaches, which creates a natural playground for all ages.
Pack the plastic pails and shovels, and relax alongside the kiddos under an umbrella while they build sandcastles and exercise their imaginations. The Brewster Flats, which extend 9 miles along the coastline from Brewster to Eastham, is an excellent location. As the largest flats in North America, they are a safe-haven for young beach-goers, minus the surf.
Visit the northern beaches on Cape Cod Bay, like Mayflower Beach (Dennis) or Skaket (Orleans), to find warm tidal pools as the tide goes out. These "kiddy pools" may also hold small fish and hermit crabs to observe.
It's fun to walk the shore collecting seashells and smooth rocks from the northeast at any Cape Cod beach. Later, you can identify the shells online or use them for crafts, and the smooth rocks are great for painting.
Beyond the beach, you can explore nature trails and bike the Shining Sea bikeway. And of course, you're never far from an ice-cream shop or a children's bookstore, like Eight Cousins located in Falmouth. They have a great selection of picture books about the Cape that you can take home as a keepsake.
The best family experience is to rent a beach-front cottage anywhere from East Sandwich or Falmouth to P-town. Or, opt for the many family-friendly hotels on the Cape, such as Sesuit Harbor House (Dennis) or the Cape Codder Resort & Spa (Hyannis). With all of the great options, it's easy to find relaxed accommodations in Cape Cod where you and your grandchildren will feel welcome.
8. Key West – Florida
Key West is a beautiful place to take the entire family. With stunning beaches and plenty of things to do for kids of all ages, there is no better spot in Florida for a road trip with the grandkids. Water activities are an absolute must-do here. Go out for a boat trip or simply spend the day by the beach with a picnic. Stop by the Butterfly and Nature conservatory, which is great even for young children. The kids will love seeing the many different types of butterflies in their natural habitat here.
Older children will enjoy a trip to historic Fort Jefferson, which you can visit free of charge. This impressive spot is a definite addition to your itinerary. And finally, a piece of the iconic Key Lime Pie is the perfect way to end a busy day in Key West; we recommend eating a slice at El Mason De Pepe.
9. San Francisco – California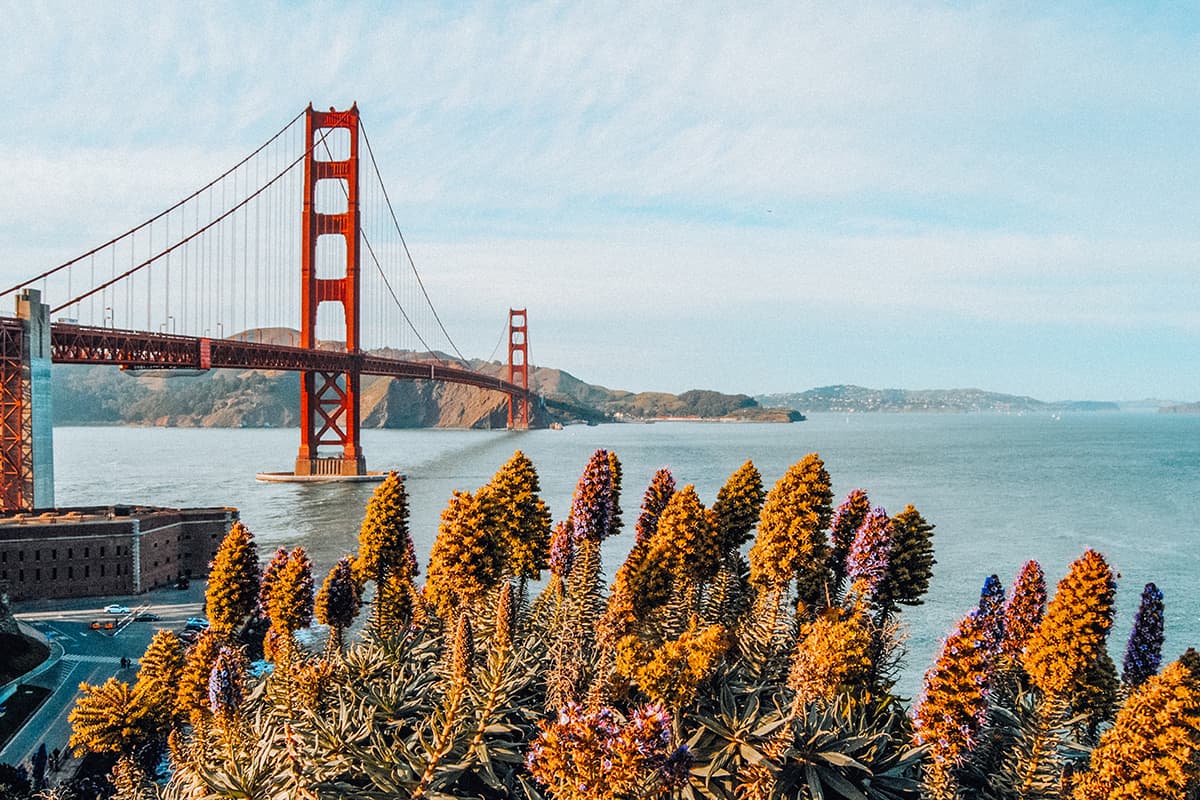 Home to tons of gorgeous parks, galleries, and exquisite eateries, San Francisco is filled with activities you can enjoy on trips with your grandkids.
Take a stroll at the Golden Gate Park, or even better — go for a bike ride to explore some of its hidden gems. You'll even come across mini waterfalls if you wander off the tourist path! Inside the park, you'll find the stunning Conservatory of Flowers and the Japanese Tea Garden — perfect places to go for a stroll with your grandkids.
If you're into art galleries, be sure to stop by the beautiful Palace Of Fine Arts. It's not far from the famous Golden Gate Bridge, which you can bike across together to Sausalito! There are many beautiful viewpoints of this bridge, and one of the best ones is from Baker Beach. Because the view is so spectacular, be sure to bring some good camera gear to capture these special moments with your grandkids! As a photographer, I recommend some of these Nikon D3100 lenses.
Don't leave San Francisco without stopping by the stunning Painted Ladies, a picturesque row of colorful houses sitting across a beautiful green space. This is also a great place to enjoy a relaxing picnic with your grandkids!
10. St. Augustine – Florida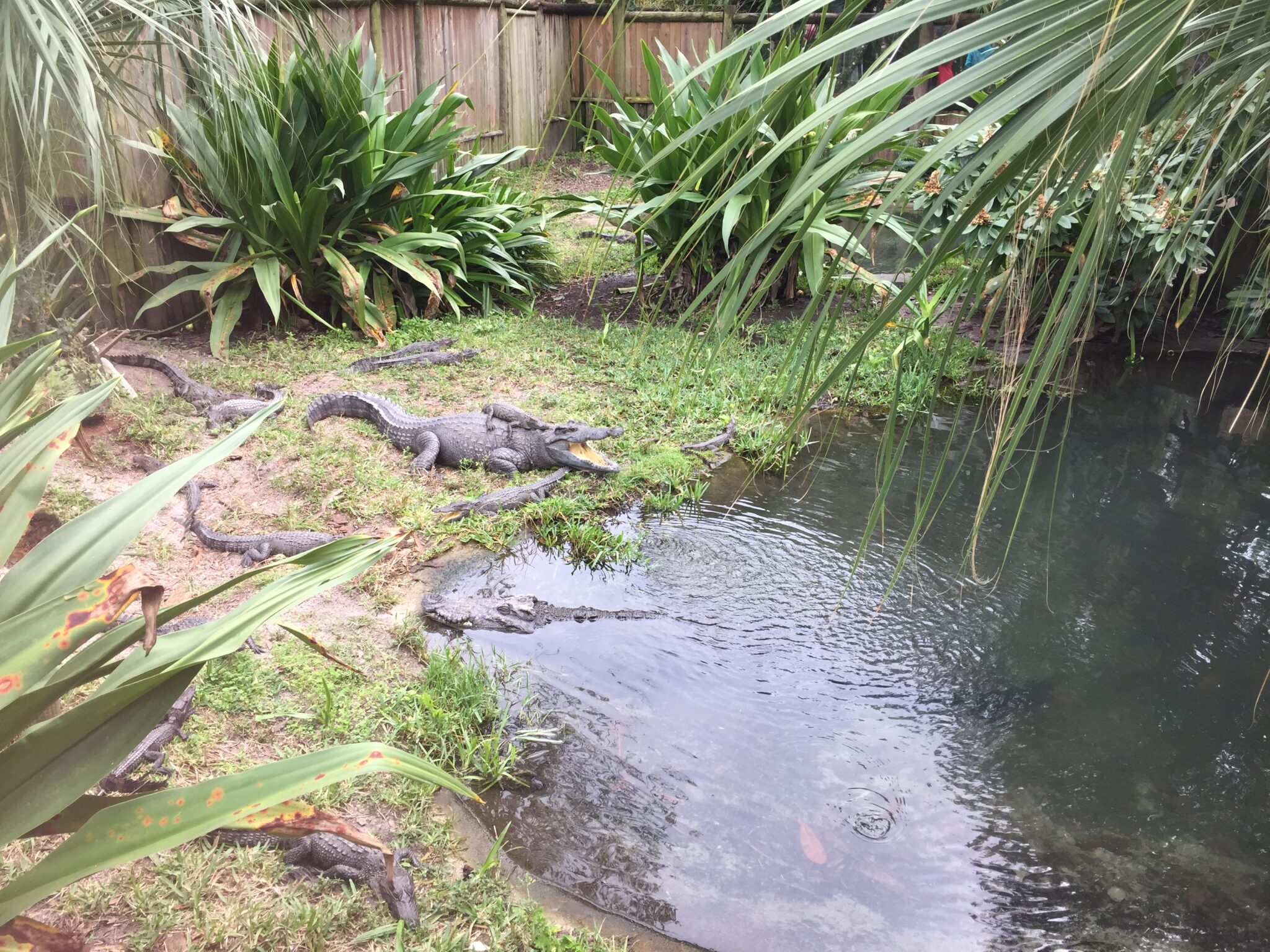 St. Augustine, Florida, is the perfect destination for trips with grandkids for several reasons. It is on the Atlantic coast with great sandy beaches. The city itself is beautiful, with 450 years of rich colonial history and a stunning downtown core. Kids will enjoy visiting the oldest school in the USA, as well as watching cannon balls fire from the Castillo de San Marcos fortress. There's a good trolley tour you can take to make sure you see everything and learn about the area's rich history.
Another great family activity in St. Augustine involves some climbing. St. Augustine Lighthouse has over 200 steps, but the view from the observation deck is well worth the effort.
Not far from the lighthouse, our top family fun place has to be the Alligator Farm, which is both educational and fascinating. The farm is a fun place where you can spend a half-day with your grandkids and learn about these intriguing reptiles. The Zoo-park is set in a spacious tropical garden with many exhibits and enclosures. We highly recommended you visit there.
11. Jackson Hole – Wyoming
Home to the first national park in the U.S. and perhaps the world, Yellowstone National Park's lower loop is doable in a day from Jackson Hole. Not only will you see Old Faithful, but herds of bison are scattered in fields along the way. Home to elk, moose, black and grizzly bears, wolves, pronghorn sheep, mountain lions, and more, the wildlife sightings are frequent and thrilling, not only in Yellowstone but all around the Jackson Hole area.
Within the Jackson Hole area is the Grand Teton National Park where the Grand Tetons provide a stunning background for hiking, rafting, and fishing on the Snake River. The hike around Jenny Lake to Hidden Falls (or taking the boat across the lake) is a favorite for tourists, as is, swimming or paddleboarding in nearby String Lake. There are several places to ride horses scattered throughout the valley for an hour or all day, and the Jackson Hole Ski Resort in summer has a bike park, bungee trampoline, ropes course, climbing wall, and more. Activities to entertain all age groups are truly endless.
You do need to plan your trip a year or more in advance for good accommodations. They range from very expensive (Amangani and the Four Seasons at the ski resort) to basic hotel rooms. If you don't mind a sparse cabin with incredible views, check out Dornan's Spur Ranch log cabins in Moose. Plan to have breakfast at Dornan's Chuckwagon whether you stay there or not. It's located right at the entrance to the park where you can rent bikes to ride the miles of bike paths inside the park. Condos and homes are available through VRBO. This is a trip your grandkids will never forget!
12. Beaver Creek – Colorado
Beaver Creek is a place we can't wait to go back to and a place we hate to leave when the trip is over. The saying goes: The winter brings you there, and the summer keeps you there. Home to a world-class ski resort with 3 mountains and the best family ski school in the world, it also has access to alpine slides, sleigh rides up a mountain to Beanos Cabin, or flavored smores by the fireplace at the Hyatt!
In the summer, take part in hiking, golfing, and whitewater rafting. You can also stay active with zip lines, picnics, and exploring the bike trails surrounded by the artistry of mother nature, where families can be healthy and happy.
Stay in world-class hotels like the Ritz at Bachelor Gulch, or rent a wonderful place through VRBO!
13. Whitefish – Montana
Whitefish, Montana in the summer is hard to beat. If you're going to stay in a rental house, we recommend VRBO house #738753. It was perfect because we could walk to the base camp, and the kids could ride the lift up and then either slide or take bikes down. We spent many hours enjoying each other's company, and the weather was absolutely amazing on the front deck and hot tub. There are many kid and adult activities of all kinds, including riding ATVs, golfing, mountain biking, fly fishing, and more. In the evening, you can charter a boat and head out for a sunset ride. With Glacier National Park just a short trip away, you'll find ample opportunities for adventure and endless sightseeing.
14. Sunriver – Oregon
, Oregon, is an excellent destination any time with outdoor seasonal activities available year-round. In the winter, enjoy ice skating, free-guided snowshoeing, or incredible skiing at Mt. Bachelor.
In the summer, enjoy whitewater rafting down the Deschutes, horseback riding with Sunriver Stables, hiking, a summer tubing hill, kayaking, and Sharc the waterpark. Between Sunriver and Bend are many off-roading trails where you can take a Razr or ATV out exploring. If you are not comfortable taking your grandkids off-roading alone, we highly recommend doing one of Outriders NW guided tours. Also between the two cities is a great kid's museum, High Desert Museum.
The entire area is bikable, with extensive bike trails throughout the community. If you can't bring your own, don't worry. Most of the rental homes include at least two bikes, and several places rent them. Around the village are tons of good places to eat and an abundance of vacation homes available for rent. Be sure to have breakfast at Cafe Sinatra one morning and have dinner at Sunriver Brewing, where you can try a local microbrew.
No matter where you decide to take your grandkids on vacation, one thing is for sure, you will all have a great time. Happy travels!
Read Next:
Preventing Pre- and Post-Vacation Stress