It's time for the bright lights, cheerful spirits, and wonderful books of the holiday season! Choose one of these books to enjoy reading, and since books are the best gifts, make space on your holiday shopping list! Reading is the gift that keeps on giving, and here is an excellent list of books to read in December.
May your holidays sparkle with moments of love, laughter, and goodwill! Happy Holidays to you!
The Queen: Her Life is a well-researched, insightful, nostalgic read by the royal biographer Andrew Morton. It is a candid look into the private side of Elizabeth, who delights in her children, grandchildren, great-grandchildren, horses, and dogs. She also has a fantastic sense of humor. The book ends with England making plans for Elizabeth being the first monarch to celebrate her platinum anniversary.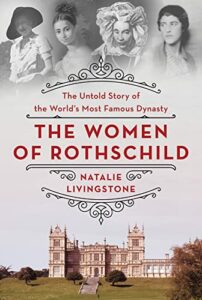 The Women of Rothschild gives a strong voice to the women who played a huge role in the financial growth of this iconic family and yet whose significant contributions have been seriously overlooked for generations. Drawing on archives, memoirs, and published sources, the book focuses on the British branch of the family, examining eight generations whose influence reached into politics, literature, and social reform.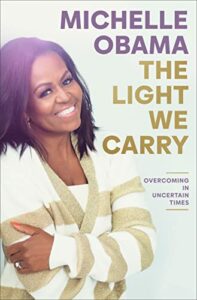 The Light We Carry is part self-help and part memoir. Obama shares her personal life stories with readers to advise others who might be facing similar challenges in these uncertain times. This book would make a great holiday gift for yourself or others – timely as it might help the reader set New Year's goals/intentions. There are great reviews for the audiobook, which is read by Obama.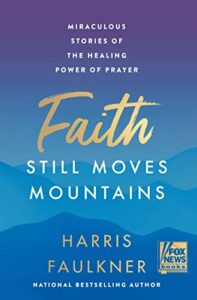 Faith Still Moves Mountains focuses on the power of prayer and spotlights inspirational stories illustrating the miracles of faith. Faulkner details how faith influenced her own life and offers moving examples of devotion from others. The book includes an exclusive packet of newly written prayers that will provide a road map for putting the lessons of these stories into action.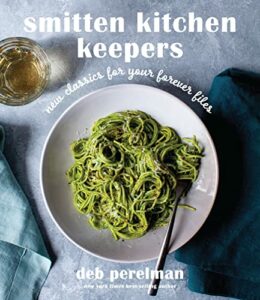 Smitten Kitchen Keepers presents 100 recipes that aim to make shopping easier, with preparation more practical and enjoyable and food more reliably delicious for the home cook. These recipes are obsessively tested to ensure no bowls are wasted, and the results are always worth the effort. These are the fail-safe, satisfying recipes you'll rely on for years to come!
**A "BON APPETIT" BEST COOKBOOK OF THE YEAR**
No Filter by Paulina Porizkova | Memoir
No Filter: The Good, The Bad and the Beautiful is a heartfelt memoir by former Czechoslovakian model Paulina Porizkova. The book is a wise and compelling exploration of heartbreak, grief, beauty, aging, relationships, re-invention, and finding your purpose. Porizkova bares her soul and shares the lessons she's learned—often the hard way. After a lifetime of being looked at, she is ready to be heard.
CLASSIC: Jane Eyre by Charlotte Bronte | Historical Fiction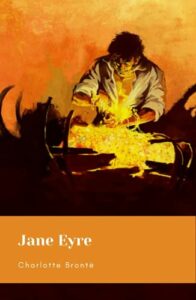 Since its publication in 1847, Jane Eyre has fascinated every kind of reader, from the most critical and cultivated to the youngest and most unabashedly romantic. It lives as one of the great triumphs of storytelling and as a moving and unforgettable portrayal of a woman's quest for self-respect. Adapted on film in 1947 with Orson Wells and Joan Fontaine; 1996, Directed by Franco Zeffirelli; and a 2006 BBC four-part mini-series.
In Case You Missed It: Here's Sandy's reading list from December 2021!
The Power of Women confronts sexual violence used as a weapon of war in the Democratic Republic of Congo. The book illuminates the enduring strength of women in the face of violence and trauma, giving hope for the potential to make the world a safer place for women.
These Precious Days by Ann Patchett – Collection of Essays
These Precious Days is a personal collection of essays that reflect on the unexpected turns in life that we do not see coming. The title essay is about a surprising and unexpected friendship that explores finding someone with whom you can be your best and most complete self.
The Chancellor details the remarkable rise and political brilliance of Angela Merkel, the most powerful and elusive woman in the world. Merkel was a complete outsider, a research chemist and pastor's daughter raised in East Germany, who became the unofficial leader of the West.
The Christmas Pig is a holiday fantasy about a boy who loses his beloved stuffed pig the day before Christmas and goes to "The Land of the Lost" to get it back. Through his adventures, the boy learns that loss is part of life and that what was lost can always live on in our hearts.
Never by Ken Follett – Fiction/Thriller
Never is the story of how World War III could happen with Africa, France, America, Korea, and China all playing out what they "believe" to be true. The book is full of heroines and villains, false prophets and elite warriors, jaded politicians, and opportunistic revolutionaries. In the United States, the first woman President does everything she can to avoid war.
Going There by Katie Couric – Memoir
Going There is a candid biography of Katie Couric's humble beginnings to the historic anchor chair at the CBS Evening News. In a world rife with sexism and misogyny, Couric reveals what was going on behind the scenes of her sometimes tumultuous personal and professional life.
The Judge's List by John Grisham – Fiction /Mystery
The Judge's List builds on characters introduced in Grisham's 2016 novel, The Whistler. A sitting judge is suspected of being a serial killer, and he has a list with the names of his victims and targets, all unsuspecting people unlucky enough to have crossed his path and wronged him.
If you are an Amazon Prime member, you get a free Prime Read each month. Right now, our favorite is the love story The Choice by Nicholas Sparks.
Read Next:Sandy's Selections: New Books to Read In AugustSandy's Selections: New Books to Read in May