This month, I gathered together a list of books about families like the ever-changing family I have experienced. The good families. The complicated families. The imperfect families. The evolving families. All the people I would love to have at my table.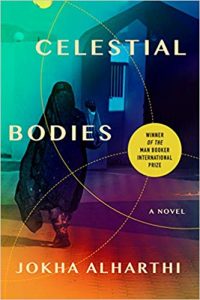 Set in al-Awafi, Oman, this book follows the lives of a large extended family whose family history of cultural clashes, slave trade, secrets, and intrigues unravels like an intricately patterned wool rug. Maya and her two sisters, Khala and Asma, come to age in a time where traditional and modern ways clash. Maya has a traditional arranged marriage to Abdullah, who is a partial first-person narrator of the story. Khala wants to marry for love. While Asma, the romantic, trusts her marriage to fate, who she is sure will deliver her soul mate. The first person and third-person narrative alternates throughout the book, moving us forward and backward in time almost lyrically, and making it hard to stop reading.
Shameless plug for Audible: I am not sure I would have enjoyed this book as much as I did without the extra bonus of the in-language parts being read to me. Do yourself a favor and listen to this one.
If you like this one you might also enjoy A Place for Us: A Novel by Fatima Farheen Mirza or an old favorite of mine, Dreams of Trespass by Fatima Mernissi.
This book tells the intertwined stories of Yale and Fiona. Yale and his family of other gay men are living in Chicago during the AIDS epidemic of the 1980s. Fiona, sister of Yale's dear friend who died of AIDS, is trying to find her daughter in current-day Paris. The AIDS crisis is addressed poignantly and tenderly. The narrative brought to life Chicago then and Paris today — and also gave a nod to the Paris art scene after the first World War.
>READ: A FAMILY'S PILGRIMAGE TO WWI SITES
Honestly, this book wrecked me with the memories it brought up; I kept looking at the Rebecca Makkai's bio to see if she could possibly have been around during the AIDS crisis because so much of the narrative was spot on. Ultimately, it may be my top pick for books reads this year because of the hope I felt at the end — for gay men, for families, for humanity. It's a must-read.
If you like The Great Believers you might like Makkai's other books: The Hundred-Year House or The Borrower: A Novel.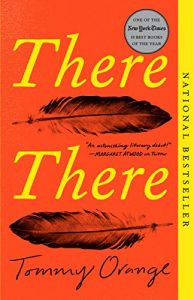 This novel celebrates the preparations of 12 "Urban Indians" as they prepare for the Big Oakland Powwow in California. Some are coming to see family, some to dance, some to celebrate their heritage, and some are just trying to get by however they can. As they converge together, Tommy Orange gives us an in-depth look at what it means to be Native in colonized America: the poverty, the proud heritage, the rage, the alcoholism, the suicide, and the love. And as the Powwow gets underway, the shocking event that changes everything will leave you changed forever.
Other novels about the Native American experience you might enjoy: The Round House by Louise Erdrich and One Thousand White Women by Jim Fergus.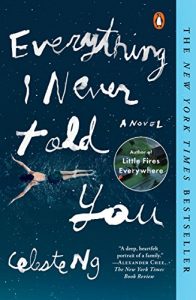 Lydia is from a tight-knit Asian American family. Everything looks so good on the outside, so how exactly did Lydia end up dead? Celeste Ng's debut novel peels back the layers of this loving family. By exposing the places where not everything is as it seems, Ng makes us look at things we don't want to see in ourselves. Ng has a way of taking the ordinary secrets of families and making her reader see them for the first time.
Other books you might like if you like this one: Little Fires Everywhere (also by Celeste Ng) and The Namesake by Jhumpa Lahiri.
>READ: 9 BOOKS ALL SUCCESSFUL PEOPLE SHOULD READ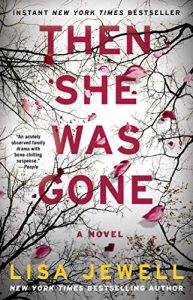 Teenaged Ellie Mack disappeared without a trace ten years ago. Her mother, Laurel, doesn't want to move on, but everyone else seems to have done just that. Then she meets Floyd and to her surprise, she starts dating and enjoying life again. But it's a strange coincidence that his daughter, Poppy, looks just like Ellie. I struggled with putting this one on my list. Sure, it's about a tight-knit family, and they do rally around the disappearance of Ellie. But this is an emotional roller-coaster of a read, and I feel a big disclaimer should come with it: Be prepared for parts of this story to haunt you as a mother.
If you enjoy this one, a new Lisa Jewell novel was released this month: The Family Upstairs.
Let us know what books about families you love, and what you are reading this month in the Prime Women Facebook Group.
>JOIN THE PRIME WOMEN FACEBOOK GROUP
>READ: OCTOBER THRILLERS: BOOKS FOR A SPOOKY READ
>READ: SANDY'S SELECTIONS: DELIGHTFUL DECEMBER READS