Discovered by world-renowned agent Eileen Ford at age 14, British-born Vanessa Angel rose to fame as one of the world's top supermodels of the 1980s, gracing the covers of magazines such as Harper's Bazaar, Cosmopolitan, and Vogue. In 1985, the leggy beauty transitioned into acting with John Landis's feature film "Spies Like Us," ultimately landing the lead role as Lisa in USA Network's "Weird Science." Her turn alongside Woody Harrelson and Bill Murray in the now-classic "Kingpin" solidified her as a genuine leading lady.
Since that time, the projects haven't stopped, and neither has Vanessa, maintaining her greatest role as that of mother to daughter India Otto. Yet, with all she does, Vanessa manages to retain her classic beauty and grace. Recently, I sat down with Vanessa to pick her brain about how she sustains her prime-of-life beauty – inside and out?
Vanessa Angel's Beauty Regime
I first wash my face with Dermalogica's Daily Microfoliant then put on their Active Moist Moisturizer. It's light and doesn't cause breakouts. If I'm going outside, I'll use some of their Oil-Free Matte, SPF 30 – although I never put my face directly in the sun. I also use their Intensive Eye Repair if my eyes are looking puffy or dark. If I have to be on camera, I'll do an eye mask from Sephora. It temporarily brightens the area. I've tried so many skincare products over the years and have found these work the best for me.
How about makeup? You look so natural… and gorgeous.
I don't wear much, so my make-up bag is tiny. I've had years of professional make-up so all those fantasies have been indulged. I use Laura Mercier Secret Camouflage, sc-2 under my eyes, around my nose, and on any spots. I don't use base unless I have to do my own make-up for filming, and then I use a BB (blemish balm) cream, usually Este Lauder Day Wear. Then Laura Mercier's translucent powder to smooth the skin. For my eyes, I use a Charlotte Tilbury Mesmerize shadow in Marie Antoinette on my lid, and sometimes a little pencil in the outer corners. I always come back to Maybelline Great Lash. It's inexpensive and as good as the higher priced mascaras. Anastasia Brow Wiz in Soft Brown on my brows and Nars Blush in Orgasm. On my lips, it's either Vaseline or Nyx Butter Gloss in Tiramisu. That's pretty much it!
Do you have a before-bed ritual?
I wash my face with Dermalogica Clay Cleanser, then use a daily resurfacing pad. I think RoC makes them. They're my favorite product! It's a mild alpha hydroxy product and brightens the skin. If I'm going to be working the next day, I'll put on a neo strata bio hydrating cream which gives a similar result. If my body is dry, I use La Roche Posay Lipikar Balm. It's the best body moisturizer. I use it after every shower. Then Dermalogica Intensive Eye Repair again, Vaseline on my lips, and that's it!
What are your thoughts on plastic surgery?
I'm not a fan of it for myself, but if it makes you feel better, I'm all for it. I like a natural look, although it's not easy to look in the mirror and see changes – especially in the lower face and neck. I tried Botox when it first came out, but it's not for me. As an actor, your face has to move naturally and the camera picks that up. I also think it's essentially a poison and probably not good to be putting in your body. I prefer a great facial and clean living to stay youthful. Oh, and lots of sleep and water! It's cliché but it does help. Maybe because I grew up in Europe, but I still adhere to the "grow older gracefully" adage. I think older women in Europe are more revered in some ways.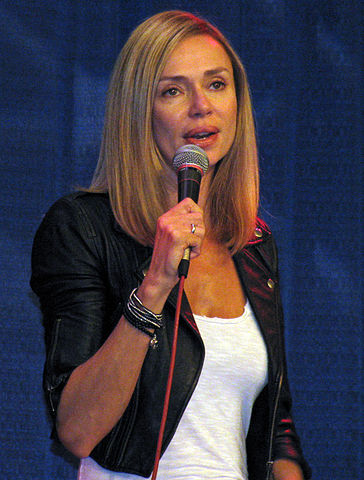 Your hair is beautiful. How do you take care of it?'
I've kept it long for several years now, so I trim it about every four months. It's pretty dry because I highlight it so the bleach causes it to need extra care. I go in phases of trying new things. Right now, I'm using Kirkland Moisture Shampoo from Costco! It's surprisingly good, and Schwarzkopf BLONDME keratin restores conditioner which helps keep the highlights brighter. If I'm going out, I blow dry and use a curling iron for a soft wave. If it's still a little frizzy, I use Oribe Balm D'or, or a dab of Moroccan oil if it's dry. I've been fortunate to work with some of the greatest hairstylists of all time and wish I'd paid more attention to their skills.
I see the photos of your body on Instagram… and I hate you. LOL.
I've been a fan of Pilates for the past 20 years. Before being a mom, I did more traditional weight lifting workouts. Now, (I mean prior to the pandemic), I work out at Pilates Plus three times a week. It's harder than regular Pilates and a full body workout. I combine this with yoga which I've been doing since '92. I recently added some free-weight work at home since no workout studios have been open. I find it helps with strength and keeping my muscles toned.
You have a serene presence. Do you have a spiritual practice?
I've been on a spiritual search since my teen years. I'm curious about digging in further into my consciousness to find inner peace. I didn't grow up with any specific religious influence. I guess to me, love is the deepest truth and the principles of kindness and connection to all things. I've read many "consciousness awakening" teachings from Buddhism, to Sadhguru, to Ekhart Tolle and beyond. I find that this pursuit helps me have a greater understanding of life. At times, I do find it a struggle to remain in a peaceful mindset. Yoga and meditation have helped me find that mind/body/spirit connection.
Besides motherhood, what rewards Vanessa Angel on the inside?
Anything protecting nature is one of my causes, as is trauma therapy for women as I am a survivor of trauma. I'm specifically interested in surf therapy. It incorporates the healing aspects of the ocean and is revolutionary. But really, I'm deeply saddened by the escalating divisiveness in our country, so in my limited capacity to contribute, I try to put out positive energy – even if I'm struggling myself!
Vanessa can be seen in "Sons of Thunder" on Pureflix, and the upcoming film "Hot Water" with Trevor Donovan and Max Adler. Follow her here.
Photo Courtesy of Vanessa Angel
Want More Hollywood Stars >>> Angie Everhart