4 Tools for Clarifying the True You
There are times in our lives when the last thing we want to do is "dig in" and look inward. Job loss, relationship upheaval, illness are examples. These life events happen for all of us and happen more than once for most of us. It's a normal response to want to look away… far, far away from the circumstances that cause us discomfort or pain.
You might say "Oh, just yuck! Can't I just hide, eat cake, drink Chardonnay?"
Yep, you can do just that. You can also pull the covers over your head. You can follow the well-known 3 F Plan of feed, freeze, or flight. The 3 F plan, is a useless attempt to avoid life's curveballs from harming you by either engaging in prolonged navel-gazing or going the other way and engaging in frenzied activity. Note both approaches might be accompanied by Brownie pie and ice cream; dessert is an option whether one freezes or flits around the scene.
It's pure irony that the very events that cause us to want to pull the covers up are the ones that require the most looking…the biggest deep dives. You might not know a good career coach, your friends might not be the best help and a therapist can cost real money, but there is a place to start.
The place to start begins with building your own personal career advancement plan. You'll have to dig deep. Here are 4 tools you can use to help you start that plan.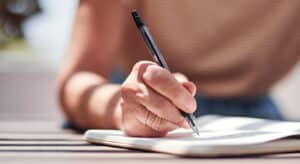 Journaling
Journaling starts with… well… a blank Journal. That Journal book is a private place to write down your thoughts on issues important to you. More than a diary or a calendar it's a way to have a conversation with yourself. You can brainstorm with yourself; you can confess to the dilemmas of the day; the conflicts of the heart and the mind. The whole point is to write and clarify your thoughts about you…in your own words and not someone else's.
Values Sort
What's important to you? The things you value may shift over time…personal freedom vs quality family time; maximizing income vs spare time to explore hobbies. Knowing what's important to you is a lifelong pursuit., Use that Journal to work on your Top 10 Values. And use the exercise I created for my clients to jump-start their thinking about what's important to them in the world of work.
Vision Quest
"Where do you see yourself in 1 year, or 5 years? This is a standard interview question. We've all been asked that question at some point in our careers. The point of the question is to surface your vision for yourself, your future, and to see if you even have one.
"If you can see it, you can be it" … a great reason to build a personal vision. Pull out that Journal again, you've got some brainstorming to do!
Personal Mission Statement
A personal mission statement guides your thoughts, actions, and behaviors. Some may call it their True North. It's your written reason for being and how you want to impact the world. Give it a try. It doesn't have to be elegant or even a proper sentence. Again, use that Journal to hold draft after draft of your personal mission statement until you get it right.
A Final Thought
Every morning we wake up to greet ourselves…and there we are. We hope to have a great day, solve the problems that plague us, and enrich the world in some small way…all very hard to do without a first-person relationship with our authentic self…the person you really are today. Go be YOU today!
Want More on Mental Balance >>> Organize Your Mind
Want A Journal >>> Best Selling Journals
This article was written by Karyl Innis, who is leading the way for men and women to communicate more effectively about who they are, what they do, and how well they do it. She is a career brand expert. Karyl wants all of her clients and followers to recognize their personal brands, create their own true messages, and vigorously deploy those messages to accelerate their career growth. Karyl is the CEO and founder of The Innis Company, a career consulting firm focused on building stronger, more distinguished careers for their clients around the world. She is known for her work with executives in identifying their personal brands, elevating their presence and accelerating their careers. Contact her at [email protected]inniscompany.com, through her website or LinkedIn.