I'm obsessed with shoes. Yes, I admit it. I will quibble over the price of toilet paper but not hesitate a minute to drop $500 + on a pair of shoes. They are seductive creatures. Hard to resist, impossible to explain and you can never have too many. If you're constantly looking for reasons to justify your addiction I have the perfect excuse and it's true. Nothing, and repeat I nothing, dates your look or your knowledge of fashion faster than out dated shoes. Well, your hair style is the second thing that will quickly label you as passé, but we're talking shoes today.
I have designed couture clothing for women who never hesitated to drop thousands on a gown and then have them show up in an outdated, obviously tired pair of Ferragamos. Really?? It's all about the shoe. As Bill Blass once said, "The two most important items in a woman's wardrobe are two things I don't sell; shoes and a good haircut." Mr. Blass was right on.
So, take a look at the hottest shoes for fall. The runways were clear in their message this season: the shoes, and more often than not, the boots, have it for Fall 2015. See what's happening in thigh-highs, metallics, brogues and inspired patchwork for the coming season.
Going Higher
Over the knee and thigh-high boots are the ultimate in footwear with overt sex appeal- the higher, the more fitted, the more dramatic the better.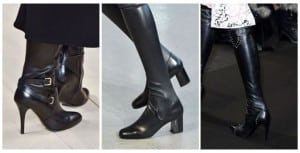 Ralph Lauren Calvin Klein Altuzarra
Prime Patchwork
The 1970s show no signs of being a passing trend—rearing its sophisticated stance in footwear that leverages patchwork for texture and color play.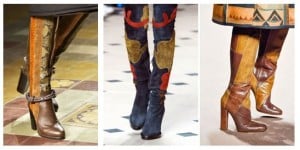 Lanvin Burberry Prorsum Etro
COLOR CONTRAST
The main idea in color is that two are better than one; done up in subdued tones for a lesson in chic restraint.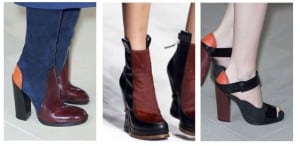 Jil Sander Ferragamo Jil Sander
FULL METAL
Designers are gilding the lily for fall with high shine elements to shoes that run the gamut to Greek goddess to boyish brogues and disco dancers.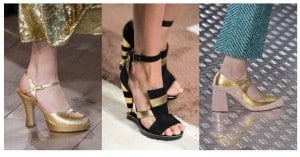 Michaels Kors Ferragamo Prada
Boy's Life
From Chelsea boots to lace ups the coolest in low riding footwear takes direct inspiration from your most stylish guys' closet.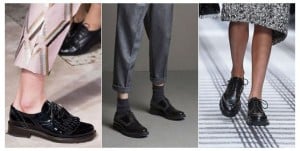 Tods Brunello Cucinelli Ferragamo
Hey, Mary Jane
On the far other end of the trend spectrum from menswear inspiration, lies ultra-feminine t-strap and Mary Janes that leverage old school ladylike attitudes for the here and now.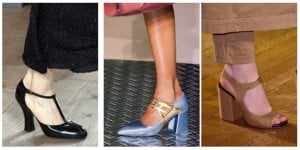 Michael Kors Prada Dries Van Noten
SHOP THE LOOK