Whether you are traveling near or far the perfect host for your makeup essentials is a must. The extent of must haves varies from person to person. When picking your method of transport, size does matter. From large to compact there is an array of choices that dutifully give you the best way to contain all your beauty basics.
Below are some of my favorites: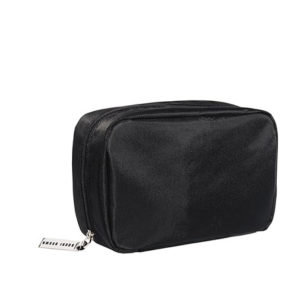 Bobbie Brown Cosmetic Bag
$30, Bobbi's own favorite go to travel bag. This sleek nylon bag is just big enough to stow away a limited quantity of your everyday fundamentals. Easy to keep clean this chic choice is a classic winner.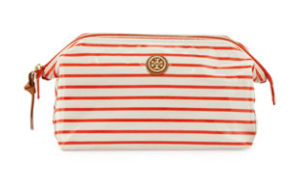 Tory Burch Stripped Frame-Top Cosmetic Case, Red, $95. This snazzy case is a made of a coated poplin, which makes for easy cleaning. The frame top allows for unfettered access to all your products. Stylish construction makes this caddy a hit with makeup mavens.
Orla Kiely Wash Bag $48, British designer Orla uses a punch of color and bold designs to make every bag a show stopper. Ideal for those who want to take along more than a few crucial makeup choices. Orla has a celebrity following shows she has a handle on the needs of those on the go.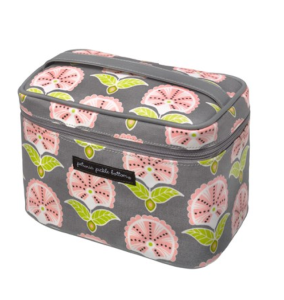 Petunia Pickle Bottom Glazed 'Travel Train' Case $42, Harking back to the days of train travel, this spacious case allows you to include your skincare products along with your all your favorite cosmetics. The glazed interior makes cleaning a breeze. This case comes in several patterns, all of which are exquisite designs.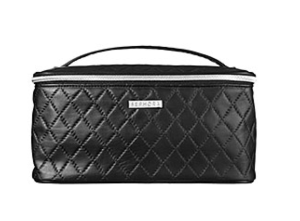 Sephora Collection Vacationer, $42 Organize your getaway with this roomy multi –compartment traveler. Sturdy by design this bag can take you away for a few days or a few weeks. Though there is not a plastic liner, the quilted pleather is washable.
Staying organized for your vacation makes traveling all so much more pleasurable. Keep all your every day needs close at hand in a swanky style.