The Benefits of a Clarisonic Pro Sonic Skin Cleansing For Face and Body:
Let me remind everyone that we at PrimeWomen have no connection to Clarisonic and when I recommend one of its products, it is because I have used them to my own personal satisfaction. Many of you probably own their original product, their facial cleansing brush. Even if you don't have one yourself, one may have been used on you if you get professional facials. Of the four facials that I have gotten at spas this year, in two of them the facialists used the Clarisonic facial brush. In both instances, I asked why they were availing themselves of this automatic tool (even though I use one at home). I was just curious as to what they would say. Both of the technicians that used the Clarisonics said that experience had taught them that they could get their clients' faces considerably cleaner with the automatic brush than they could using their hands, cloths, and creams or soaps. The box that the facial brush comes in says that it gets your face 30 times cleaner than any manual method – but that may be advertising, I don't know.
At any rate, I have had one of these beauty and hygiene aids for as long as Clarisonic has made them. I use it two or three times a week and have gotten in to such a habit of it that I really don't realize that I'm doing it anymore. It is kind of like using my automatic toothbrush and Waterpik, both of which I dearly love. If you don't have one of these facial cleaners, I think you might like it as much as you do an automatic toothbrush. After using an automatic toothbrush, your teeth don't feel as clean as they do when you brush manually, do they? Well, it's the same with a washcloth vs. the Clarisonic. Now, Clarisonic has come up with a gadget that makes their original product even "handier."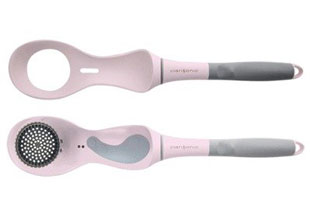 Get this; they have developed a handle that you can attach to the facial brush that turns it into a body brush, as well. With the longer reach, you can access all parts of your back, your buttocks, legs, arms, shoulders, or any place else that you want to clean and smooth. It is really nifty and it really increases the return on your original investment. How great is that? We all love to realize greater returns on our investments.
One word of advice, though. If you have sensitive skin like I do, use a light touch with the facial/body brush. You don't have to bear down with any pressure to realize the fabulously clean feeling that automatic scrubbing brings. Barely moving the soft, rotating bristles over your skin make it feel brand new and ready to receive your toners and creams. Your pores are going to love the way they feel when they are cleaned in this new way. That is, if you haven't already been taking care of your skin with this 21st century method. If you have, people have probably been telling you that your skin looks fabulous for some time.
You can order your Clarisonic Pro Sonic Skin Cleansing for Face and Body from SkinStore.com. The Body Brush Handle and the Body Brush Head can be purchased from Prime Women's contributing author, Paul LeBrecque, at paullabrecque.com.
Then, you can step up to any reflective glass and ask the question with confidence, "mirror, mirror on the wall who has the fairest skin of all?" You will know that you are looking at the answer. It is right in front of your eyes.