During the rainy season, you sometimes can't help but feel that everything is a little….dull. Dull weather, makes for dull evenings, which make for dull emotions. Another thing that is dull coming out of winter and out of the rainy season is our skin. Our skin has taken a hit with those sunless days and our skin needs a pick me up… now!
It is time to pull the bronzers back out of the drawer. Bronzer isn't about changing the color of your face, but it is about leaving your skin with a subtle glow. Below are some tips and our top choices of bronzers for all skin types.
Powder or Liquid? Either choice is fine as long as it is sheer. For bronzers, think of a sunlit or sun kissed finish so the texture is most important. If your bronzer is sheer it will be easier to apply in layers, especially if you have a heavy hand.
How to pick a color? If you are very light, a typical bronzer might be too dark. A good alternate choice would be a face powder that is 2-3 shades darker than your skin. This will make you look tanner without being too noticeable.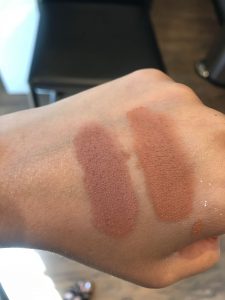 You want to avoid having any abrupt borders or lines of demarcation from your face to your neck.
Throughout all my years doing makeup, I have seen more skin types with cooler undertones than warm. So if you fall into that range of skin color, the best bronzer for you will have a cooler/pinker tone rather than more terra cotta or orange. If you are not sure of how to recognize this, hold two colors next to each other and compare.
For example, the swatch on the left compared to the one on the right has more yellow/orange in it and the other looks cooler.
The bronzers selected here all have cooler undertones or a mix of warm and cool.
To shimmer or not? I prefer to use a separate highlighter for glow such as a liquid or powder highlighter as you want the highlight in specific areas such as the brow bone or cheek bone rather than the entire face. Sometimes it can be too much glow for the entire face. However, if the bronzer has a shimmer in it, it should be minimal and not too glittery.
How to apply? Use a brush that is not too stiff or chiseled. A fluffier brush with a larger brush head or a fan brush will dispense the color lighter and softer.
Remember to wash your brushes daily with an antiseptic soap.
If you are using a liquid bronzer, use clean fingers to dot the bronzer on your cheeks, forehead and chin and then blend up from your cheeks to the top of your ear, across your forehead, down your nose and across your chin. I like to use my ring finger, as it has the least amount of pressure and you want to be gentle when applying color to your face.
Where to apply? Pick up the bronzer or powder with your brush, swirl the color until it is all in the brush, then apply it on your cheeks, forehead, down your nose and across your skin.
If your neck is very light, you can bronze a little of the neck and even the chest area.
I would recommend using a highlighter first and then your bronzer over this.
And for a finishing touch, if you want a rosey/peach glow on your cheeks, apply the highlighter just on the apples of your cheeks after the bronzer and gently caress and flare outward over more of the cheek.
Bobbi Brown Mini Shimmer Brick Highlighter, $25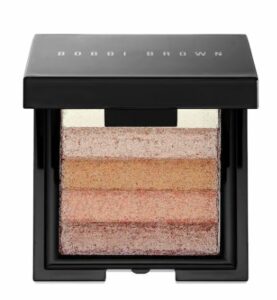 This compact helps give you the perfect glow with five shades infused with superfine pigments that will reflect radiance and light. With your brush, dust all five shades lightly on the top of cheekbones where the light hits your face the most.
Guerlain Terracotta Light Healthy Glow Vitamin-Radiance Powder, $56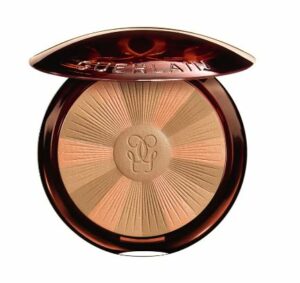 This is a light powder that has an interesting blend of sun-kissed tones that are enhanced with bold colors to give off radiance and a healthy-looking glow.
Bare Minerals Invisible Bronze Powder, $22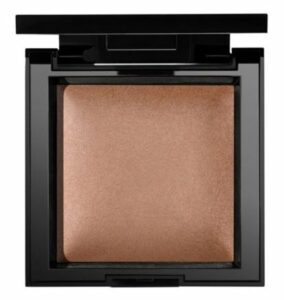 This smooth bronzer delivers multidimensional sheer and buildable color that looks healthy and natural. It is available in four shades that are customized for whatever skin tone you are. The bronzing powder formula is specially designed to mimic a natural, healthy glow from the sun.
Too Funny Sun Bunny Bronzer, $32
You are able to get a natural glow with this bronzer that will give you a subtle pink undertone which will mimic the flush of a real tan.
Milk Matte Bronzer, $18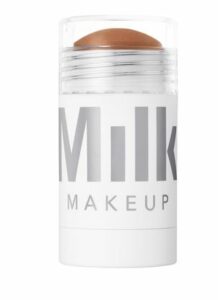 This is a creamy, matte bronzer stick for the face and body which provides an immediate, hydrating warmth.
Mini Laguna Bronzing Powder, $18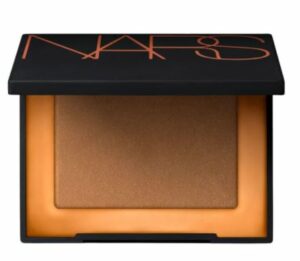 This iconic Bronzing Powder in Laguna is now available anywhere you get your bronze on.
Tarte Cosmetics Amazonian Clay Waterproof Bronzer, $30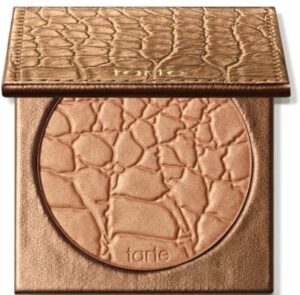 Dab this directly onto the skin or over foundation where the sun would naturally add color. This pairs perfectly with tarte's bronze and glow bamboo contour brush which will build your desired radiance or instantly create the contour look.
Benefit Mini Hoola Matte Bronzer, $17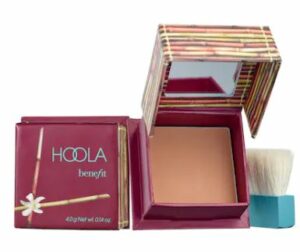 Place this across the chin, cheeks, and forehead for a healthy, natural-looking tan that flatters any skin tone. Ideal for fair complexions or for use as an all over finishing powder. It instantly warms your complexion. which will leave you with a healthy-looking, believable glow year round.
Anastasia Beverly Hills Powder Bronzer, $19.60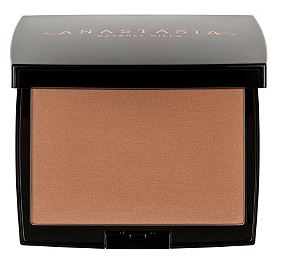 Anastasia Beverly Hills Powder Bronzer is perfect for the face and body as it creates a natural matte, traceless finish for buildable coverage.
MAC Bronzing Powder, $22.50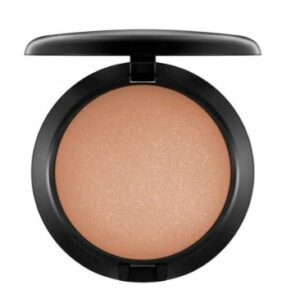 This subtly tinted powder gives your skin a sheer, natural color. It is perfect for enhancing skin tone, providing a natural, sun-kissed look or accentuating a tan.
Hourglass Mini Ambient Lighting Bronzer, $26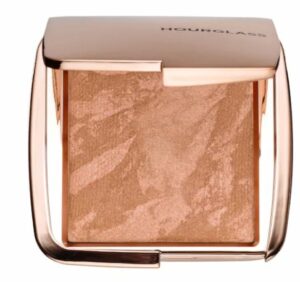 This travel-size bronzer that fuses the illuminating effects of Ambient Lighting Powder with bronze pigments which will add depth and dimension for a sunkissed glow.
Enjoy the video on how to get that perfect beach bronze!