Sponsored post.
We all know that if you're going to get a disease, it's essential to catch it as soon as possible before it can ravage your body and mind. Depending on the illness, early detection can be the difference between life and death. Being aware of health problems is the first step in being able to fight them, and one way to become aware is through screening tests. You don't even have to go to your doctor to get preventive health screenings these days, thanks to Life Line Screening's in-person screening locations. And Life Line Screening also has convenient at-home lab tests, so you don't even have to leave your house to check for certain conditions.
Keep It Simple
You've likely heard of Life Line Screening from the in-person locations they've run for decades – each year, they host more than 14,000 events across the U.S. and screen between 700,000 – 1,000,000 people. Through those clinics, the company has provided preventive screenings to more than 10 million people since 1993 and is a leader in the industry.
Now, they've launched a new line of products with Life Line Home Tests. These at-home lab tests are convenient, private, and accurate. And, for most people, very affordable.
If you prefer to visit one of their screening locations, you'll find the process has been streamlined from years of offering exceptional service. Once you've made your appointment, you'll be notified if you need to fast beforehand, so there's no guesswork. Screenings are easy, painless, and non-invasive and don't require you to remove clothing. Even better? Results are posted in their secure online portal within days of your appointment.
If you'd like to try out one of the at-home test options, order the kit online and wait for the box to arrive at your home. The packaging is discreet, and the results are private, so not even the mailman will know what's up. You collect the sample and send it back to the lab. You'll get physician-reviewed results within 3-5 days after the lab receives your sample. The labs are certified by CLIA (Clinical Laboratory Improvement Amendments of 1988), so you can be confident they're accurate.
It really couldn't be simpler.
Options Galore
In-Person Screenings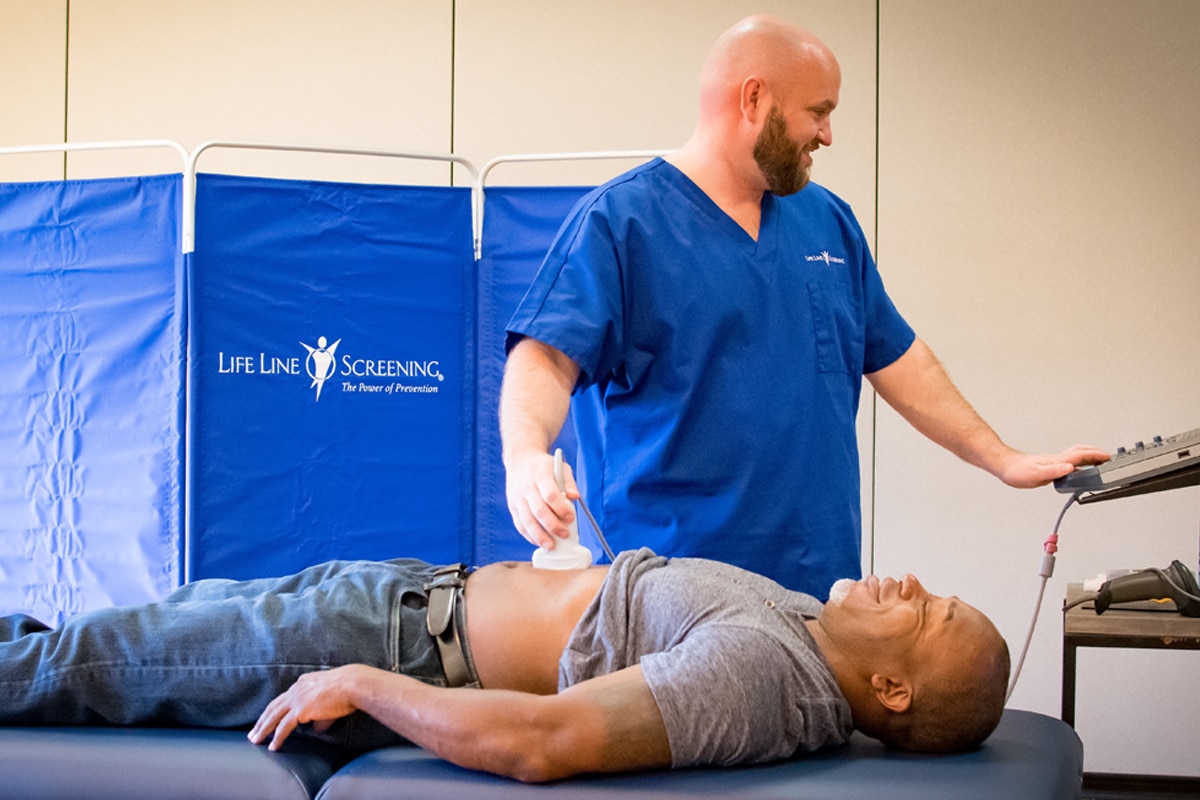 Life Line Screening offers a package of 5 preventive health screenings in 1 appointment for $149. The screening package includes:
Carotid Artery Disease Screening – an ultrasound is performed to screen the carotid arteries for the buildup of fatty plaque. This buildup, called atherosclerosis, is one of the leading causes of stroke.
Peripheral Arterial Disease Screening – an Ankle-Brachial Index test is performed using blood pressure cuffs on the arms and legs. It is important to screen for PAD because it increases the risk of coronary artery disease, heart attack, or stroke.1
Abdominal Aortic Aneurysm – an ultrasound is performed to screen the abdominal aorta for the presence of an enlargement or aneurysm. AAA can lead to a ruptured aortic artery, which is a life-threatening medical emergency.
Atrial Fibrillation – a 6-lead electrocardiogram is performed by placing sensors on the arms and legs to screen for Atrial Fibrillation. AFib can lead to blood clots, stroke and heart failure, and other heart-related complications.2
Osteoporosis Screening – an ultrasound is performed to measure the shin bone for abnormal bone mass density. This can help assess the risk of osteoporosis, a disease where bones become weak and brittle.
Take It At Home – At-Home Lab Test
Depending on your needs, there are all kinds of tests offered at the in-person screenings and as at-home tests. The at-home tests cover women's health, men's health, sexual health, and general wellness. At-home test kits start at $79 (including shipping both ways!)
One test even evaluates heart health and diabetes risk (that one is $99). All you have to do is prick your finger for a blood sample and ship the sample to the lab using the prepaid mailer. From that, they can measure Total Cholesterol, HDL, Calculated LDL, Triglycerides, hs-CRP, and HbA1c. That gives you and your doctor priceless info about your heart health and diabetes risk. If the results show a high risk, you should consult your physician to come up with a treatment plan that might help you avoid major issues in the future. That can make a huge difference for someone who wouldn't otherwise know they were in danger. In fact, according to the CDC, 20% of the 38 million people with diabetes in the U.S. aren't even aware they have it since it doesn't always have obvious symptoms. Again, this could be life-changing.
The Women's Test checks hormone levels for any imbalance. That may play out with decreased metabolism, fertility issues, thyroid problems, fatigue, and irritability. Knowing there's a problem empowers you to work with your doctor to address it and get the help you need to make things better.
You could also screen for colorectal cancer. Catching colorectal cancer early can lead to a 90% survival rate (American Cancer Society). It's critical to get screening if you're 45 or older.
Another self-test option will measure your liver and kidney function. Liver disease may be more common than you think; more than 100 million people in the U.S. have it and have no clue (American Liver Association). Symptoms typically don't show in the early stages, but if left untreated, liver and kidney diseases can lead to liver failure, liver cancer, and kidney failure (UT Southwestern Medical Center). That's something you may not survive, so again, it's important to know what you're dealing with.
Other important things you can test are inflammation and vitamin D levels. Those are important because high levels of inflammation and low Vitamin D have been linked to cancer, diabetes, cardiovascular disease, and osteoporosis (Healthline, MedlinePlus). Knowing your levels are off can help you manage them and prevent further issues with the help of your physician.
No matter what you want to check, they likely have a test for it. You can search the options and place your orders online at www.lifelinescreening.com/hometests.
Get to It
Life Line Screening and Life Line Home Tests make it easy to stay on top of your health. Life Line Screening's community-based screening events offer ultrasound tests with a certified lab technician to look into your arteries for plaque build-up that can cause a stroke or aneurysm. At-home testing is a great option for convenience and accessibility and for those who have busy schedules that focus on blood tests for general health and wellness and sexual health. Both are great options to understand your health risks!
Please Note:
Pricing of products may change at any time.
Life Line Home Tests is a division of Life Line Screening.
Life Line Home Tests is not intended to diagnose or treat any disease or medical condition and is not a substitute for professional medical advice or clinically guided treatment. To learn more, please reive the Life Line User Agreement found on their website.
These tests cannot detect all risk factors for all conditions, such as and including the presence of coronary artery disease.