We all want to live healthier lives and reach our fitness goals. And while there are a variety of ways to drop a few pounds or build healthy habits, one of the easiest ways to start taking your health more seriously is by tracking and monitoring your blood pressure. Traditionally, that meant keeping a clunky blood pressure monitor on your nightstand and checking it twice a day, but new technology means you don't have to turn your bedroom into a clinic. Today, we're going to talk about blood pressure monitoring watches, one of the simplest ways to keep track of this vital sign (and others). In the past decade, wearable health tech has risen in popularity. With their sleek designs and easy-to-understand monitoring systems, products like the FitBit and Apple Watch have transformed the way we keep track of our health and fitness and have become a staple accessory for many people. With the increase in popularity, it's inevitable that many more choices will appear on the market than the two big names I previously mentioned. To make things simpler for you, we've compiled a list of some of the best blood pressure monitoring watches currently available. Let's dive in!
Why monitoring your blood pressure can be helpful
Whether you have high blood pressure or not, getting in the habit of monitoring this vital sign is a good way to stay on track with your health goals. High blood pressure, or hypertension, can lead to a heart attack or stroke if left unchecked. Self-monitoring can help make sure you catch any warning signs early on before they have time to become a problem. What's more, keeping daily tabs on your blood pressure is a great way to see if any lifestyle changes or medications are actually working. And when you see that sweet, sweet progress being made, it makes it much easier to keep those healthier habits going. Plus, your doctor will thank you for keeping such good records and will be able to make better-informed decisions if it is time to switch things up.
The best blood pressure monitoring watches
A great all-around pick, the YAMAY blood pressure monitoring watch has several features that will help you stay on top of your health goals. This fitness tracker will monitor your blood pressure and movement throughout the day. You'll also be able to track your sleep! And with a stylish, full-touch screen, it's easy to view your health stats at a glance.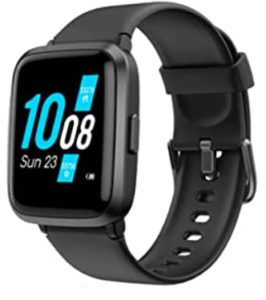 Not only does this smartwatch record your heart rate and blood pressure, but it also consolidates everything into a nice little report you can view on your phone at the end of each day. Plus, this particular watch has a built-in heart rate alarm to notify you in case your BPM exceeds normal levels. Along with these fundamental features, this watch will also help monitor both your sleep cycle and sleep quality, ensuring you get the best night's rest.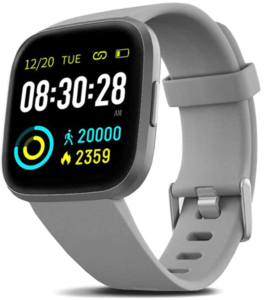 This sleek tracker is designed to be worn and forgotten. With one of the best battery lives available on a health tracker, you'll be able to keep track of your daily vital signs without having to worry about taking it off and recharging it every single day.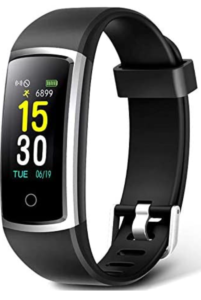 If you're looking for a more affordable pick, definitely try this blood pressure monitoring watch. With a great battery life and a full host of features (including body temperature monitoring), this is an awesome pick if you want a good health tracking monitor without having to shell out hundreds of dollars.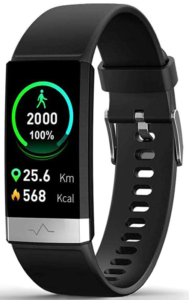 What can't this watch do? Along with continuous heart rate and blood pressure monitoring, this watch also includes GPS and remote camera capabilities. With this range of features, the HalfSun fitness tracker truly lives up to the smartwatch name. And for women who haven't quite hit menopause yet, its cycle tracker offers an easy way to keep up with your period.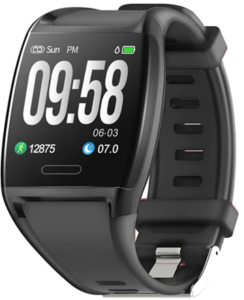 This cute smartwatch has the added benefit of not looking like every other fitness tracker on the market. Powered by Google's Wear OS, this watch can do it all, including allowing you to stream your favorite music, download apps, and even share files between your devices. Plus, it's waterproof, so if you live an active lifestyle that involves a lot of swimming or sweating, this is a great option. Combine these features with an impressive price tag and you have an amazing choice.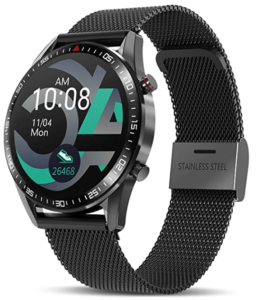 The last blood pressure monitoring watch we'll highlight today is one from Ekrist. With one of the best health tracking algorithms available to date, this smartwatch will enable you to keep up with your heart rate, blood pressure, sleep, daily steps, and so much more.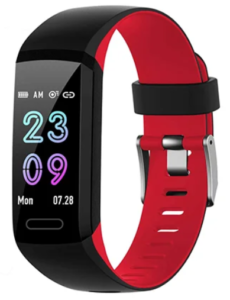 We hope this guide to blood pressure monitoring watches was helpful! Don't forget to bookmark this page to help you on your search, and explore more articles on healthy living on our Health and Fitness column!
Read Next: